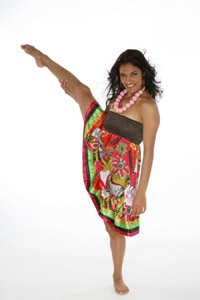 Yarisha Singh, UCT BMus graduate and contemporary dance teacher at the School of Dance, and partner Andile Ndlovu danced their way to the grand finale of kykNET's dance competition Dans! Dans! Dans! on Saturday 29 March. Singh talked to Monday Paper just days before the big event.
What made you enter Dans! Dans! Dans!?
I entered the competition out of curiosity, and once I learnt more about it, I was really excited by the opportunity for dancers to be exposed to the country and the chance for the art form to be acknowledged by the general public.
How much has it lived up to your expectations?
My journey during the competition has been an amazing one. It has exceeded my expectations and has been a huge learning experience. Being able to work with renowned choreographers daily and learning new dance forms weekly has been an opportunity for all the competitors. Above that, being able to perform to the nation on live TV is unbelievable! One of my fears was not being able to handle the stress of the competition but I feel that I took every day in my stride and ended up coping really well in the end.
What happens during off-camera time, if there is any?
I loosened up in front of the camera very early in the competition so I feel that I never hid anything from the camera. I wanted to remain true to myself and therefore my personality came across on screen naturally. Sometimes, however, the camera did miss out on some unique moments in the contestants' house. There was never a lack of drama in the house!
You danced with a partner and yet competed for an individual prize? Isn't that a little tricky in that your partner - who you must rely on - is also your rival?
It was definitely an aspect that played on our minds but when you are trying to perfect a partnership, you tend to put the competition aside to enable a successful duet. The judges did comment on individuals in duets, which was beneficial.
What's been your favourite performance over the show, even if it's not one that the judges would agree with you on?
I have highlighted performances throughout the series. I have thoroughly enjoyed all the Latin American dances but the moment that stands out for me was when I performed a Freestyle duet and my partner and I received a standing ovation from the judges.
How confident are you going into the finals now that you're being judged by the fickle public rather than an objective panel?
It is definitely nerve-wracking to hand over your power to the public. I have to trust that the public has acknowledged my dance ability as well as my sincerity during the competition and that they will support me in the final. It is, however, pointed out quite regularly that it may be the most popular person that wins the competition as opposed to the most talented!
What's your strategy going into the final week?
I am working very hard again this week to enable a great dance performance in the final. Alongside that, I am campaigning and appealing for votes targeted greatly at the Western Cape Province.
---
This work is licensed under a Creative Commons Attribution-NoDerivatives 4.0 International License.
Please view the republishing articles page for more information.
---