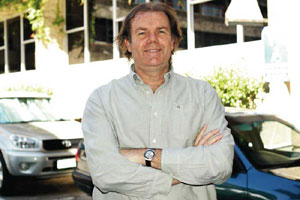 There may be good reason to call the country's automobile industry a true South African success story, as some have done.
In his doctoral thesis, Anthony Black, associate professor in the School of Economics, describes how the industry managed to turn its fortunes around, steered by strong pro-trade policy.
Back in the early nineties, car producers were sitting pretty behind a bulwark of trade barriers. Tariffs, for example, were a sky-high 115%.
But the industry was also ridden with inefficiencies, cut off from major markets, and even the domestic market appeared to be stalling.
Then, in 1995, the state's Motor Industry Development Programme (MIDP) - which Black had a hand in - kicked in. Tariffs were slashed, for one thing. Producers were also encouraged to rationalise, but offered a carrot in return. Under the MIDP, vehicle exporters can import other models duty-free.
Take BMW, for example, who before produced small numbers of its 3, 5 and 7 series models. Now it makes much higher volumes of just the 3 series in the country - while importing other models - allowing it to achieve economies of scale.
"The rationale was to make the industry more competitive, lower car prices and give consumers more choice," says Black of the programme.
It seems to have paid off. Efficiency is up in the assembly and component sectors, for instance. Imports and exports have also increased.
At the same time, the industry has seen higher levels of foreign ownership as major automotive multinationals have invested in the sector, easing access to coveted overseas markets.
Following the severe belt tightening of the late nineties, the industry has even seen some growth in employment as both sales and output have boomed.
The policy's up for review, though, and Black jetted to Pretoria last week to work with government officials on the process.
---
This work is licensed under a Creative Commons Attribution-NoDerivatives 4.0 International License.
Please view the republishing articles page for more information.
---