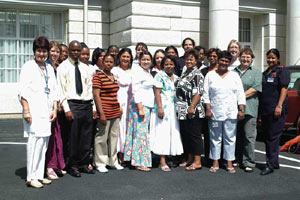 Healers: Students and staff of the Division of Nursing and Midwifery celebrate a bumper crop of graduates this year.
UCT has turned out a bumper crop of 28 postgraduate nurses at a time both the province and the country face a critical shortage of skilled nurses.
The Division of Nursing and Midwifery proudly boasts its largest- ever harvest of nursing diploma postgraduates, as it celebrates 70 years of nursing on the UCT campus.
And the division has much to celebrate. Not only has it survived seven decades, but it has prospered and grown since UCT offered its first postgraduate Diploma in Nursing [Education] in 1937.
The undergraduate nursing degree programme, introduced in 1972, was suspended in 1999 to improve clinical practice through postgraduate programmes - in line with the restructuring of higher education institutions nationally.
In addition to its master's and PhD programmes, the division offers as many as seven specialist nursing streams.
"UCT is certainly making a difference in nursing," says acting head of division, Una Kyriacos, "if one takes into account that nearly 40% of South Africa's population is under 14 years old, and only 1.8% of professional nurses are specialist child nurses.
"UCT is the only training centre for child nurses in the region."
Twelve of this year's 28 graduating nurses are specialist child nurses, and one is a critical care child nurse specialist. Then there are three specialist critical care nurses for adults, six specialist ophthalmic nurses, four advanced midwives, and three nurse managers.
The nursing division partnered with the School of Child and Adolescent Health and the Red Cross Children's Hospital recently to launch a collaborative project aimed at increasing specialist child nurses.
Nursing students come to UCT from all over Africa and an increasing number of graduates enter the master's programme.
"As predicted, we are growing our own timber," says Kyriacos.
---
This work is licensed under a Creative Commons Attribution-NoDerivatives 4.0 International License.
Please view the republishing articles page for more information.
---