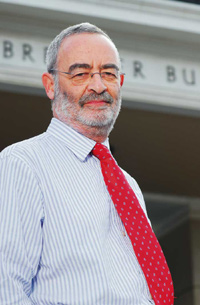 It is a privilege to announce the appointment of Dr Max Price as the Vice-Chancellor designate of the University of Cape Town. He will succeed Prof Njabulo S. Ndebele on 1 July, 2008.
The selection process attracted 27 applications, 25 from men and two from women. Fifteen were international candidates and 12 were South Africans. Fourteen were people of colour. Having regard to the context of the higher education landscape in South Africa, I believe the candidates we attracted were reasonably diverse, although we would have wished for greater diversity.
Council determined the selection criteria for the position after a process of consultation across the university. The Selection Committee tested all candidates against these criteria. It was particularly mindful of the special imperative of transformation in our current context, and of the challenges of leadership as the next administration builds on the significant legacy of Professor Ndebele and his colleagues.
The selection process was painstaking and thorough. One candidate described it as "brutal but fair". It deeply tested the candidates and the committee itself. Two weeks ago, the Senate expressed its support for the appointment of Dr Price. On Monday last week, the Institutional Forum validated the process, agreeing that it had been followed correctly. Finally, on Wednesday last week, Council agreed to appoint Dr Price as the UCT Vice-Chancellor designate. Last Thursday Dr Price accepted the appointment.
The Selection Committee was impressed by the combination of qualities which Dr Price offers. He has a history over 30 years of sustained and principled commitment to the values of democracy. He has strong experience and a record of delivery in senior executive management, in leading transformation processes, and in addressing the challenges of higher education in a democratic South Africa. Dr Price has a distinguished and multi-disciplinary academic record; experience in teaching, research and postgraduate supervision; and an inspiring leadership style.
As a student he led opposition to apartheid and was detained without trial. This commitment was carried through to his professional work as a doctor and as a researcher, and in the work that he did in proposing post-apartheid health policies.
He has a proven record of championing transformation of a fundamental kind over a decade as Dean of Health Sciences at Wits University. This record includes improving demographic representation among both staff and students, addressing in a direct and innovative manner the faculty's record under apartheid, introducing major change in educational methodology, and undertaking major curriculum change, aimed at producing doctors who are more rounded and better equipped to serve a changed and changing South Africa.
Dr Price impressed members of the Selection Committee and the meetings of the various sectors of UCT. The vision which he has placed before us is genuinely exciting. He has a passion and an energy that inspire. His leadership qualities are appropriate to this stage of UCT's life, as we seek to build on the work that has been done under the leadership of Professor Ndebele, and to address the new challenges and opportunities that we face.
Over a period of 30 years Dr Price has shown a sustained commitment to the principles which guide UCT. He will promote them with vigour. We believe, in short, that he is the right person at this time.
---
This work is licensed under a Creative Commons Attribution-NoDerivatives 4.0 International License.
Please view the republishing articles page for more information.
---