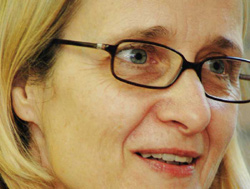 Dr Karen van Heerden
Two new deputy registrars have been appointed to UCT. Welcome to Paul Ngobeni (legal services and secretariat) and Dr Karen van Heerden (academic administration).
September 1 is a date Karen van Heerden looks forward to. She'll get to wear one hat. Right now, until her new job begins formally, she's straddling two posts: her former position as faculty manager (humanities) and her new post as deputy registrar, academic administration.
It's a demanding portfolio encompassing student records, the exams office, the Doctoral Degree Board, graduation ceremonies and the university handbooks. But with almost six years as faculty manager (humanities) at UCT, Van Heerden has a good grasp of what it takes to keep the machinery rolling - and how to balance between academia and the administration.
"These are imposed divisions. We need to realise that academics and administrators both support the same enterprise," the PhD graduate from Rhodes says.
With two children at UCT, and their entourage of friends, there's no end to student perspective about student life at the university. It's valuable insight.
For example, the 2007 provisional year-end exam timetable spans 11 days. That's one extra day to allow for two weekends in the schedule, providing some breathing space for students.
"That break makes a big difference."
She laughs at the idea of being closeted in an office under mounds of paperwork. Yes, it's a long day, but there's no closeting. Contact with the academic community is essential. She likes to know what's happening in the faculties.
Graduations ceremonies are her baby too. Having capped her son last year, she says graduations are "very special" at UCT.
"We put effort into them - and it shows."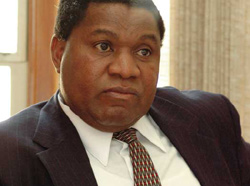 Paul Ngobeni
Starting a career at UCT is part of a homecoming for Paul Ngobeni. The country he's returned to has gone full circle since he left in 1982 on a full scholarship to study in the US.
Besides his professional interests, there are personal reasons for returning; his 90-year-old mother in Mpumalanga, where he grew up. And given the country's pressing needs, his wife, a medical doctor, felt her skills would be put to better use here.
Ngobeni completed a Doctor of Jurisprudence at the New York University School of Law in 1989 and was admitted to the bar of the Connecticut Supreme Court in 1989. He also studied for a master's in Public administration from New York University.
From 1996 to 2006 he ran a private law practice in Connecticut. The attraction to UCT lay in the transformation arena.
Ngobeni says he'd followed the university's transformation process with interest.
"I liked what UCT was doing to promote diversity among its staff and provide educational opportunities for previously disadvantaged black students.
"I was impressed by that."
Having worked in private practice for the past 13 years, a university must seem a strange beast. Ngobeni agrees.
A public institution, and with a community of over 25 000, it has a distinct culture and the legal challenges are diverse. His portfolio extends from providing sound legal advice to the university on a range of matters, from to managing litigation cases to legal compliance of proposed sexual harassment policies.
"Here it's important to look at the whole picture to make sure UCT is in compliance with the law."
There's also the thorny matter of student discipline - or indiscipline. And here Ngobeni must ensure that due process is followed for students, or others, accused of misconduct.
---
This work is licensed under a Creative Commons Attribution-NoDerivatives 4.0 International License.
Please view the republishing articles page for more information.
---