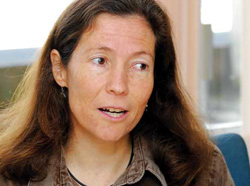 Prof Nicoli Nattrass
Professor Nicoli Nattrass' new book, titled Mortal Combat: AIDS denialism and the struggle for antiretrovirals in South Africa, examines President Thabo Mbeki's reported adoption of AIDS denialist ideas and the consequences for AIDS policy in South Africa.
"Many lives have been lost because of AIDS denialism," says Nattrass, professor of economics and director of the AIDS and Society Research Unit. "But nowhere has the impact been as dire as in South Africa. According to some estimates, at least 170 000 HIV infections and 340 000 deaths could have been prevented with an aggressive, nationwide roll-out ARVs to HIV-infected pregnant women and people with HIV/AIDS in need of these lifesaving medications."
Nattrass believes Mbeki bought into the ideology of AIDS denialism, which resulted in the slow roll-out of ARVs. "AIDS denialism comes in many forms," explains Nattrass, "but the one thing that unites them is the rejection of ARVs."
With a forward by HIV/AIDS activist Zakie Achmat, Mortal Combat also shows that an ongoing legacy of AIDS denialism is the undermining of scientific regulation of medicine. Liberally illustrated with political cartoons and embracing the territories of journalism, policy analysis, advocacy and history, the book exposes the strategy and tactics employed by AIDS denialists all over the world to undermine the use of antiretrovirals (ARVs) for both HIV prevention and AIDS treatment.
Mortal Combat: AIDS denialism and the struggle for antiretrovirals in South Africa is published by the University of KwaZulu-Natal Press and is available from various booksellers and online at Kalahari.net and amazon.com.
---
This work is licensed under a Creative Commons Attribution-NoDerivatives 4.0 International License.
Please view the republishing articles page for more information.
---