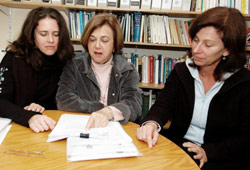 The paper that appeared in the Lancet, co-authored by the WHRU and Hanoi researchers, has been named as runner-up for the Society of Medical Writers 2006 Academic Writing Award. This award is made for a paper "that has been published in a peer-reviewed medical journal, that was clearly and elegantly written without unnecessary jargon and that had a worthwhile and credible message". The WHRU contributors were, in picture, Chelsea Morroni, Prof Margaret Hoffman and Jane Harries.
According to the WHO, unsafe abortions remain a blight on global health. Now a study commissioned by the organisation shows that nurses in South Africa and Vietnam can provide safe abortions and a viable alternative for other countries pressed for health-service resources.
A 2004 study by the World Health Organisation (WHO) on unsafe abortions gives pause for thought - it estimated that such abortions cause some 68 000 deaths and close on five million permanent or temporary disabilities every year, most of these in already beleaguered developing countries.
In response, the WHO hopes to provide women in both developing and developed countries with greater access to suitably trained healthcare providers and above-board healthcare facilities. Problem is that in most countries where abortions have been legalised, only doctors - in short supply at the best of times - are allowed to do them.
But South Africa and Vietnam are the two exceptions. In these countries, the law also allows mid-level providers - qualified nurses and, in Vietnam, doctor's assistants - to perform abortions in the early first trimester of pregnancy, ie up to 12 weeks since the first day of the last menstrual period.
Now a randomised trial - the first in developing countries - commissioned by the WHO has shown that the mid-level providers in South Africa and Vietnam can perform these abortions as safely as doctors.
In the study, researchers from the Women's Health Research Unit (whru) at UCT and the National Hospital of Obstetrics and Gynaecology in Hanoi tracked the abortions performed by doctors and mid-level providers - comparisons were then drawn - on nearly 3 000 women, all over 18, in clinics run by Marie Stopes International, a not-for-profit organisation that provides reproductive health services in 37 countries. All abortions were done using a technique known as manual vacuum aspiration.
Although the clinics are not part of the public health sector, many of the mid-level providers and doctors also work in public health.
"Overall, complication rates were low, ranging from 0 to 1.4 per 100," the researchers reported in a paper published in the British medical journal Lancet in December last year. "The majority of complications were due to retained products and infection that did not necessitate hospital admission."
Just about a clean bill of health, and proof that mid-level providers are as capable as doctors when performing abortions, while more cost-effective and available in greater numbers in remote areas. That's evidence that the WHO can use to influence policies in other countries.
"There's no reason why suitably trained nurses can't do first-trimester abortions," says Professor Margaret Hoffman of the WHRU. "And this information can now be used internationally."
---
This work is licensed under a Creative Commons Attribution-NoDerivatives 4.0 International License.
Please view the republishing articles page for more information.
---