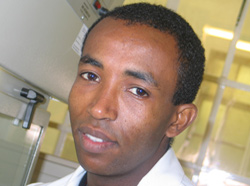 PhD graduate Habtom Habte has discovered that mucous glycoproteins known as mucins from crude saliva, breast milk and cervical secretions block HIV-1 activity.
In a first of its kind study The Inhibition of HIV-1 Activity by Crude Mucus and Purified Mucin from Saliva, Breast Milk and the Cervical Tract of Normal Subjects, HIV-positive Individuals and Patients with HIV-AIDS, confirms the suspicion that a macromolecular component in saliva traps the HIV virus completely, making transmission impossible.
When Habte incubated crude saliva with HIV-1, he found that it provided 100% protection against the virus. Purified mucins from saliva, breast milk and the cervix had the same effect. Crude breast milk and cervical mucus surprisingly showed no inhibition of the HIV-1, and neither did purified mucin from the saliva of patients who are HIV positive. In addition, purified salivary, breast milk, and cervical mucins also stave off poxvirus activity.
Why then does crude saliva and its purified mucins inhibit HIV activity, while crude breast milk and cervical fluids not? Mucins may be broadly similar in all parts of the body, but even small differences in the composition of their sugar component could produce different effects.
In the case of breast milk, however, "the role of the mucin is even more restricted because it is surrounded by a lipid (fatty) layer", says Habte. This means that the mucin never comes in direct contact with the virus, making transmission highly likely. To test this theory, Habte made butter from breast milk and heated it to separate the fat from the mucins. The purified mucin showed 100% inhibition. Although the mechanism of inhibition is not clear, Habte thinks it is likely that the sugar side-chains of the mucins, which comprise 70% of the molecule, may trap or aggregate the virus.
Why mucins from HIV-positive individuals had no inhibitory effect on the virus cannot easily be explained. Habte thinks that although the mucins in the fluids of people with HIV are similar to those from uninfected individuals, changes in the composition of the sugar component could be the cause of the inability of mucins to trap the virus. A weakened immune system, Habte says, could possibly cause alterations in the pattern of glycosylation of the mucins in HIV-positive individuals.
Habte's next project is to determine whether there is an association between susceptibility to HIV-1 infection and allelic variation of the MUC7 gene. His work, with his supervisor Professor Anwar Mall of the Department of Surgery, could make an invaluable contribution to the fight against this pandemic.
---
This work is licensed under a Creative Commons Attribution-NoDerivatives 4.0 International License.
Please view the republishing articles page for more information.
---