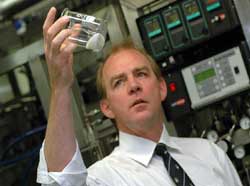 Thinking ahead: Prof Jack Fletcher and researchers in the Department of Chemical Engineering explore many alternative fuel sources, and at a new Centre of Competence will look into the prospects of fuel cells powered by hydrogen, as used in Ford's hydrogen-driven test vehicle, the Explorer.
The Department of Science and Technology (DST) has awarded R30-million over five years to UCT's Department of Chemical Engineering to establish a Catalysis Competence Centre, a virtual hub that will develop advanced hydrogen and fuel-cell technologies in South Africa.
This is a joint appointment with Mintek, South Africa's mineral research organisation.
It's another coup for the department, which already hosts the DST/NRF's Centre of Excellence in Catalysis (c*change).
The UCT/Mintek centre is one of three Competence Centres that will develop hydrogen technology. The others are the Council for Scientific and Industrial Research (CSIR) and the University of the Western Cape.
The announcement comes on the back of the Department of Science and Technology's mandate to push technological change in South Africa's economy. One of the ways it will do this is by developing lead sectors to position South Africa in the global knowledge economy - and expand the country's base for wealth creation.
The background is this: The DST has identified hydrogen and fuel-cell technology as a Frontier Science and Technology Initiative. These initiatives will produce new knowledge and innovation and result in new downstream industries.
To this end, they've established the National Flagship Research Projects under the Hydrogen and Fuel Cell Technologies Research and Development Strategy. These flagship projects will bring together complementary expertise towards a common strategic goal.
Hydrogen and fuel cells are seen as energy solutions for the 21st century, creating power from a range of primary energy sources.
Technically speaking, a fuel cell is an electrochemical energy conversion device that converts hydrogen and oxygen into water and in the process produces electricity. Most of us are familiar with another kind of electrochemical device: the battery, with its chemicals stored inside. These are converted into electricity.
Fuel cells have been widely touted as the alternative to petroleum-based combustion engines as they generate electrical power without pollution (water is the byproduct), a significant factor in an age of global warming and climate change.
The technology also addresses an energy security concern. It's envisaged that fuel-cell stacks will power motor vehicles in the future, reducing reliance on petroleum - and unstable oil-producing countries.
But where the emerging hydrogen economy is concerned, South Africa has its own unique drivers. Platinum is a key catalytic material in hydrogen fuel cells. We have over 75% of the world's platinum reserve. According to the International Platinum Association, no other material is as effective in proton-exchange membrane fuel cells.
But here's the rub: there are cheaper alternatives to platinum. It's thus become critical for the growth of the South African economy that applications of resources like platinum group metals are diversified.
"The strategic goal is for South Africa to supply 25% of the future global fuel-cell market with novel, locally developed and fabricated platinum-group metals catalysts by 2020," says chemical engineering's Professor Jack Fletcher. "Our job is to work on the catalytic electrodes."
Besides the significant socio-economic benefits of adding value to key natural resources, developments in hydrogen fuel-cell technology would also complement South Africa's expertise in other areas. These include high-temperature, gas-cooled nuclear reactors, such as the pebble-bed modular reactor technology, and coal-to-liquid fuel technology.
There are also other spin-offs and challenges for UCT. The new centre will offer front-edge research opportunities and will need to grow its postgraduate cohort, with the recruitment drive extending overseas. This is good for our corporate research endeavour. But, as we know, postgraduate students are thin on the ground in highly specialised areas like chemical engineering.
---
This work is licensed under a Creative Commons Attribution-NoDerivatives 4.0 International License.
Please view the republishing articles page for more information.
---