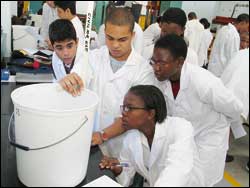 By the bucketful: first-year civil engineering students (from left) Feroz Mullajee, Devlin Fortuin, Lillian Ngabirano (face obscured), Lerato Sendyose and Nokubonga Khumalo (front) measure up during a practical. The department has reported the biggest first-year intake in 25 years
A stable macro economic climate, low interest rates and several big-tag international events have seen the countrywide building boom spill over to UCT's Department of Civil Engineering, reporting its biggest first-year intake in 25 years.
The first-year class is over 100-strong (including extended programme ASPECT students), a substantial increase over previous years' intakes. Numbers hit a low in 2002 when around 35 students registered. Since then there has been a sharp increase.
The present boom is being mirrored at other institutions, says the department's Professor Mark Alexander.
"There has been a steady increase over the past few years, but this year's intake represents quite a jump," he confirmed.
There is no doubt this trend can be linked to the buoyant state of the construction industry and the country's focus on infrastructure development, with substantial funds being made available for this work.
"In my view, students are being attracted by the possibilities offered by industry as well as the roll-out of flagship projects such as soccer stadiums for 2010, the Gautrain and airport expansions."
Alexander also believes parents and guidance teachers are steering their young charges in the direction of the boom, academically speaking.
"Interestingly, our stats show an identical up-tick approximately 30 years ago, when the country was undergoing its last major construction boom, with comparable flagship projects such as major freeways and bridges, downtown developments, new power stations, and so on.
"In effect, South Africa put its initial primary infrastructure in place in the years 1965 to 1980, the infrastructure with which we largely have to cope today.
"It appears that we may well be in the second major phase of infrastructure development, which hopefully will also last at least 15 years."
The increase in student influx has also meant UCT civil engineering has been able to raise the bar. Over the past several years the department's required intake points (weighted) have gone from 48 to 54.
"This year we were able to take the majority of students with 54 points, and in general, no-one with less than a B in maths. We have both quality and quantity."
From an equity perspective, the numbers of women and black students have stabilised at 25% and 60% (taken inclusively), respectively, over the past five years.
But greater numbers demand more facilities.
"This impact tends to be felt from second year onwards, when students must be accommodated solely in the department's laboratories and tutorials. Service departments like physics and mathematics would also be feeling the strain."
There's good news and bad, says Alexander.
"The recent increases are not resulting in substantial increases in postgraduate numbers, particularly of South African students, because every one of our graduates has three or four jobs from which they can potentially choose."
---
This work is licensed under a Creative Commons Attribution-NoDerivatives 4.0 International License.
Please view the republishing articles page for more information.
---