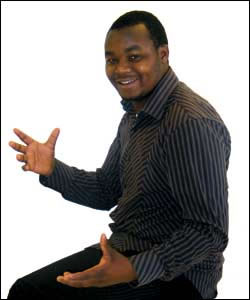 Know what you want: Commerce Academic Development Programme (CADP) Student of the Year, fourth-year Onele Ncokwana.
There's one thing Onele Ncokwana is sure of: You must know what you want in life. And you must prepare for that.
The final-year commerce student has been named Commerce Academic Development Programme (CADP) Student of the Year. It's a mantle he's happy to carry, believing he has a role to play in persuading young black students to forget the past and concentrate on getting what they want from the university.
The CADP has been designed to help students complete a BCom degree over a three- or four-year period, offering a range of additional support and value not offered in the mainstream three-year programme. The CADP specifically addresses the gaps and disparities in students' educational and life experience so that they can more easily succeed on the BCom programme.
In addition, it provides students with a variety of support that enhance a broad and comprehensive range of educational and life skills.
"There is a range of opportunities to interact with fellow students to develop and practice collaborative learning and communication skills," said programme co-ordinator Dr June Pym.
Specific support exists in language development and mathematics, as well as a range of additional interventions at varying levels in the degree course.
Scores of students like Ncokwana have benefited from the CADP, which has provided a valuable springboard. He believes it's a platform students should use.
"As South Africans we need to look at what we want. Forget your past. There's nothing you can do about your past. It's about self motivation, discipline - and courage."
When he began as a fresher here, he'd never left the Eastern Cape (he was schooled at St John's, Umtata). The classes were difficult; the English-speaking lecturers spoke too fast in terminology foreign to him. He'd never studied finance or economics. But he did have matric science and maths, maths he taught himself on the higher grade as there wasn't a teacher available.
"When I came here, I was lost. But I've grown as an individual."
Now he tutors first-year students, eager to ease their academic passage.
"I have a heart for people, especially those who are failing. They won't ask anyone. That worries me a lot. I pray everyone in that position would say: 'I'm struggling with this. Please help me'."
There is another thing he's sure of: A career as an investment banker. He plans to register for the Chartered Financial Analyst (CFA) programme next year.
"To me this [UCT] is a ticket to go somewhere, to a great career."
Ncokwana's award was made at the third annual Saville Awards evening two weeks ago to honour academic excellence among the 470 participants on the CADP programme. Academics aside, the event also celebrated the student's considerable natural gifts: poetry, music, song and dance. (Duncan Saville is a UCT alumnus and financier and businessman who graduated BCom in 1975 and BCom [Hons]/CTA in 1978.)
"Some of these students are doing exceptionally well, with some CADP pass rates surpassing mainstream students," said Pym.
One such student is second-year student Stephen Klein whose marks rank between 77% and 93%. (He got more than 80% for five out of seven subjects.)
There were many achievers but the main awards went to Akona Gazi (first year, three-year degree); Mohammed Hoosain (first year, four-year degree); Alatha Ndlebe (second-year, first overall), Andrea Julie (first overall, four-year degree), Yudeshree Naidoo (first overall, third year), and Malikah Groenewald (first overall, fourth year).
---
This work is licensed under a Creative Commons Attribution-NoDerivatives 4.0 International License.
Please view the republishing articles page for more information.
---