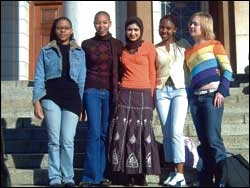 High rise: Among those who attended the conference were (from left) Sisanda Mcimeli, Mabohlale Mampuru, Naadiya Moosajee, Lethabo Baloyi and Rene Lambon. SAWomEng was the brainchild of Mampuru and Moosaje. (Sponsors included: Vodacom, VW, Halliburton, Siemens, Pick 'n Pay and Murray and Roberts.
Mentorship is the key to bringing young women engineers on stream in a country experiencing a shortage of graduates in the field.
This emerged at the South African Women in Engineering (SAWomEng) conference in Rondebosch recently. The organisation was formed by UCT third-year civil engineering students Mabohlale Mampuru and Naadiya Moosajee.
When they first mooted the idea, Mampuru and Moosajee had one goal in mind: revolutionise the profession's profile, starting with students.
"We aim to represent women in all engineering disciplines," Mampuru said.
Not only is the organisation identifying the brightest women in engineering, but also providing a vital support base while they're studying.
And with the career market in mind, SAWomEng's one-day conference and networking dinner at the Belmont Square Conference Centre, plugged an important gap.
"The face of engineering is changing as more women choose to contribute to this male-dominated industry. It's important for companies to realise that they need strategies to attract the new-age engineer as many are being attracted into other careers."
The conference provided plenty of room for networking and talk. Among the participants were some important stakeholders from industry. To their credit, many were sponsors of the event and ensured their representatives participated in the programme.
"It was an ideal opportunity for these key players to show their dedication to the development of women in engineering," Mampuru said.
The initiative aims to encourage more than mere window-dressing in an age of employment equity. There is a shortage of engineers in the country and women graduates are needed.
"The event seeks to create ties between the old and new generations of engineers," Mampuru added.
But the graduates and educators agree that mentorship is vital to achieving this.
"Our vision is to provide mentorship for students to bridge the gap between university and the engineering industry. This process can also help students secure vacation work as well as employment once they've graduated, ensuring the retention of graduates."
---
This work is licensed under a Creative Commons Attribution-NoDerivatives 4.0 International License.
Please view the republishing articles page for more information.
---