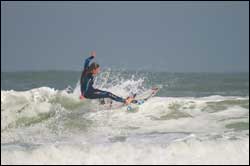 Krystal clear: Surfer Krystal Tavenor is slowly working her way up the SA surfing ranks.
UCT surfer Krystal Tavenor doesn't just like hitting the waves, but wants to record the experience on film as well.
Krystal Tavenor has a hard time convincing her film and media studies lecturer that a documentary on surfing would be a worthwhile class project.
So it doesn't ask penetrating social questions or have a big take-home message, but the surfer world has its own stories and culture. There's the waking up in the morning to check the wind and the waves, calling your friends ("Surf's up, dudes."), the hours in the photogenic blue waters, the notoriously carefree lifestyle and, of course, the parties.
The lecturer may have sussed by now that Tavenor, 21, is something of a surfing fiend.
But she's not all talk. Even though she took up the sport about just five or six years ago - her rivals have a head start of at least five years on her - she's been doing quite well for herself.
Back in her school days, she won the Boland under-18 closed championships in 2002, the Boland under-18 open in 2003, and, last year, the Boland under-20 championships. She was fourth in the Billabong South African Students Sports Union (SASSU) games in 2005, and finished sixth this year.
She also took sixth place in the Senior Quicksilver SA Champs this year. Officially, that makes her the sixth-best women surfer in the country.
That's been no cakewalk. A few years ago, there were just a handful of good women surfers around. There's been a sea change in the sport since then. (Some credit may go to surfer movie Blue Crush.)
"A few years ago, if you could stand up on the board you could compete," says Tavenor. "Now the women rip."
More material for her filmmaking.
Tavenor chose UCT - her brother and friends were here - before she even knew what she wanted to do once she got here. Film and media studies caught her eye and dovetailed nicely, it turned out, with her surfing interest.
What she wants to do is shoot documentaries in the vein of those made by the acclaimed Taylor Steele. She already has a couple of story ideas and titles in mind.
Her surfing may overtake her film career, though.
Initially, Tavenor struggled getting through the first heat. (If her first waves weren't right, it all fell apart for her, she admits.) This year, she's managed to overcome that hurdle and is making it into the later heats more often.
She's been good enough to get at least one sponsor on board - Havaianas - so may just fancy her chances on the water. "It encourages one to see the Havaianas sticker on your board," she says.
Now if she can hit those good first waves.
---
This work is licensed under a Creative Commons Attribution-NoDerivatives 4.0 International License.
Please view the republishing articles page for more information.
---