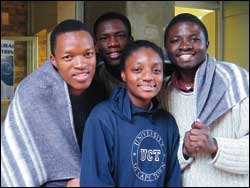 (From left) Nkosinathi Gule (MSc electrical engineering), Nathaniel Oreoluwa Fadiran (MSc, electrical engineering), Oluwakemi Agunbiade (BSc, mechanical engineering) and Olukayode Ajayi (MSc, chemical engineering) members of the Nigerian Students' Society collecting blankets for the city's needy citizens.
The soaking rain and dark days last week brought it home; winter has arrived. Working through SHAWCO, the Nigerian Students' Society (NSS) has launched a campaign calling for blankets for the city's neediest citizens. This multinational society (its president, Francis Kapijimpanga is Zambian, for example) ran a similar campaign last year. This year's drive is being co-ordinated by the society's welfare committee, chaired by Nathaniel Oreoluwa Fadiran. If you have blankets to donate, please deposit these in the marked boxes outside the International Academic Programmes Office's headquarters in the Kramer Building, middle campus, or at the Student Representative Council offices in the Student Development and Services Department building on upper campus. Cash donations will be gladly accepted. If you would like to go this route, please e-mail Nathaniel Oreoluwa Fadiran at orefad@crg.ee.uct.ac.za or orefadiran@gmail.com. "Our appeal is not limited to blankets but includes clothing - anything to keep warm," he said. (The NSS aims to establish a "highly disciplined, professionally organised network of resourceful and progressive-minded individuals of Nigerian origin and friends from around the globe, studying at UCT".) They hope to provide a platform for discussing socio-political issues relevant to the immediate environment and continent in general.)
---
This work is licensed under a Creative Commons Attribution-NoDerivatives 4.0 International License.
Please view the republishing articles page for more information.
---