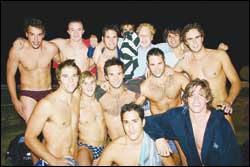 Reigning men: South African university champions and winners of the intervarsity against the Maties: (From left, back) Jamie Walters, John D Lotz, Matthew Kemp (water polo club chair), Simon Beronge, Jeff Klue and Edward Schmidt. (From left, middle) Jono Palmer, Guy Powell (vice-captain), Travis Williamson (captain), Nick Kemp and Paul Brewis. (From left, front) Adam Kajee and Oisin Tummon.
In a tightly fought final, the Ikeys men's water polo first team defeated their Maties counterparts in the first intervarsity at Stellenbosch this year.
Egged on by an enthusiastic band of supporters, the team snatched the win by one goal, the score ending at 7-6 after they were 7-4 up after the first two chukkas.
The Maties' comeback was due to a strong contender in the form of a New Zealand men's national team member.
Not to be upstaged, the women's first team blew their Maties counterparts out of the water, going up 6-2.
Victory also went to the men's seconds (10-8) and thirds (12-4), winding up a memorable evening.
"It's the first time we've had a clean sweep," vice captain Guy Powell said.
The UCT teams' successes are even more admirable given that the teams coach themselves (men's goalie Matt Kemp coaches the women, for example) and do not have access to a UCT pool now that the facility is out of action for construction work on the new residence.
The men's side also took a gold medal at the South African Universities games at the end of last year, beating Maties 10-5 in the final. The women also took gold, beating the Maties for the first time ever at the games, a thriller by all accounts, as they scored the winning goal in the dying seconds of the game.
The club's performances have been on the up since 2002, thanks to a crop of scholarships and some young blood coming in among first- and second-year students.
With South Africa's solid showing at the Commonwealth Games (the men's team was fourth, behind Australia, Canada and New Zealand; the women's team fifth behind Australia, Canada, New Zealand and England), the sport is growing around the country, Powell said.
The UCT men's first side will face the Maties again in the club first league at a tournament in May.
---
This work is licensed under a Creative Commons Attribution-NoDerivatives 4.0 International License.
Please view the republishing articles page for more information.
---