Athol Fugard to honour gifted UCT teacher
World famous playwright and author of the novel Tsotsi, Athol Fugard, will attend a memorial lecture at UCT in honour of Dr Margaret Mezzabotta, a member of staff who was tragically killed in a car accident in Cape Town in 2000. Mezzabotta, who was a senior lecturer in classics at the time of her death, was renowned for her inspirational teaching and her support of her students, as well as for her wide-ranging research interests, which included Greek drama and ancient science. These qualities were formally recognised by UCT when she received the Distinguished Teachers Award in 1997. She also chaired an education advancement programme for under-privileged students and taught many extra-mural courses, and played a major role in the Classical Association of South Africa. The memorial lecture will begin with Prof Marianne McDonald, a friend and colleague of Mezzabotta and currently a professor of classics and theatre at the University of California San Diego, speaking on Medea - The Beginning. Fugard will read a new short story, Jason - The End. The lecture takes place at 18h00 in lecture theatre 1, Kramer Law Building on middle campus, on Friday, April 21. To RSVP, please contact Sue Beele on 650 2607.
Students remember the Rwandan genocide
Even when measured against humankind's boundless appetite for cruelty towards each other, the Rwandan genocide of 1994 sticks out like a sore thumb. Here, many argued, was a carnage that could be mentioned in the same breath as the Jewish Holocaust of 1933 to 1945. In just 100 days of 1994, an estimated 800 000 Rwandans - primarily Tutsis - were killed, the perpetrators members of the Hutu majority in the country. In 2004, the United Nations (UN) - who came out of the massacre with its reputation in tatters - declared April 7 of that year an International Day for Reflection on the Genocide in Rwanda. Carrying on from that occasion, UCT's Rwandan Student Society, the International Academic Programmes Office (IAPO) and members of the East African community will host two functions this week to commemorate the 1994 events, and its causes.
Here's the programme for the week:
Thursday, April 6, 17h00, a screening of Raoul Peck's film Sometimes in April in lecture theatre 1, Kramer Building.


Friday, April 7, 17h00-19h00, a seminar on the genocide and post-genocide reconstruction efforts in Rwanda, to be presented by representatives of the Rwandan Embassy, the Institute of Justice and Reconciliation, and the Centre for Conflict Resolution, in lecture theatre 3, Kramer Building.
Interactive media and moral responsibility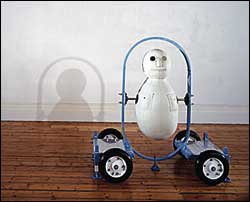 Johann van der Schijff, lecturer in new media at the Michaelis School of Fine Art, will soon host his first solo exhibition in nine years, titled Power Play. The exhibition will be on at the Bell-Roberts Contemporary Art Gallery, 89 Bree Street in Cape Town, from April 25 to May 20, running weekdays from 08h30-17h30 and Saturdays from 10h00-13h00. The show opens on Tuesday, April 25, at 18h00. Power Play is made up of pieces Van der Schijff has been working on over the past two years, using computer-aided design and manufacturing techniques. According to the artist, the exhibitions examine power relationships in society, taking as its point of departure a comment on interactive media from Lev Manovich's book The Language of New Media - "Making a choice involves a moral responsibility". "What I am consequently aiming at in this exhibition is for the viewer to be forced into a position of choice in their engagement with the work," says Van der Schijff. For more information on the exhibition, contact Van der Schijff at 082 330 5335.
Students support judicial independence
Legendary human rights lawyer, Adv George Bizos SC, will be among the prominent speakers invited by UCT students to speak on the controversial draft Constitution 14th Amendment Bill.
The discussion will be held on Tuesday, April 4, in the Quad, Kramer Law Building at 18h00 for 18h30.
Other speakers expected are UCT professor of law and president of the Competition Appeal Court, Judge Prof Dennis Davis, and Commissioner of the Truth Commission, Adv Dumisa Ntsebeza SC.
The amendment, which proposes regulating responsibility in respect of the judicial and administrative functions of all courts, has raised concern in the legal fraternity as potentially compromising the independence of the judiciary.
This is a student-led initiative.
Mama, what a show
Mamavox, dubbed South Africa's premier all-woman a cappella quartet, will perform at the new On Broadway venue, Off Broadway, on April 6 and 7. Mamavox combines the talents of some of Cape Town's top singers - Lisa Bauer, Monique Hellenburg, Mimi Ntenjwa and Amanda Tiffin. All graduated in jazz studies from the South African College of Music at UCT. Each is a renowned vocalist in her own right, but together their combined voices create sublime music and the group is fast becoming known as a musical force to be reckoned with.
"By using our voices as instruments, we are able to explore the unlimited pallet of sounds possible by the human voice," says group leader Tiffin. "[A cappella] is a challenging art form, because it's so exposed. Yet it's incredibly exciting to perform 'out-of-the-box' music." Mamavox's repertoire mixes sure-fire favourites with original material from across a wide range of styles, be it jazz or popular contemporary sounds - each with a unique South African twist. For more information on the Mamavox show, contact On Broadway at .
Kids fun at Baxter
The Lilliput Children's Theatre Company, in association with the Baxter Theatre, will perform their brand new show, The Ugly Duckling and Other Stories, at the Baxter Theatre during the April school holidays. This delightful show will run from Saturday, April 1, to Saturday, April 8, at 11h00 daily. Tickets are R25 per person and bookings for the show can be made at Computicket, or online at www.computicket.com. For block bookings of 10 or more, or for any queries, contact Elton on 083 364 8284 or 689 8260.
---
This work is licensed under a Creative Commons Attribution-NoDerivatives 4.0 International License.
Please view the republishing articles page for more information.
---