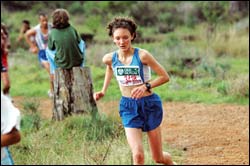 Over the hill: Unice Vorster's fourth place - her second in two weeks - at the cross country meeting at UCT on May 28 helped the UCT women's team to a memorable win.
The women's team of the UCT Athletics Club scoop their vaunted opponents, and hockey teams return to their season with big victories.
Athletics: With club member Clare McMullen at the helm, UCT hosted the second Western Province cross country league meeting on the mountainside above upper campus on May 28. Competing in their own backyard must have inspired the UCT women's team of Unice Vorster (placed a regular-as-clockwork fourth), Carrie Ritter (eighth), Lauren Stewart (10th) and Helen Clark (14th). Following on a narrow loss to adidas the week before, they went one better and won the meeting's showcase event, the 8km race, beating Harmony by just one point. It was Clark's strong finish that tipped the scale in UCT's favour, as she passed a Harmony runner in the last few hundred metres to give UCT the win. The women's team now moves into first place on the log after two races. Of the season's seven races, the best four will decide who takes the honours this year. Despite being staged on one of the toughest courses around - runners have to huff and puff their way up some of UCT's most remorseless hills - the event boasted the biggest turnout of any cross country league in several years, reports coach James Evans. "And the general feedback from the runners is that they thoroughly enjoyed it," he said. Just goes to show - runners are suckers for punishment.
Hockey (men): Coach Pierre le Roux is in Malaysia with the SA senior team, so the UCT A team has had to fend for itself in the Grand Challenge log (the side's Canadian international Steve Davis has been running some of the training sessions). Le Roux may worry if he's at all needed when he gets back. In his absence, the A side is picking up steam. They beat UCT B 5-0 on May 21, and then cruised to a 6-0 win over Western Province Cricket Club B on May 28. The two bonus points for these victories may just have given them the edge over close rivals Pinelands. In a way, the 2005 season has taken on a different shape to previous years. "Historically, looking over the past four campaigns when we've won the league, we were always a bit sluggish in the first half," says club chairperson and first-team striker George Eadie. "And then we'd go away to Sassu [which this year starts on June 27 in Pretoria] and spend time as a team and grow as a team, come back and be a bit more effective. This year, we're doing well in the first half, so we're hoping to go to Sassu and just build on that."
Hockey (women): Back together again after a few teammates were off helping the WP under-21 team to victory in the inter-provincial tournament, the UCT women have hardly skipped a beat. They beat Central by 3-0 in their return match on May 29. "The under-21 players have had a very successful tour with Province, and certainly have brought a lot back to the team," says UCT skipper Natalie le Brun. "And I think everyone was just keen to get out and play again." But for a downpour - which cut the game short by about 10 minutes - UCT may well have scored a fourth goal against Central and earned a bonus point that would have put them in touch with Stellenbosch, runaway leaders again this season. Be that as it may, UCT - now established as the "official opposition" to Maties, says Le Brun - has had a memorable season. They've certainly cranked up their performances since 2004, and have won all their games thus far. "It's been great," notes Le Brun. "What's been fantastic is that we've been winning the games that we didn't win last year."
Squash: Defending women's champions UCT is making the running in the WP league again this year. They widened the gap between themselves and their closest rivals to 15 points after beating Durbanville B by 10-7 (eight sets to seven, plus two bonus points for leading after the evening's four matches). This Monday, UCT takes on the equally formidable Durbanville A team. There's little doubt, though, that UCT is the team to beat at the moment. "I think a lot of teams would like to take us out," says captain Annie Aling with a laugh. "But so far so good."
---
This work is licensed under a Creative Commons Attribution-NoDerivatives 4.0 International License.
Please view the republishing articles page for more information.
---