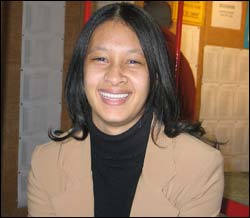 Yolanda Davids.
Difficult customers are not a problem for this week's Five-Star Staffer.
"It's all about the manner in which you speak to them. You need to be calm and let them know you are there to help," explained Yolanda Davids.
Praised for her unfailing courtesy and fervour by third-year business science student Catherine Kannemeyer, Davids is one of the School of Economics' most treasured secretaries who assist students with various administrative matters.
"It is incredibly refreshing to be able to approach reception and be greeted with enthusiasm and dealt with efficiently by Yolanda," Kannemeyer said.
For Davids, who has worked at UCT since 2002, it is all in a day's work.
"I am able to communicate with all kinds of people; it comes naturally to me. And it's an important skill for my job.
"I've always wanted to work for a world-class university. I love the diverse groups of people and languages in this environment," she added.
Davids describes smiling and talking as her favourite pastimes and she can often be found telling jokes to stressed students who approach her desk.
"It is never a pleasant experience when people don't listen to you, it's disrespectful. I go out of my way to respect the students I assist. In a frontline position, I am responsible for the image of the department and I try to ensure I promote the school in a positive way."
When asked what she did in her spare time, Monday Paper was somewhat surprised to discover that the petite and softly-spoken employee enjoyed playing touch rugby with her friends.
"It's a relaxing environment where you just let go and enjoy yourself. You tend to focus on the game and forget about everything else, including work," Davids commented.
"It's also very social. You get to meet different people as your friends invite other friends to join in."
While most staff members long for the tranquillity vacation periods offer, Davids rejoices when the throngs of students return to campus.
"I don't like it when the students disappear. It's too quiet. I like to be kept busy. I'm very happy they are all back."
---
This work is licensed under a Creative Commons Attribution-NoDerivatives 4.0 International License.
Please view the republishing articles page for more information.
---