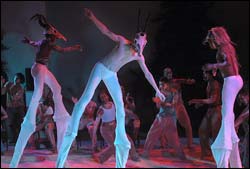 Rain in a Dead Man's Footprints is the culmination of many years of research and collaboration between academics, choreographers and dancers and has received rave reviews at this year's National Arts Festival.
Big money for innovative ideas
Ahoy students! Have you entered the UCT Innovation Competition, feeder of the National and International Innovation Competitions? There are some big prizes up for grabs: R50 000 for winning the UCT competition; R150 000 start-up capital for winning the National Innovation Competition; and R100 000 towards the overseas trip if you are chosen to take part in the international competition. To enter you must be a registered student (any stream). Your idea must be a viable technological innovation. The closing date for business plan submissions is August 31, 2004. For more information, contact JP Kloppers at the UCT Tech Office, Room 414, Menzies Building, tel 650 4099, or e-mail jpklp@eng.uct.ac.za.
Special price on Jocasta Rising performance
UCT staff and students are being offered special prices to see Carol Michèle Kaplan's new play, Jocasta Rising, at the Artscape Theatre. Tickets are on sale for R25 (less than a movie ticket) for the July 26 performance, which at 19h00. Booking can be made telephonically at the Artscape box office, tel (021) 421 7695. Please mention that you are from UCT and remember to take your staff or student ID card along when you collect your ticket/s.
Photo Competition
Competition rules and entry forms are now available at Campus Camera. All university staff, students and alumni are urged to get out their cameras and take that award-winning picture representing any aspect of UCT life along the theme, 175 Years on – Changing Minds and Histories. Even if you do not have a camera, and were unlucky not to have been given a free Kodak disposable camera, you can still enter the competition by submitting any old pictures of UCT that you or your family might have. Great prizes, ranging from R2 000 to Kodak cameras, can be won in the following categories: disposable cameras; an open section for either black and white or colour photographs; and historical photos. Winning and other top entries will be part of an exhibition to celebrate UCT's 175th birthday in October. Campus Camera is also offering great discounts and other benefits to assist those wishing to enter. The competition closes on September 10 and further details can be found on the entry forms or later on the UCT website.
175th birthday celebration sale
The special UCT 175th birthday celebration sale begins today at Brainbooks UCT. Bargain prices are offered for a range of books, UCT bags, posters, T-shirts, superb UCT watercolour paintings and other memorabilia. There is a limited stock of some items and these will be sold on a first-come-first-served basis. The sale ends Friday, July 23.
Jazzart show unearths a lost culture
The sixth collaboration between Jazzart Dance Theatre and Magnet Theatre, Rain in a Dead Man's Footprints, evokes the sights and sounds of the history and myth of the /Xam people of the northern Cape and was inspired by research undertaken by Wilhelm Bleek and Lucy Lloyd in the latter part of the 19th century. This research is considered the most extensive record of /Xam culture and represents a significant link to a lost culture. Rain brings this lost culture back to life using dance, music, drama, puppetry, fire displays and illusion. The production will be staged at the Baxter Theatre from July 28 - 31. Bookings can be made through Computicket.
---
This work is licensed under a Creative Commons Attribution-NoDerivatives 4.0 International License.
Please view the republishing articles page for more information.
---