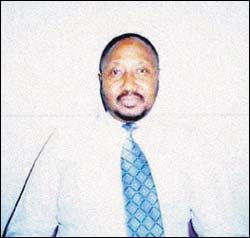 Prof Ronald Thandabantu Nhlapo.
UCT has the capacity to be an absolutely amazing success story in the management of diversity and the creation of a working environment that does not alienate or threaten, but rather empowers and affirms individuals to be the best they can be.
So says Professor Ronald Thandabantu Nhlapo, a diplomat and former UCT law professor who has been appointed deputy vice-chancellor at UCT.
Nhlapo's five-year appointment was approved at a special meeting of the university's Council on May 24. Prior to this, the proposal to appoint Nhlapo received approval from the Senate.
In addition, the Institutional Forum indicated to Council that the agreed process for selecting a new DVC had been duly followed by the selection committee.
Nhlapo, who has also been offered an ad hominem professorship in the law faculty for the same period, takes over the position from Dr Benito Khotseng, who resigned in November last year.
In announcing the appointment, vice-chancellor Professor Njabulo Ndebele said he was delighted Nhlapo had decided to join UCT as he brought with him a wealth of experience, which would make him a valuable member of the top management team, particularly in the areas of student affairs and international and government relations.
"Professor Nhlapo has a range of skills that will serve him well in the new post. His leadership skills, demonstrated commitment to issues of transformation and equity, experience in higher education in South Africa and abroad as well as his experience in government liaison will be of great value to us."
Pledging to use his experience and talents to play a full role in generating the creative energy required to further develop initiatives and strategies to fulfil UCT's mission, Nhlapo said his new position would allow him to continue the transformational work begun in the 1990s when many of the university's current policies and guidelines were developed.
"Participating in those pioneering processes gave me a lasting interest in our higher education sector and it is satisfying to be able to return home to make a modest contribution at this level.
"I hope that together with the students and the executive team we shall forge ways to address outstanding issues and to deal effectively with challenges as they arise. I also relish the challenge of leading the push to further our international affairs efforts and to open the doors to effective government liaison," he added.
Nhlapo feels the challenges are massive and include the need to attract and retain black and women students and staff as well as the facilitation of exchanges and programmes, which expose students to the rest of the continent.
"We must also continue to pay attention to the need to make the institutional culture of UCT welcoming and enriching to these students and staff members when we have successfully recruited them."
He continued: "It is impossible to claim any exclusive personal wisdom in answering these pressing questions but I can, and do, pledge to do my best to add value to any processes already underway at UCT to realise these aspects of the vision."
Nhalpo will take up the position on August 1, returning to South Africa from Washington DC where he has been working as Deputy Chief of Mission in the South African Embassy.
His return to UCT will be something of a homecoming as he previously occupied the Chair of Private Law in the law faculty from 1995 to 1998 before he was appointed to the South African Law Commission, where he served from 1996 to 2000.
Married with two children, Nhlapo obtained his BA (Law) at the University of Botswana, Lesotho and Swaziland (Roma, Lesotho), and then went on to receive an LLB (Hons) from the University of Glasgow, and a DPhil at Oxford University in the UK.
During his tenure at UCT he taught law of persons, family law and African customary law and was promoted to full professorship in 1995. Prior to joining UCT, he was dean of the social science faculty at the University of Swaziland.
While working for the South African Law Commission he chaired a project committee on the harmonisation of indigenous law and common law. He also led the project team, which produced a report on customary marriages, resulting in the Recognition of Customary Marriages Act passed by Parliament in 1998.
In Washington, he was responsible for staff at the embassy and for managing the office. Dean of the law faculty Professor Hugh Corder said he was pleased with the announcement and that he remembered Nhlapo as being very much a team player when he was a member of the faculty. "Professor Nhlapo knows UCT very well and his academic experience, together with his ability, is of the highest quality. I have no doubt that he will do a great job."
---
This work is licensed under a Creative Commons Attribution-NoDerivatives 4.0 International License.
Please view the republishing articles page for more information.
---