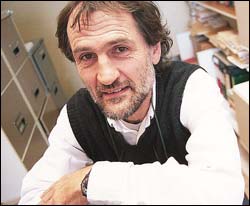 Dr Johann Graaff.
It's taken a mite longer than originally scripted, but Dr Johann Graaff finally signed off on the publication of the last book in a series of cash-saving sociology primers.
Crime and Deviance - written by Dr Doug Thomson of the University of Natal, Pietermaritzburg, and Dr Frans van Aswegen of the University of Stellenbosch - is the sixth and closing instalment of Introductions to Sociology, of which Graaff, of UCT's Department of Sociology, is the editor. With its release in May, the 71-page textbook brings to close a two-year project with Oxford University Press (OUP).
The series, which kicked off with Graaff's own What is Sociology? in June 2002, is intended as a cheaper (and lighter) alternative to the pricey and unwieldy foundation textbooks usually prescribed for first- and second-years.
Students would normally cough up anything between R400 and R500 for a textbook of which they would use but a quarter over a standard course, explains Graaff. Any of the six books in the Introductions to Sociology series, which cover topics most popular among South African university courses, costs no more than R70.
The other four books are Social Institutions by Dr Derik Gelderblom of UNISA; Population Studies by Dr Susan Ziehl of Rhodes University; Work and Organisations by Wits University's Professor Edward Webster, Dr Sakhela Buhlungu and Dr Andries Bezuidenhout; as well as Graaff's second contribution, Poverty and Development.
Initially, OUP and Graaff had hoped to have the series wrapped up sometime in early 2003. A few hiccups - one or two of the books needed a couple of rewrites - delayed things, however. But, misgivings aside, Graaff is happy to finally see the work completed.
All that's left now is to market the series to universities around the country, and try to spark an interest among lecturers keen to get the best out of their textbooks. And each of the books, in terms of content, sets the bar high.
"The aim of the series was to have a high-quality set of books," Graaff explains, "but written in a language as lucid and clear and simple as possible."
---
This work is licensed under a Creative Commons Attribution-NoDerivatives 4.0 International License.
Please view the republishing articles page for more information.
---