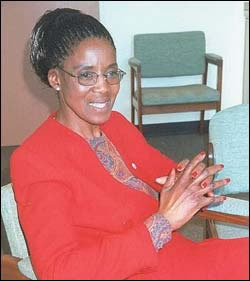 Professor Julia Mekwa
Professor Julia Mekwa has been appointed part-time Deputy Vice Chancellor (student affairs portfolio) from February until June 30, 2004.
This is an interim position until a Council-appointed selection committee has completed a process to recommend a fulltime candidate.
The position was vacated at the end of last November when incumbent Dr Benito Khotseng resigned because of ill health.
Mekwa joined UCT to head the Department of Nursing and Midwifery in the health sciences faculty in April, 2002. She was the faculty's first full black woman professor.
Schooled in Lesotho, Mekwa grew up in Brandfort in the Free State. That the small "dorpie" was home to some famous and infamous names in South African history: Hendrik Verwoerd, Winnie Mandela (during her banishment period), Professor William Kgware, the first black rector of the University of the North, and CR Swart, is something that did not escape the young woman.
Motivated by the credo "I can also make it", she embarked on a journey that took her to work and study both abroad and in six of the country's nine provinces.
She trained as a nurse at Edendale in Pietermartizburg and began nursing in Thaba Nchu. Later, realising that bedside nursing was not her future, she took to her books again, firstly at the University of the North where she obtained her undergraduate degree and later at the University of Washington in Seattle, where she received her PhD with a thesis entitled The effects of attention training process (ATP) on attention and memory deficits following moderate traumatic brain injury.
Her teaching career included stints at the University of the North West (formerly Bophuthatswana), the University of the North, where she was HOD in nursing and deputy dean in the School Health Sciences, and the Rand Afrikaans University.
Mekwa is currently the deputy director in the Department of Health and Rehabilitation Sciences and serves on several national committees dealing with health issues, including the National Health Research Committee and Public Health SGB.
---
This work is licensed under a Creative Commons Attribution-NoDerivatives 4.0 International License.
Please view the republishing articles page for more information.
---