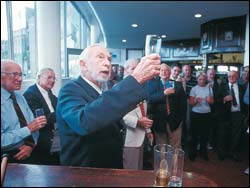 To old friends: Judge Pat Tebbutt does the honours as the UCT rugby club toasts the late Louis Babrow, who died in January.
Just under a year since paying literary homage to national rugby hero Louis Babrow, friends, colleagues and teammates recently gathered once more at the UCT rugby club to honour the former UCT, WP and Springbok player who died in his sleep on the night of January 26, aged 88.
The beers and jibes still ran as freely as they did in May last year when the club released a booklet celebrating Babrow's sporting, military and medical achievements. This time, however, the occasion was a more melancholic one, as the group had assembled to say their final farewells - in drink and reminiscence - to a fallen friend.
Babrow had been the last but one surviving member of the 1937 Springbok team, a side that not only beat Australia Down Under, but also became the first team to beat the All Blacks in New Zealand.
Born in the Free State, Babrow studied at UCT in the 1930s, and would return to coach here from 1949 to 1963. He also served on the UCT Council for 25 years, retiring in 1988.
"All of us were honoured to be his friend," said Judge Patrick Tebbutt, a patron of the UCT rugby club, in toasting Babrow at the recent gathering. "And all of us are proud to be able to say, 'He was my friend'.
"And Louis," he added, raising his glass and addressing the heavens, "I know if there's a rugby club wherever you are, you're probably standing in the pub at the moment and you hopefully have a glass in your hand, and while we raise this to you, go well, old friend, God bless you."
---
This work is licensed under a Creative Commons Attribution-NoDerivatives 4.0 International License.
Please view the republishing articles page for more information.
---