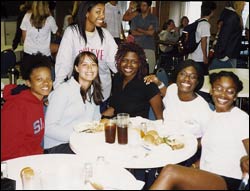 Elana Tong, second from left, with some of the American students she met aboard the Universe Explorer.
Despite bouts of sea-sickness and cabin fever, Postgraduate Diploma in Tourism and Leisure student Elana Tong had the honour of promoting Cape Town and South Africa to 800 American students during her semester at sea programme earlier this year.
Tong, who graduated last year with a social science degree in industrial psychology, spent two weeks aboard the Universe Explorer, a luxury liner transformed into a travelling university, providing more accurate information on important South African issues such as crime and AIDS.
"I was amazed at how misinformed people were about South Africa," said Tong. "I was asked to speak about my home life and I used every opportunity to set the record straight," she added.
Initiated by the University of Pittsburg, the semester at sea programme allows students to learn about different cultures and countries by visiting different ports. At each port an "interport" student and lecturer, from the country the university will visit next, boards the ship.
Tong flew to Brazil (courtesy of travel agent, Abercrombie and Kent) and spent three days touring the city with fellow students before setting sail for Cape Town. The journey from Brazil to Cape Town took ten days.
Tong explained: "My days were spent promoting Cape Town and providing information on South Africa and I thoroughly enjoyed this. I also attended lectures given by the American students so I learnt a lot about the United States. Ten days at sea is a long time though and I was very pleased when we sailed into Table Bay harbour."
Although Tong could not join the students on their three-day guided tours of Cape Town (she had to return to UCT lectures) she met up with the students after hours, offering some insight into the night-life the city had to offer.
After completing her diploma, Tong would like to spend some time travelling, after which she would like to intergrate her two qualifications and pursue a career in hospitality or events management.
"Constantly interacting with different people on a daily basis provided the opportunity to enhance my communication skills. I also developed more confidence in my ability to understand different cultures. These are skills that I will use no matter what line of work I decide on," she affirmed.
---
This work is licensed under a Creative Commons Attribution-NoDerivatives 4.0 International License.
Please view the republishing articles page for more information.
---