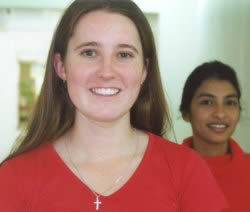 Bringing light: Occupational therapists Heather Wonnacott (front) and Roshaan Galvaan work voluntarily at Zerilda Primary School, where children are affected by the violent social environment.
THE Division of Occupational Therapy in the Faculty of Health Sciences is looking for monetary donations to fund various occupational therapy (OT) projects they have been carrying out at Zerilda Park Primary in gang ridden Lavender Hill for the last three years.
Occupational Therapy lecturer, Roshan Galvaan and UCT graduate Heather Wonnacott, are at present working at the school on a voluntary basis. Galvaan started the projects at the primary school after being alerted by a social worker, working there at the time, about the difficulties and traumas children face living in the troubled community.
"I approached the school and asked if we could place our fourth year students to work with groups of children, particularly girls who had been sexually abused and boys exposed to gangsterism," explains Galvaan.
Final year OT students started at the school in 2000 and work there for at least six weeks. The programmes currently being run by the students involve 20 grade six learners, who according to their teachers are not managing in class, play truant from school on a regular basis and are acting out in class and making an already strained classroom situation, difficult.
"Throughout the year the students change but the programme and group of learners stay the same. The work we do with them varies but it looks at how we can develop their capacity to respond to their environment, we work with children who are either very withdrawn or very aggressive," notes Galvaan.
Occupational therapist Heather Wonnacott, who graduated from UCT last year, currently volunteers at the school on a regular basis, receiving no remuneration because there is no funding for the projects.
"We need funding for the projects, so as to employ Heather at the school. It really makes a difference to have a person at the school also networking with other schools and finding out their situations," says Galvaan.
For more information or to pledge donations please phone Roshan Galvaan at 021 406 6395 or email her to
rgalvaan@uctgsh1.co.za
.
---
This work is licensed under a Creative Commons Attribution-NoDerivatives 4.0 International License.
Please view the republishing articles page for more information.
---