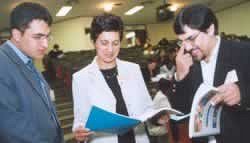 Intellectual smorgasbord: Aydin Inal (left) and Yunus Omar (right), organisers of the recent Second Education Students' Regional Research Conference, with Assoc. Prof. Cheryl de la Rey at the opening of the gathering.
USUALLY relegated to the back benches of conferences, postgraduate education students from the five Western Cape tertiary institutions got to step out of the academic shadows and onto the podium at the recent
Second Education Students' Regional Research Conference
, organised by two UCT students.
The colloquium, hosted by the UCT Department of Education, allows students working on their BEd (honours), Masters and doctoral degrees at UCT, the universities of the Western Cape and Stellenbosch, and the Cape and Peninsula technikons, to share their research with their peers. With Deputy Vice-Chancellor Professor Cheryl de la Rey serving as keynote speaker, this year's event attracted more than 50 students from 15 — mostly African — countries.
Over its two-day run, students presented work that covered issues around the themes of policy, maths and science education, language and literacy, and, a new entrant, HIV/AIDS. Papers tackled everything from internet addiction to learning barriers, from professionalism to bullying, and, as a special contribution, a case for comics as pedagogy.
Initiated a number of years ago by the Department of Education's Jean Baxen and Professor Kevin Rochford as a forum for UCT BEd students, the Department last year expanded the conference to not only include other programmes, but also other institutions. And, according to Aydin Inal, who organised this year's gathering alongside fellow PhD student, Yunus Omar, the conferences play an important role in the students' academic careers as few have the opportunity to present their papers outside seminars.
"One of the stated aims of the conference is to enable enthusiastic students to present their research publicly and systematically in a supportive, helpful and encouraging environment," says Inal. "And, for lots of students, this is the kind of environment that is conducive to peer assistance and peer review."
More than 90% of those who presented their research at this year's conference did so for the first time, he reported.
An exciting feature of the colloquium was the number of practising teachers — who make up the bulk of the students — presenting academic work, adds Omar.
"Despite talk about lack of teacher training in the country, here, at the opposite end of the spectrum, you find teachers very enthusiastic about learning about their own practice and involving themselves in policy issues."
So successful was this year's event that Professor Yusef Waghid of Stellenbosch University noted that his students were egging him on to organise the meeting in Stellenbosch next year. Laurels also came from UWC's Associate Professor Aslam Fataar, who commented that UCT was leading the way for student conferences.
Having so many students from other African countries taking part and drawing visitors from Canada and the United Kingdom — including the University of Sussex's Frances Hunt who is doing research on citizenship and identity in South African schools — gives the event a special feel, says Omar.
"I like to call it an African conference with an international flavour," he observes.
---
This work is licensed under a Creative Commons Attribution-NoDerivatives 4.0 International License.
Please view the republishing articles page for more information.
---