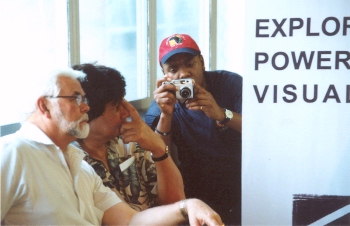 Saying it with a snapshot: From left: Dr Charles Villa-Vicencio, the director of the Institute for Justice and Reconciliation, and George Hallett get a little close attention from a photographer at the opening of Good News at Home, an exhibition of the works of school learners who had to capture the positive side of South Africa.
AMID the lauded exhibitions of some of the country's more seasoned practitioners, the Month of Photography (MoP) also put on display the works of what could be the next generation of South African photographers.
Good News at Home, currently on display at the National Museum in Cape Town, features the fledgling camera work of about 50 school learners from around the Western Cape. As directed by event organisers, the learners' photographs captured the good side of living in South Africa and, specifically, the Western Cape.
The inspiration for the exhibition came from Dr Charles Villa-Vicencio, the director of the Institute for Justice and Reconciliation, who wanted to highlight some of the more positive things about South Africa. In response, Geoffrey Grundlingh, the director of the Hiddingh-based South African Centre for Photography and the man behind the MoP, called on freelance photographer George Hallett.

Capturing that special moment: school learners get to grips with their disposable cameras.
Hallett furnished each learner with a disposable camera and a few words on photography basics, and then took them into the streets of Cape Town for a lens-on session taking snapshots of whatever took their fancy. Afterwards, they took their cameras home and went in search of a shot (or shots) that epitomised the exhibition motif.
Isimela High, Cedar High and Rondebosch Boys' High were among the schools represented at the exhibition. The photographers included a disabled boy whose arms ended at his elbows, with only a thumb attached to the end of each arm.
Speaking at the opening of the exhibition, Ebrahim Rasool, the Western Cape Minister of Finance, Business Promotion and Asset Management, said that the young photographers' images were important at a time when the bad news about the country seemed to grab all the headlines. "Someone has to tell us the good news as well," he said.
Featuring close on 130 exhibitions around the Western Cape, the MoP will run until April 14. The event forms part of the Cape Town Festival.
---
This work is licensed under a Creative Commons Attribution-NoDerivatives 4.0 International License.
Please view the republishing articles page for more information.
---