COVID-19 communication
When the COVID-19 pandemic dramatically impacted the academic programme and university operations in 2020, the University of Cape Town (UCT), through the Communication and Marketing department (CMD) communicated with the campus community and external media and audiences through a variety of platforms. Our first communication from the Vice-Chancellor Professor Mamokgethi Phakeng on 5 February alerted the community to the virus, and as the pandemic spread our communications increased to support the rapidly evolving situation. The purpose of our communications was to:
Convey COVID-19 messages of leadership and encouragement.
Explain UCT's response to the pandemic.
Set out how the university was supporting students and staff.
Explain how the university would invite students and staff back onto campus in a phased manner.
How UCT would complete the academic year.
How UCT would respond to the impact of the pandemic on the 2021 academic year.
In line with UCT's inclusivity mandate, our messaging:
CMD was particularly successful in our communication around the pandemic through the following initiatives:
A dedicated page on a particular issue (previous pages have been developed for our response to the water crisis, and campus protests). All information relating to UCT's response to the pandemic is placed on our COVID-19 page. It acts as the main source for all communication platforms. This approach works very well in ensuring our information is credible, accessible and of excellent quality. As the pandemic evolved and certain issues came to the fore, the COVID-19 was further updated and refreshed.
Regular communication from the executive on developments related to COVID-19.
Segmented communication to particular target groups.
A weekly summary campus announcement with all COVID-19 news packaged in one email. This ensured that people who may have missed communications during the week could access a comprehensive summary of all UCT information related to the pandemic.
Incredibly quick and supportive responses from our colleagues in other departments so that we were able to get our communication out swiftly. We would like to highlight this and express our deep gratitude to our colleagues across the institution for their support.
Social media platforms which have become a critical channel were one of our primary and immediate methods of communication. Some media houses quoted information directly from our official media platforms.
A targeted COVID-19 media list, thereby communicating to journalists with an interest in covering the developing COVID-19 story and its impact on higher education and how UCT as the leading university on the continent was responding to the pandemic.
Tailored some of the crucial but longer executive communications for specific media, resulting in better media coverage. These were also audio recorded, so that visually impared people could listen to critical information.
Introduced the #LockdownLetters page to foster a sense of community during the COVID-19 lockdown. #UCTLockdownLetters invited staff and students from across UCT to share their stories about life and survival at home.
Introduced and regularly updated a frequently asked questions (FAQ) section, responding to practical and pertinent questions related to COVID-19 for students and staff to refer to.
The numbers
In 2020 UCT issued 155 COVID-19-related messages to students, staff members, parents and sponsors. This included critical communication from the leadership of the institution:
43 VC desks
11 COO Desks
34 DVC Desks
2 Chancellor's Desks
3 Chair of Council Desks
The majority of these messages were sent at the onset of the COVID-19 lockdown in March and April, with a peak around the start of the second semester and then fewer messages released towards the end of the year as staff and students adjusted to the new environment.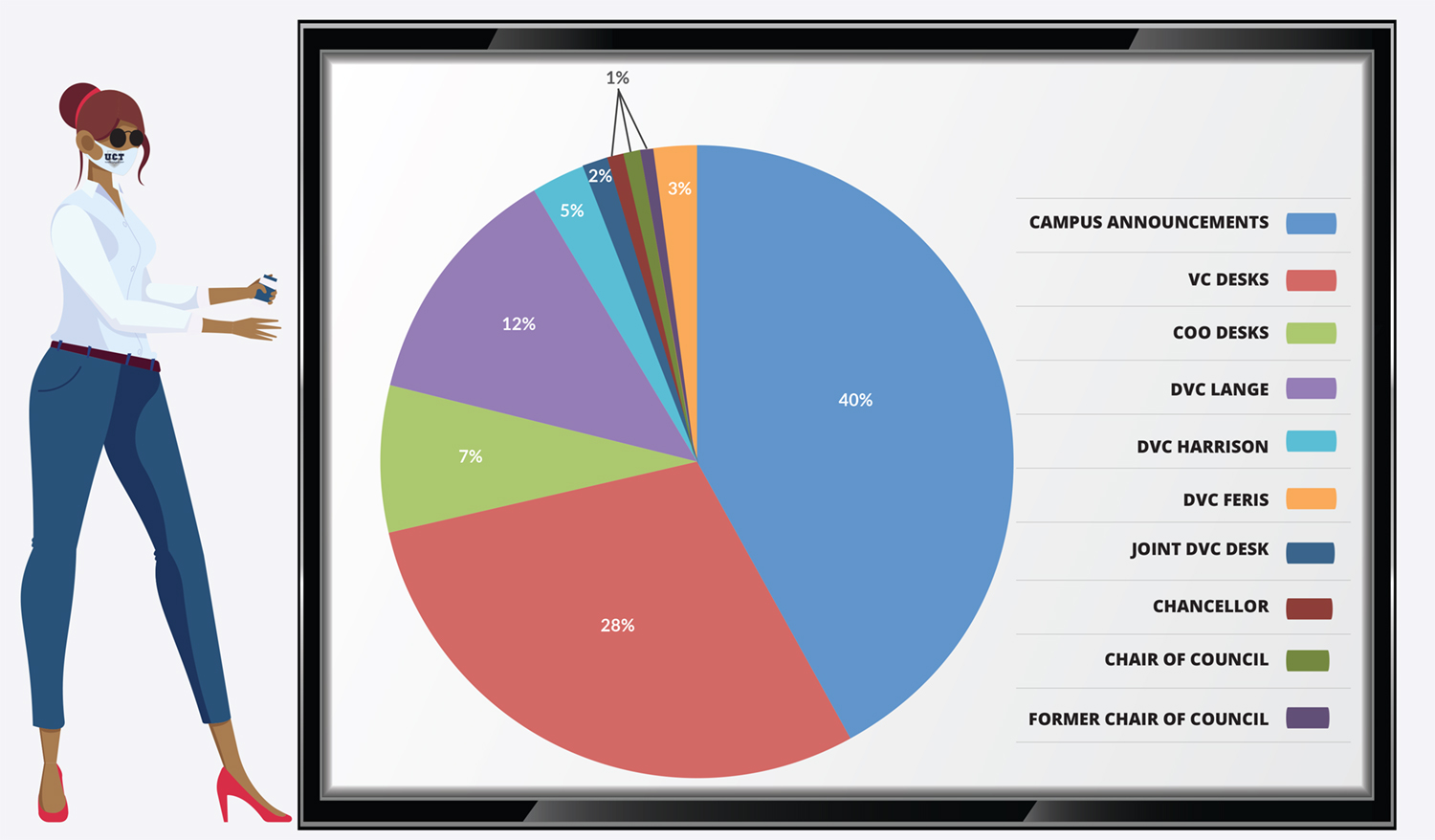 Figure 1: An analysis of bulk communications regarding COVID-19 from the leadership of UCT.
Our CMD feature page is home to all UCT COVID-19 information.
All COVID-19 messages were conveyed through written and audio-visual communication in line with UCT's stance on inclusivity. The page is a comprehensive platform inclusive of:
Executive campus communications on UCT's response to COVID-19.
Support to students and staff.
Audio-visual messages (including videos, audio articles and graphics).
News stories, including interviews featuring UCT and external experts.
Viewership
Even though COVID-19 messaging reduced in the second half of 2020, placing the total increase in page views for all content on the News site at 35.04% (2 444 156 in 2020 versus 1 809 923 in 2019), total page views for COVID-19 content alone far surpassed total views for news stories in 2019 (892 724 versus 1 809 923)1.
For the COVID-19 feature page landing page* in particular, there were 98 161 page views** and 77 573 unique views***, with time spend on the page averaging 03:13 minutes.
*landing page – standalone web page, created specifically for the campaign
** page views – the total number of views of the page
*** unique views – the unique count according to Google Analytics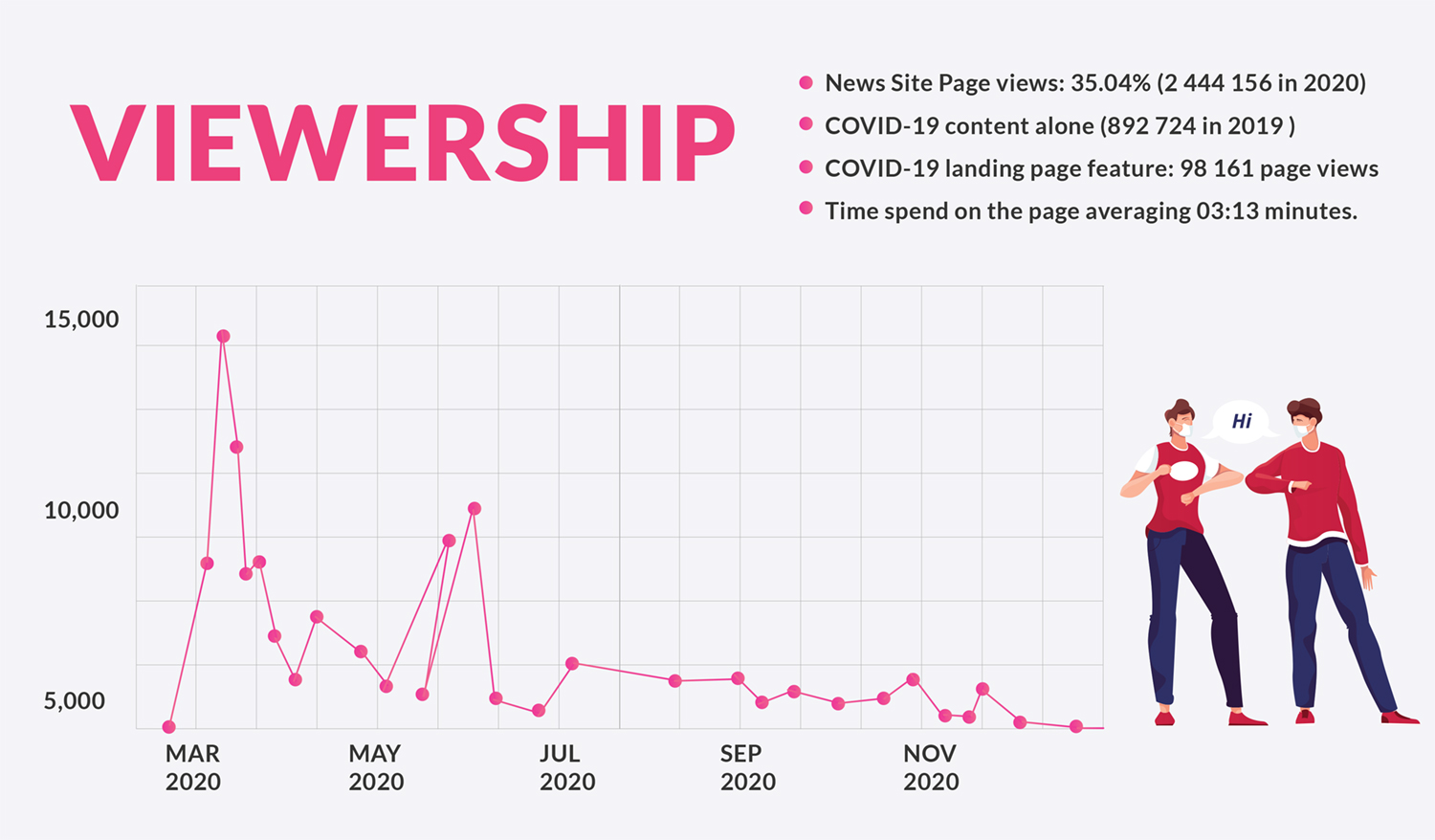 This data was filtered with the following filter expressions: updates/covid-19.
Top most read COVID-19 news stories
Top five most viewed COVID-19 videos
Bulk communication analysis
Top five bulk communication email open rates were for:
COVID-19: Campus communications: SMS – total number of SMS's sent: 169 066
Executive communications
Executive communications to UCT staff and students
There were 5 executive communications that attracted the most readers, of which we saw total combined views of 129 391.
COVID-19: Top 5 audio recordings of condensed campus communications
Media and social media
This section provides an analysis of the media and social media coverage of the COVID-19 pandemic from March to December 2020.
Media
responded to 829 media queries
issued 116 media releases
arranged 40 broadcast interviews (only those by the executive or spokesperson)
produced 39 sound bites
placed 20 opinion pieces by UCT staff members
had a combined total 8 743 coverage clips
Top 10 media releases
*Media releases performance data not provided by PEAR in October, November and December.
Social media
made a combined 3 812 posts across all social media platforms (Facebook, LinkedIn and Twitter)
responded to a total of 266 inbox queries on social media (Facebook and Twitter)
maintained an average 3% response rate on Facebook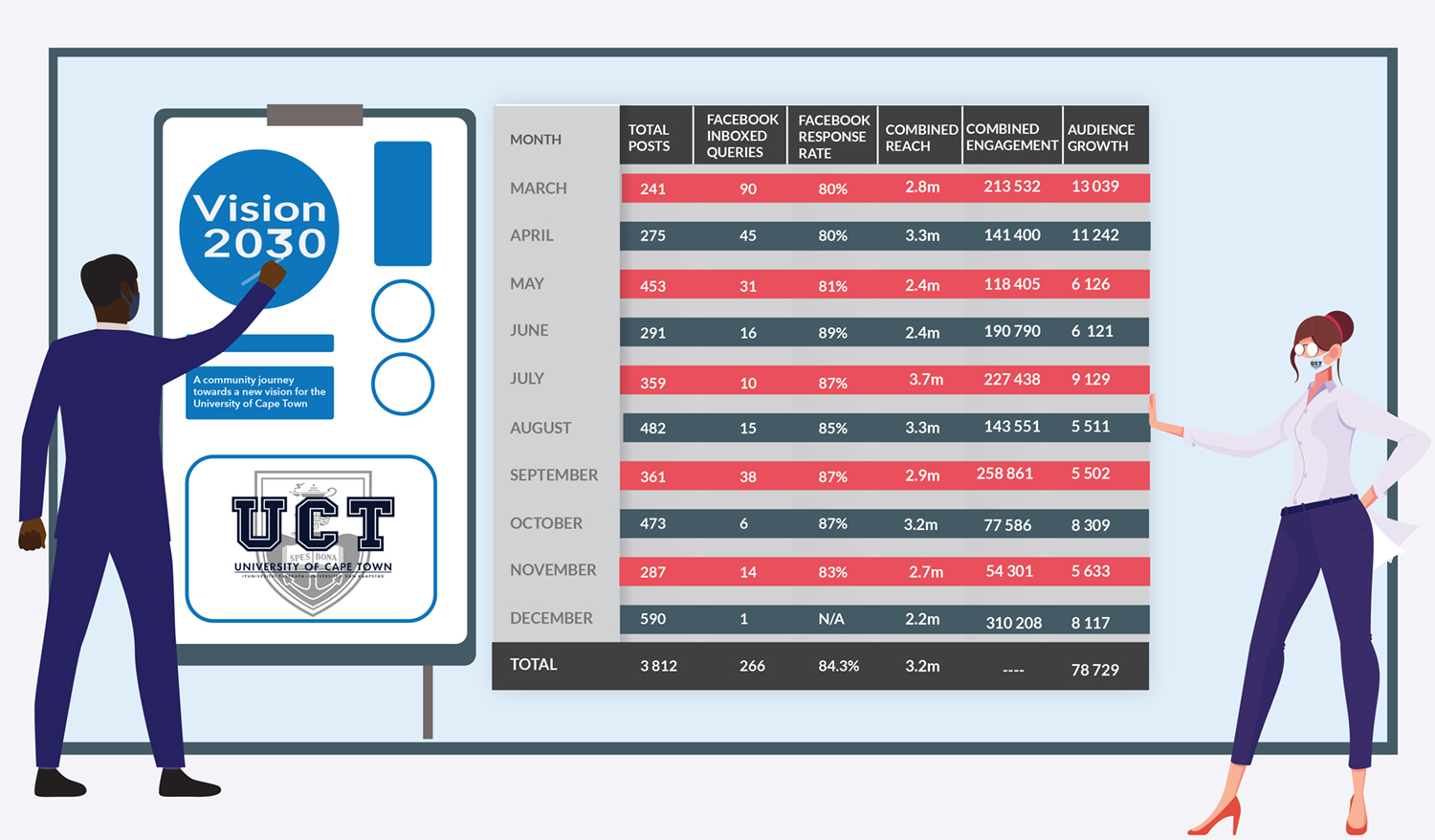 Executive communication projects
The increase in executive communication projects – from 166 in 2019 to 312 in 2020 – was driven by the need to communicate important messages about UCT's response to COVID-19 and lockdown, which was an unprecedented event in the university's history. More than half, or 156, of these messages were about the pandemic or related topics, such as emergency remote learning.
Even though travel was under strict limits during lockdown, the vice-chancellor accepted many invitations to speak online and also initiated online webinars and public lectures hosted on the UCT platform. This led to the increase in the number of speech briefs prepared for the vice-chancellor: from 92 in 2019 to 105 in 2020. Talking points included statements prepared for the vice-chancellor to respond to questions posed by media on various topics during online interviews.
"The number of scripts prepared for the executive more than doubled, from 12 in 2019 to 27 in 2020."
Similarly, the number of scripts prepared for the executive more than doubled, from 12 in 2019 to 27 in 2020, due to the number of online events and special videos produced by CMD to help maintain a strong feeling of community and collegiality during lockdown. PASS forums and other events that would usually take place in a physical venue, such as awards ceremonies and graduation, were transferred to an online format with particular focus on helping viewers to have the sense that they were participating through the chat room and the opportunity to pose online questions. Each of these events required executive scripts and possibly talking points to assist in responding to questions or speaking on panels with other leaders around the world. The vice-chancellor also increased her speaking engagements outside of UCT with the help of digital technology, speaking on Zoom, Teams and other platforms.
From 10 March 2020 CMD participated in weekly meetings of the COVID-19 Coordinating Committee. From 25 June CMD also participated in weekly meetings of the UCT COVID-19 Health & Safety Committee. A short summary of each meeting's action points for CMD was prepared for the CMD executive and submitted along with minutes from the meeting. Additional CMD projects often arose from these meetings as colleagues required assistance in compiling and disseminating essential health and safety information to the campus community, especially as the return of staff and students was phased in towards the last quarter of 2020. This resulted in the preparation of 68 meeting reports over a period of about 43 weeks (some weeks had no meeting due to public holidays or the end of the academic year).
Marketing and stakeholder relations: COVID-19 messaging and campaigns
The outbreak of the COVID-19 pandemic in the early parts of 2020 forced UCT to reassess how staff and students would work and study from home. The MSR team was tasked to communicate the facts to these stakeholder groups and developed the communication messages below while also ensuring that we abided by UCT communication, style and brand guidelines.
increase awareness
support and reassure stakeholders
avoid scare tactics
consumption of and engagement with COVID-19 content.
The campaign is currently in its third phase and is aligned to government's communications on third wave restrictions. It is tasked with:
thanking stakeholders for keeping themselves and others safe
encouraging ongoing compliance through the #UCTCovidPledge
encouraging vaccination registrations
promoting use of the UCT Community of Hope Vaccination site.
The previous two phases, initial lockdown and the second wave, were also aligned to government communications and lockdowns levels at the time. While each phase and subsequent lockdown level had a unique message and call to action, the overall campaign maintained its brand association to UCT and creative identity across all phases of the campaign since inception in March 2020 to date.
Awards received for COVID-19 communication
Silver Quill Awards 2020
Gold Quill Awards 2021
MACE Awards 2021