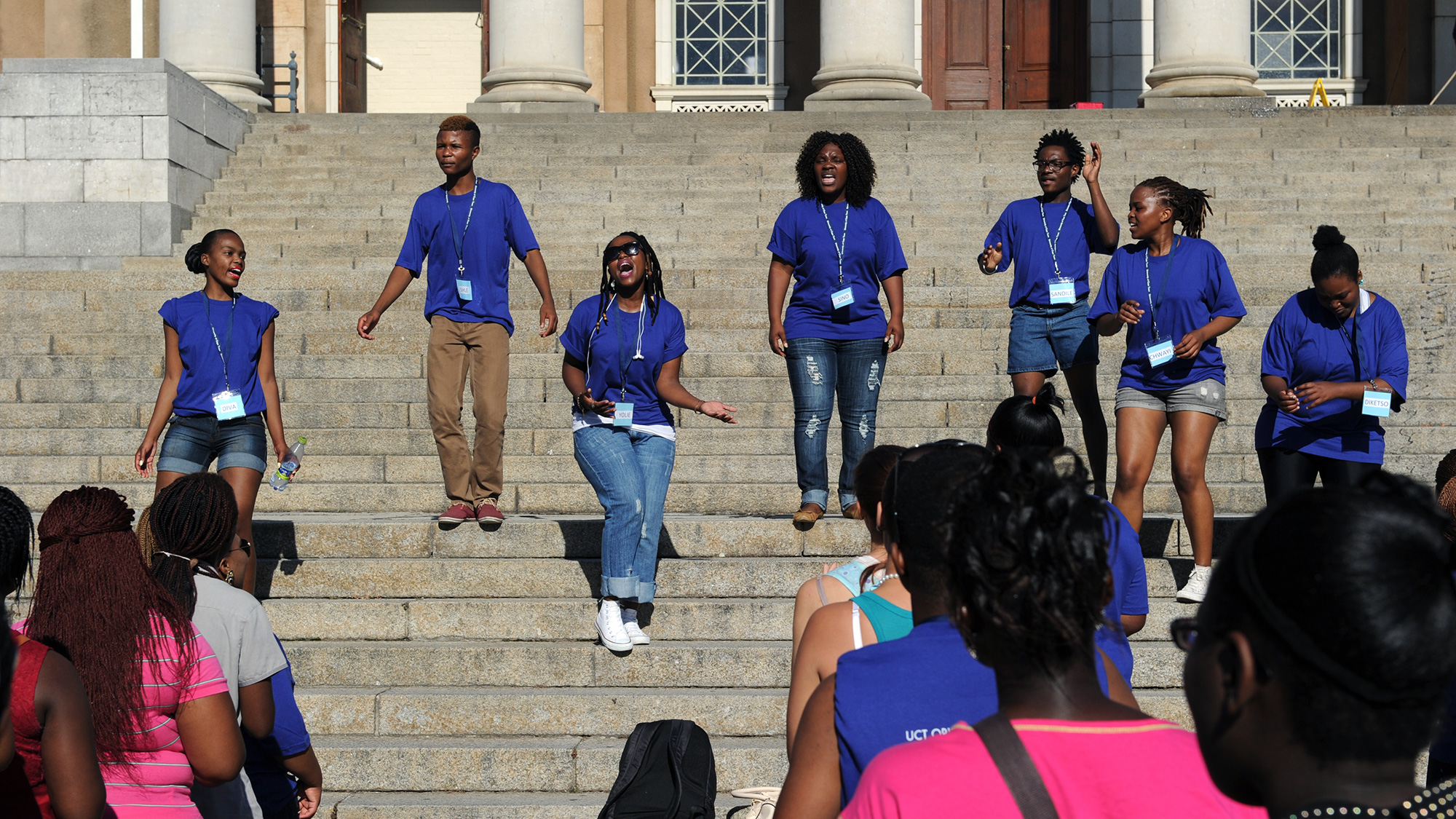 ---
At UCT we believe in the importance of giving back and we encourage you to be part of this process.
Get involved in social outreach programmes, research activities and learning opportunities both on and off campus. The aim is to make a difference in the lives of those who need it most. We run a host of programmes on campus and have listed a few of these below.
The Knowledge Co-op
The Knowledge Co-op allows external communities to access the university's knowledge, skills, resources and professional expertise. It facilitates collaboration with community partners to address the development challenges they identify and define. Participating students and academics gain work experience, advance the quality of their research, and contribute to local communities.
021 650 4415 | know-op@uct.ac.za
---
The Global Citizenship Programme
UCT's Global Citizenship: Leading for Social Justice Programme provides students with an opportunity to engage with global debates and reflect on issues of citizenship, social justice and community engagement.
021 650 3431 | globalcitizen@uct.ac.za
---
Summer School
The university's flagship public education programme, Summer School makes academic resources available to the wider Cape Town community. The programme offers a variety of short courses – regardless of educational qualifications. It takes place annually during the first few weeks of January.
021 650 2888 | ems@uct.ac.za
---
Here are a few non-profit organisations around Cape Town that welcome volunteers.
The Help2Read initiative aims to recruit, train and support literate adult volunteers from local communities to help disadvantaged primary school children who struggle to read. The volunteer readers work with children on a one-on-one basis and reading sessions take place once a week.
Century City
021 930 3669
---
Sisters Incorporated
Sisters Incorporated is a non-profit organisation that houses South African women who are victims of domestic violence. Volunteers are required to visit the organisation once a week to facilitate a workshop with residents. The aim of these workshops is to educate women on their human rights and empower them for their return to life outside.
Ascot Road, Kenilworth
021 797 4190
---
Rape Crisis works around adult rape and sexual violence. They encourage survivors to report sexual violence to the authorities, and the organisation also works towards addressing legislation in the country.
Trill Road, Observatory
24-hour helpline 021 447 9762
communications@rapecrisis.org.za
www.facebook.com/rapecrisiscapetown
www.twitter.com/RapeCrisis
---
The Saartjie Baartman Centre for Women and Children researches gender-based violence and provides safe accommodation, legal advice and childcare services to survivors of abuse. Centre volunteers visit and interact with children over weekends, collect food and other donations in and around Cape Town, and assist with work in the garden.
Klipfontein Road, Manenberg
021 633 5287
---
Friends of the Children's Hospital Association is a voluntary support group to the Red Cross War Memorial Children's Hospital and welcomes all volunteers. Note: you'll need to undergo a special screening and orientation before you start work.
Klipfontein Road, Rondebosch
021 658 5003
---
If you're an animal lover, the SPCA is the place to be. There are many ways to get involved, including exercising dogs, cleaning cages and grooming cats. Attend one of the SPCA's monthly volunteer sessions for insight into the volunteer programme.
1st Avenue & First Road, Grassy Park
021 700 4140
---
Get your hands dirty and get involved with Greenpop, a non-profit organisation dedicated to combatting climate change and raising awareness on environmental challenges. Typically, volunteers are tasked with educating children about the importance of conserving and preserving the environment.
62 Roeland Street, Gardens
083 412 8006
---
The Scalabrini Centre offers specialised services to South Africans, migrants and refugees in Cape Town. The organisation is committed to alleviating poverty and promoting development in the Western Cape, while simultaneously fostering integration between migrants, refugees and South Africans.
47 Commercial Street, Cape Town CBD
021 465 6433
---
This work is licensed under a Creative Commons Attribution-NoDerivatives 4.0 International License.
Please view the republishing articles page for more information.
---