A multitude of University of Cape Town (UCT) stars took to the stage at the glitzy UCT Staff Annual Awards on 30 November. Hosted by Vice-Chancellor Professor Mamokgethi Phakeng at the Cape Town International Convention Centre (CTICC), the annual event put excellence, a pillar of Vision 2030, squarely in the limelight.
Among the honours presented were the Long Service Awards, Ad Hominem Promotions (academic, technical and scientific), Distinguished Teacher Award (DTA), Alan Pifer Award, and Vice-Chancellor's Service Excellence Awards.
"The event brings all the people together in one room," said Professor Phakeng in her welcome address to the hundreds of staff singled out for special recognition.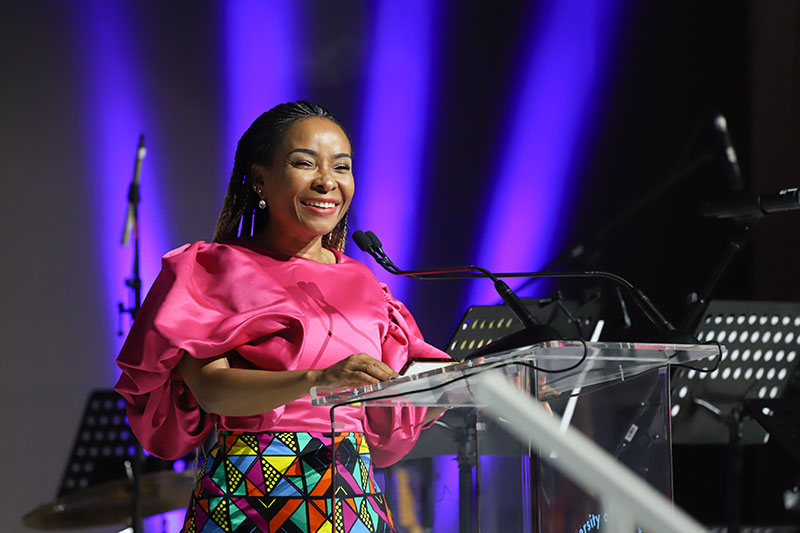 "This evening, we are celebrating many different things. Some of us have achieved important milestones. Others are receiving special awards for exceptional performance in advancing the institutional values that make UCT such an important place for teaching, learning and research," said Phakeng.
And to set the mood, guests were entertained by the jazzy sounds and vocals of the South African College of Music's UCT Little Big Band, led by Amanda Tiffin. Their "special song" on the night, 'Power', composed by Amanda Black, received a rousing response.
Excellence through the ages
Tracing UCT's history through two world wars, the end of apartheid, the COVID-19 pandemic, it's stature and international reputation had been maintained by the consistently high calibre of people who work and have worked at UCT.
"We are celebrating tonight because it is a privilege to acknowledge your good work, your fortitude during times of disruption, your commitment to excellence, and the real love you show to UCT and your colleagues, day after day."
"Wherever you work, and whatever you do, you have contributed to UCT's excellent reputation around the world."
Phakeng said that for many, working at UCT is not just a job or a career.
"It is a calling. No matter where you spend your waking day, whether in the residences, serving our students in their home away from home, or keeping our facilities in good working order and maintaining our beautiful landscaping … It may be in the libraries or support offices, in the classrooms, or the laboratories. Wherever you work, and whatever you do, you have contributed to UCT's excellent reputation around the world."
She said that the awards were underpinned by the pillars of UCT's Vision 2030: excellence, sustainability and transformation, which also contributed towards the health and well-being of UCT's staff – and ensured the university's sustainability.
With love from Qatar
Among the special guests, members of the UCT Council, Senate, staff and student bodies and the Blue Carpet Scholars (top matric students who chose to study at UCT), there was one who'd come all the way from the soccer World Cup in Qatar.
Addressing the audience, Chancellor Dr Precious Moloi-Motsepe said, "It is such an honour for me to be here this evening. I just landed this morning from the World Cup in Qatar. I was not missing this event for the game between Tunisia [and] England!"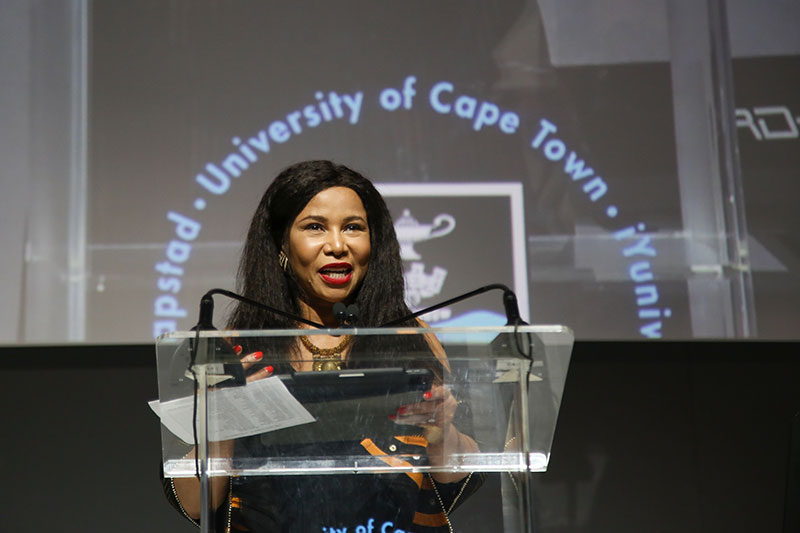 Dr Moloi-Motsepe said acknowledging and recognising excellence is one of the most important priorities for UCT.
To realise the pillars of Vision 2030, the institution relies on its three vital stakeholders: students, alumni and staff.
The staff's contributions had built UCT's global appeal and consistently high international rankings.
"Our achievements would be impossible without excellent staff who offer their services tirelessly with so much passion and commitment, while embodying the institution's values of intellectual honesty, rigor, and openness, and then an openness to alternative ideas and views."
Creating a habit
Even in the face of adversity, including major challenges such as COVID-19 and the Table Mountain fire, UCT staff had "continued this exceptional show of excellence".
"This evening can be summarised through the words of writer and philosopher Will Durant: 'We are what we repeatedly do. Excellence, then, is not an act, but a habit'".
"UCT staff habitually and consistently display excellence."
"Excellence among staff at UCT is definitely not an act, not a once-off or occasional episodes. UCT staff habitually and consistently display excellence. And we've seen that here tonight. So, to each of the staff members who have stepped onto the podium, and those who are still to ascend the podium to receive awards in the future, I convey my heartfelt congratulations to you.
"Each of you stands out for your contributions to transformation, global citizenship, innovation in all spheres in which UCT aspires to lead the country and the continent into the future."
She added, "The high quality of teaching and research within the university is an example of a broad network of people – from those who inspire ideas, to those who support the follow-through of those ideas, and to some that enable the environment for excellence to be achieved.
"It is against this backdrop that I wish to express my heartfelt congratulations and to thank everyone for contributing to enhancing and strengthening UCT's reputation research and credibility on local as well as the global platforms."
Distinguished Teacher Award
The DTA is the highest accolade awarded to teaching staff at all levels within the university and recognises excellent teaching. Through the award, UCT acknowledges the primary place of teaching and learning in the university's work. The winner of the 2021 DTA was Associate Professor Elena Moore, the head of the Department of Sociology.
Alan Pifer Research Award
This prestigious annual award recognises researchers whose work contributes to the advancement and welfare of disadvantaged South Africans. The 2021 Alan Pifer Research Award was shared by two cardiology researchers in the Faculty of Health Sciences, Professors Liesl Zühlke and Karen Sliwa-Hahnle.
Long Service Awards
There were 202 recipients of long service awards in the 15-, 25-, 35-, and 45-year categories; 157 with 15 years, 35 with 25 years, eight with 35 years, and three with 45 years. The special stars among this group were the three staff celebrating 45-year milestone. They were Nazeem Damon (Faculty of Health Sciences), Graham Fowle (Faculty of Science), and Shakiera Lukan (UCT Libraries). These were presented by Dr Moloi-Motsepe.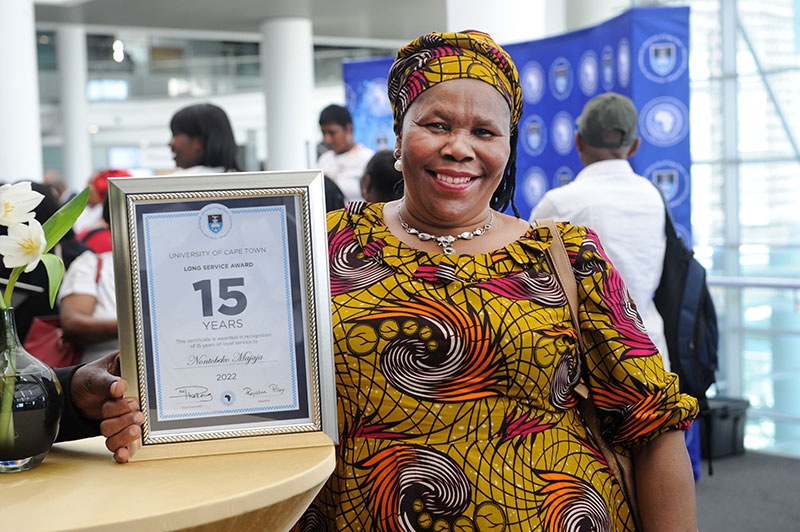 Ad hominem promotions
One hundred and thirty ad hominem promotions were recognised among academic, scientific, and technical staff. These awards acknowledge their academic achievements and outstanding leadership in teaching and learning, management, administration, social responsiveness and research.
Vice-Chancellor's Award for Service Excellence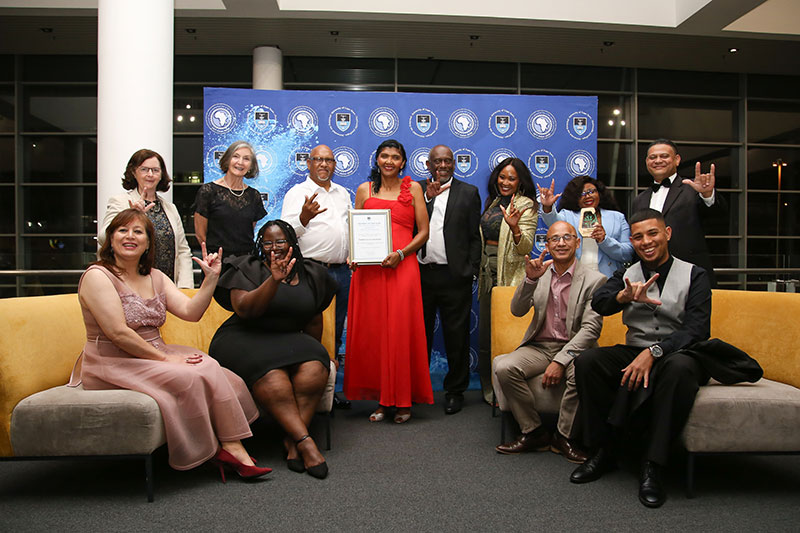 These accolades acknowledge outstanding service by staff who have contributed to the delivery of exceptional and significantly improved services to UCT's staff and students. There were two winners of the Vice-Chancellor's Service Excellence Award: the Scientific and Technical Officers Association (STOA) and the Disability Service unit. STOA won the award for the relaunched Laboratory and Technical Skills Courses. The Disability Service unit won for their stellar support of students with disabilities, which had set the standard for universities on the continent.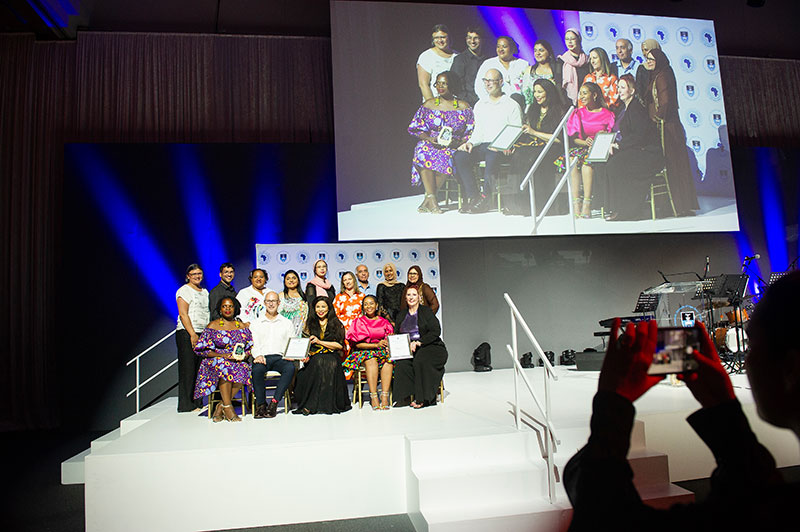 To end
In her closing remarks, Moloi-Motsepe encouraged staff to continue the habit of excellence and grow the culture of excellence in the future.
"May the honour you receive tonight not only be a tangible illustration of the recognition by the university leadership, may it also serve as motivation to continue in the habit of excellence."
---
This work is licensed under a Creative Commons Attribution-NoDerivatives 4.0 International License.
Please view the republishing articles page for more information.
---