An anchor programme of a R17 billion commitment by Eric and Wendy Schmidt to find and support global talent recently hosted its inaugural cohort of 100 global winners for the organisation's annual residential summit.
Aptly named RISE, the Schmidt Futures and Rhodes Trust initiative programme offers young people access to a lifeline of benefits, including scholarships, mentorships, access to career development opportunities and funding. It is also a platform on which global winners work towards solving humanity's most pressing problems. This year, these global leaders got to convene in Cape Town, with the University of Cape Town (UCT) being their first stop and platform to interact with leading researchers to get a peek into ground-breaking research aimed at finding solutions to global problems.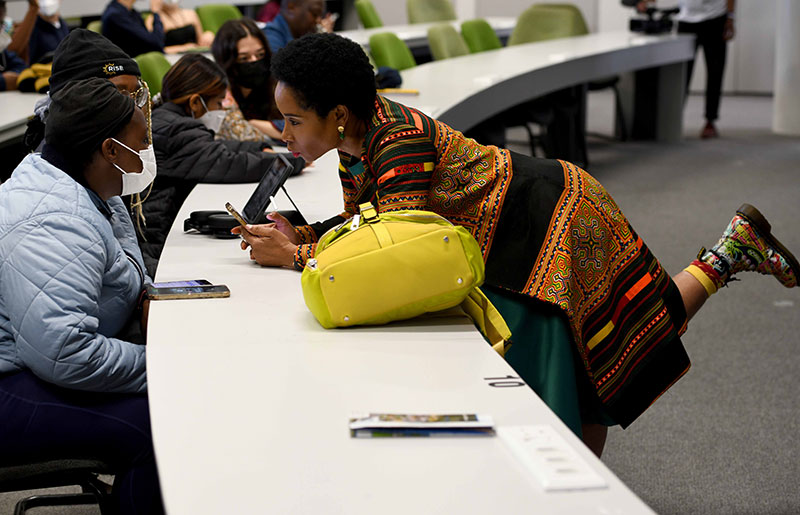 UCT, a place of opportunities
Welcoming the winners, Vice-Chancellor Professor Mamokgethi Phakeng encouraged the RISE global winners to consider UCT as their first-priority university once they complete their visits to other South African universities during their three-week stay in South Africa.
"UCT is a place of opportunities. We are ranked number one in Africa and here … you will find quite a number of people from various parts of the continent and the world. You get to network, live and study in a diverse environment," said Professor Phakeng while further encouraging the RISE global winners to consider UCT as their first-priority university.
Inspired by Phakeng, Jamaica's Shellane Shettleworth, said "Listening to the vice-chancellor speak was the perfect beginning to the day. After that speech, I am convinced that I should apply to UCT in the future for a semester abroad programme."
Dipping feet into EBE
Subsequent to the welcoming address, the students were split into groups of four. They visited the various Engineering & the Built Environment (EBE) laboratories, dipped their feet in biomedical engineering and African robotics, and explored the impact of climate change on sea ice distribution.
Zambia's Leah Mtindya, one of the global winners said "learning about how urine can be turned into useful products, like tiles, was quite fascinating and also unimaginable to me".
"There is so much going on in this space," said Shaun Pexton from the United Kingdom. "There is research on complex biological models, exciting work on new medical technologies, [and] innovation such as the design and local production of smaller and more accessible ventilators at the university labs."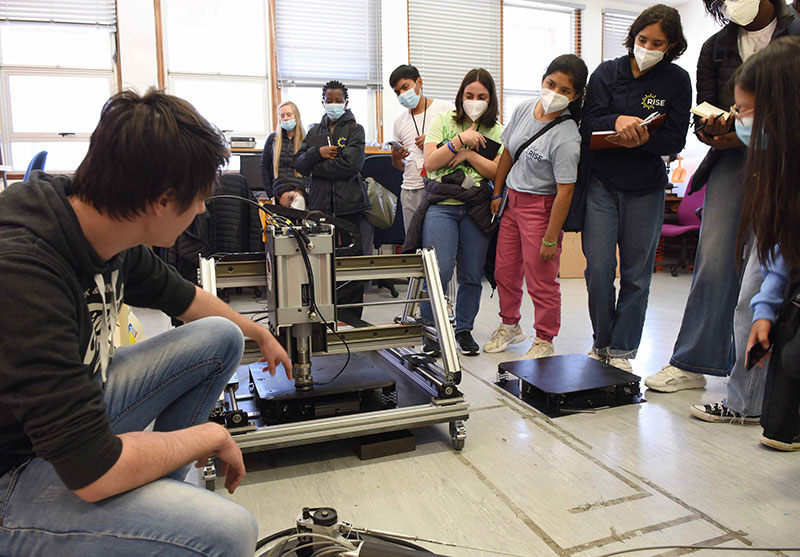 UCT's Associate Professor Amir Patel, Associate Professor Dyllon Randall, Professor Alison Lewis, Associate Professor Sudesh Sivarasu, Associate Professor Kirsty Carden, Professor Sebastian Skatulla, Tokoloho Rampai and Robyn Verrinder led the laboratory tours.
The global winners witnessed world-class research in action – from artificial intelligence in motion to permeable pavements and more. Engineering staff were equally impressed by the calibre of questions and how well the students received the information.
"My incredible journey to the University of Cape Town was my first leap into truly beginning that journey into an effective science communicator," concluded Pritvik Sinhadc from India.
During their lunch break, the visitors converged in front of the Sarah Baartman Hall, where they got to interact with UCT students and also saw various faculties that populate University Avenue on upper campus.
Mondir Saouab from Morocco remarked on the various faculties on University Avenue on upper campus, saying it was an unusual experience to see "so many faculties and students in one place". "[At] my university in Morocco, every faculty is separated … meaning that economics students are studying and living independently, engineering students [are] on their own, and so on. It was fascinating to see this new system," he said.
---
This work is licensed under a Creative Commons Attribution-NoDerivatives 4.0 International License.
Please view the republishing articles page for more information.
---