The Kalahari is an arid region, its name derived from a Setswana word kgala or "great thirst". But tufa rock formations on Ga-Mohana Hill in the southern Kalahari show that waterfalls, flowing streams and pools once attracted early humans to this dry plateau. Until recently, most evidence for early human development in southern Africa has stemmed from the country's southern coast.
Evidence of a wetter Kalahari has been published in the journal PLOS ONE by University of Cape Town (UCT) PhD candidate Jessica von der Meden of the Department of Geological Sciences and UCT's Human Evolution Research Institute (HERI).
The publication is Von der Meden's first as first author in a high-impact journal, a significant achievement for an early career researcher. Among her co-authors are her PhD supervisors Dr Robyn Pickering, an isotope geochemist and director of HERI, and Dr Jayne Wilkins, a former UCT archaeologist now at the Australian Research Centre for Human Evolution at Griffith University in Queensland.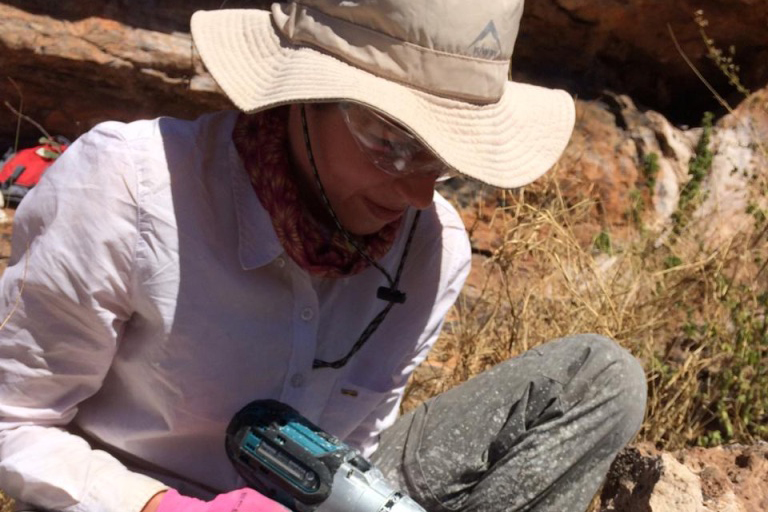 Message in a tufa
Tufa deposits are soft, porous sedimentary rocks composed of calcium carbonate. They are formed by the evaporation of fresh groundwaters that emerge as springs. The striking tufa formations at the Ga-Mohana Hill archaeological site, 12km from Kuruman in the Northern Cape, are evidence that water was once abundantly available in the region.
Dating sequences of samples extracted from the tufas show that these rocks were formed during five distinct episodes over the last 110 000 years. Three of these episodes coincide with evidence for human occupation at the rock shelter.
"Tufas are not actively forming today. So that's really a clue that the environment was different in the past."
Von der Meden's investigation shows that there are links between human occupation and water availability in the southern Kalahari before 71 000 years ago. Around 20 000 years ago, during the Last Glacial Maximum, this link seems to break down as there are no tufas that date to this time (indicating drier conditions) although human occupation persisted.
The findings are significant because this evidence challenges the thinking that humans occupied these arid regions only during wetter periods, and it may suggest arid-adapted behaviours.
"Tufas are not actively forming today. So that's really a clue that the environment was different in the past," said Von der Meden. "We wanted to know when it was different, and how that related to the human occupation of the site.
"And we've shown a record of water in the tufas that not only matches the archaeological record but also provides evidence of a crucial resource for the people living at Ga-Mohana. These findings shed light on climate change and the impact of this on human evolution."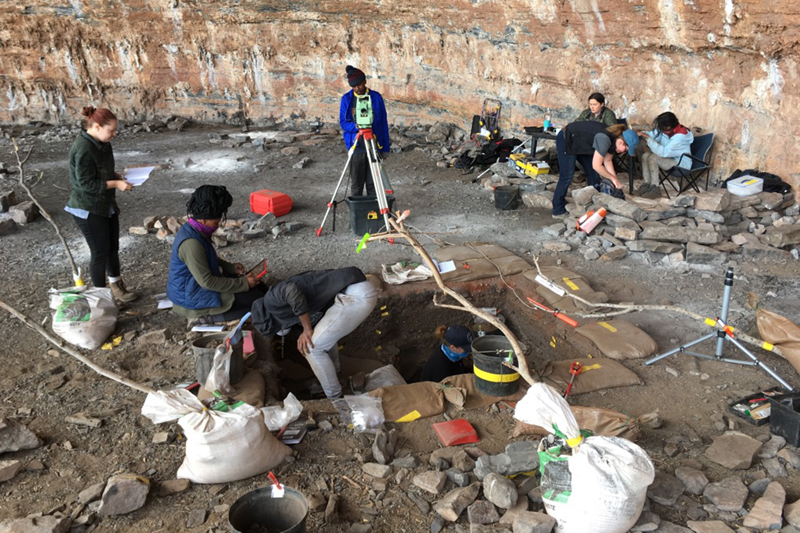 Her paper is an important contribution to what is developing as a "complex, multifactorial picture of early human–environment interaction".
Von der Meden's co-supervisor, Dr Wilkins, has worked extensively in the Kalahari and is the lead archaeologist at Ga-Mohana Hill. Her research is focused on early modern human origins, particularly during the Middle Stone Age.
By comparing archaeological records in the Kalahari Basin to better-known coastal sequences, Wilkins is testing coastal-centric hypotheses for the origins and evolution of Homo sapiens.
On the significance of Von der Meden's Ga-Mohana Hill findings Wilkins said, "There have been very few well-preserved, datable archaeological sites in the interior of southern Africa that can tell us about Homo sapiens' origins away from the coast."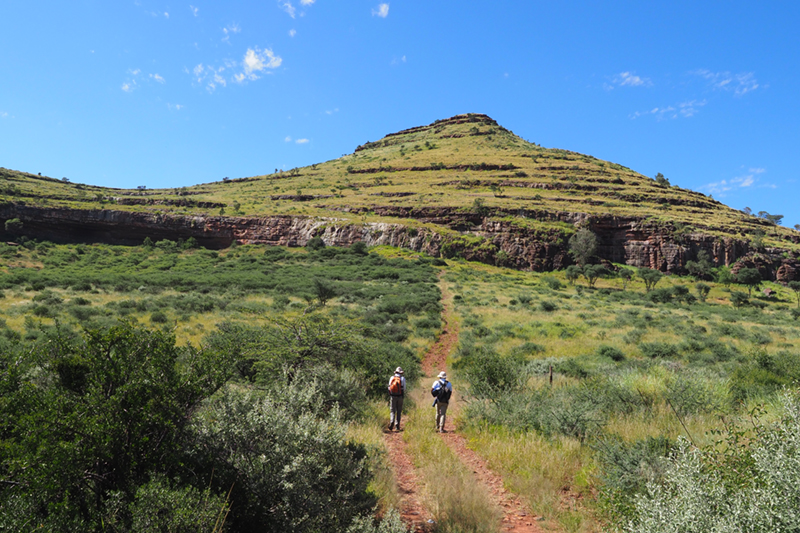 Von der Meden's new study builds on previous palaeoenvironmental findings included in a paper published in Nature that presents some of the world's earliest evidence for innovative technological behaviours at the Ga-Mohana Hill site. These date to around 105 000 years ago.
The PLOS ONE paper expands on the palaeoenvironmental findings, with evidence of four additional episodes of tufa formation over the last 110 000 years, and detailed environmental reconstructions that provide insight into the past environment.
Tricky dating
But dating the tufas proved complex. First, the specialised laboratory equipment is not available at UCT. Second, the samples are complex in themselves.
"They form from water that has percolated through the ground and then precipitates calcium carbonate at the surface, just like stalactites and stalagmites in caves. But because tufas form in the open, they're exposed to dust, plant matter, algae, and other debris. This complicates the dating."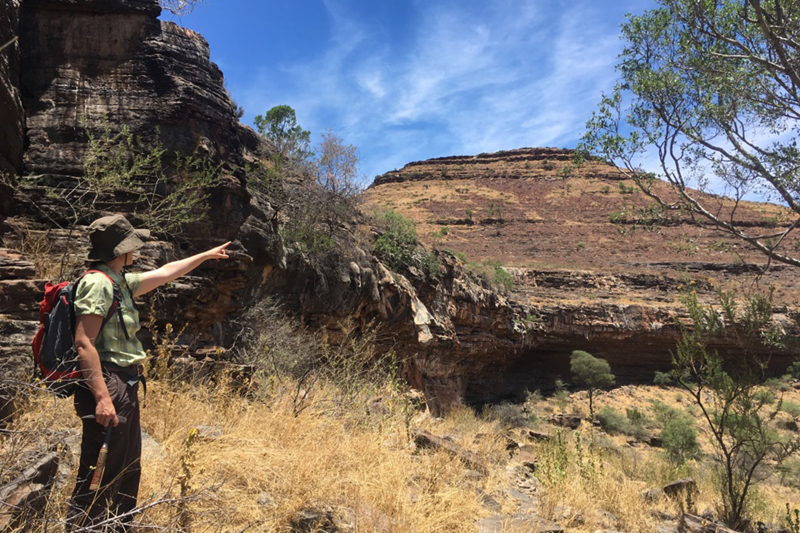 Von der Meden visited the Isotope Geochemistry research group in the School of Earth Sciences at the University of Melbourne to learn the dating techniques, under the guidance of Professor Jon Woodhead and Dr John Hellstrom. Both are renowned in the world of uranium series dating and are co-authors on the paper.
Here Von der Meden used laser ablation to screen the tufas before dating commenced. Essentially, this provides a map of the concentration and distribution of the elements used for dating, specifically uranium and thorium, in the rock samples.
Guided by these maps, Von der Meden then selected areas in the samples to date.
Low impact, high care
Ga-Mohana Hill is also a site of ritual and sacred significance for the local community, and the excavation work is being done in consultation with the Baga Motlhware Traditional Council, custodians of the land.
"It was important for us that we didn't disturb the site for the people who visited it for ritual or spiritual practices."
Establishing a relationship with the Baga Motlhware Traditional Council and the community was a vital part of the early process of establishing the archaeological site there.
"It was important for us that we didn't disturb the site for the people who visited it for ritual or spiritual practices," said Von der Meden. "We thus adopted a low-impact sampling approach; we selected unobtrusive places from which to extract tufa samples, and we took small samples so that we left as little trace as possible.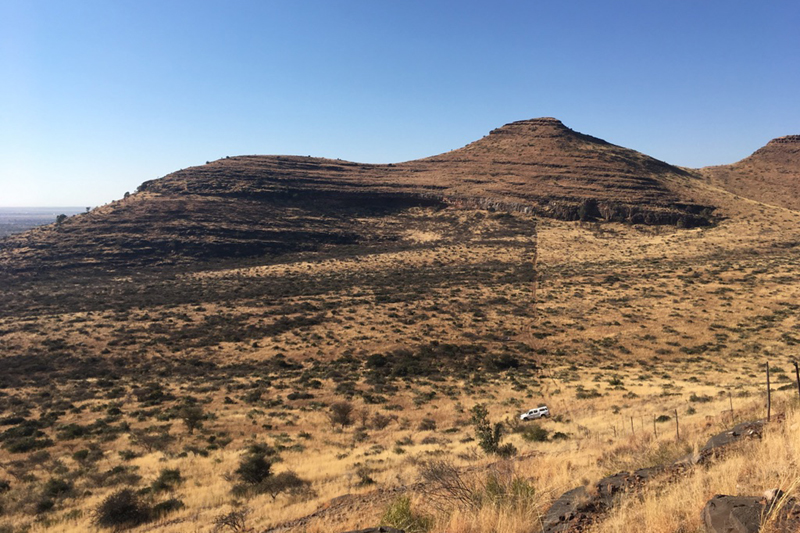 "For me and the team it's important to carry out socially conscious work… in this case working with the true custodians of the heritage. It's an opportunity to include them in the conversation, and to share in what they know. It is an ongoing process."
Open-access, inclusive science
In terms of the PLOS ONE publication, the "firsts" for Von der Meden have been welcome for an early career researcher. She describes it as a "great learning experience".
But it was not without challenges.
"Writing a paper requires a different skill set compared to writing a thesis. As you're putting your work and interpretations out there, it's easy to second-guess yourself. It can be quite daunting," she said.
She acknowledges the value of a supportive mentor.
"I was fortunate to have Dr Wilkins guiding and encouraging me through the process."
Her advice for PhD students preparing a paper for publication?
"Be prepared for the long haul. Things often take longer than expected and managing expectations can be a challenge.
"Be patient and kind to yourself during the process. Be open to critical feedback. Approaching it with a positive attitude is also important.
"I'm happy with the final product. PLOS ONE is right up there. And I like their mission very much," she said. "The journal is open access and promotes inclusive science."
---
This work is licensed under a Creative Commons Attribution-NoDerivatives 4.0 International License.
Please view the republishing articles page for more information.
---