In a short bio penned for a School of Economics web page some years ago, Emeritus Professor Francis Wilson delivered a challenge to fellow researchers at the University of Cape Town (UCT). To really grapple with the country's complex web of economic and social issues, academics had to get mud on their boots.
Emeritus Professor Wilson did that many times in his life; as an activist for the poor and disenfranchised and in his career as an economics scholar. In 2016 his multifarious contributions earned him an honorary Doctor of Literature from his alma mater.
He was the "dynamic force" behind the founding of the Department of Economics' Southern African Labour Development Research Unit (SALDRU), in 1974, whose research still "exemplifies courage and excellence". At SALDRU, Wilson (and many others) produced pioneering research that exposed the exploitation of migrant labourers in South Africa's mines. He got his boots dirty – and laid the foundations for the poverty and development work that became the School of Economics' hallmark.
In 2012, he was appointed Acting Pro Vice-Chancellor for Poverty and Inequality, tasked with organising a conference to launch a national inquiry into strategies to overcome poverty and inequality.
Impactful research
Wilson got his PhD from the University of Cambridge. He published several influential pieces of research: in 1971 Farming 1866–1966, a chapter in the Oxford History of South Africa; and in 1972 Labour in the South African Gold Mines 1911–1969 was published by Cambridge University Press out of his PhD.
He and Dr Mamphela Ramphele co-authored the Second Carnegie Report on Poverty in South Africa in 1984. He also led a third such study, the Mandela Initiative.
"These works describe the terrible social consequences of the story of the migrant labour system."
Finally, Wilson's co-edited Migrant Labour After Apartheid was produced by the Human Sciences Research Council in 2020. Research used in the book was supported by SALDRU's Research Project on Employment, Income Distribution, and Inclusive Growth (REDI3x3), which ran from 2012 to 2018.
"These works describe the terrible social consequences of the story of the migrant labour system," Vice-Chancellor Professor Mamokgethi Phakeng wrote in her tribute to Wilson. "Over time his contribution broadened to a focus on understanding how these processes and others underwrite South Africa's poverty."
In her tribute, shared with the UCT community, Professor Phakeng described Wilson as "a most impactful staff member, and brilliant and leading scholar in his field".
"He had a deep and lasting effect on his students, on research, on his faculty and the university. He served selflessly in many capacities. He was deeply appreciated and loved, and we honoured him for all his achievements with an honorary degree in 2016. He was a giant in the halls of our institution and made a significant impact in society. We mourn this loss with his family."
Not once, but twice
It was indicative of Wilson's energy and commitment to his work that he retired twice. The official event in 2004 followed 30 years in the School of Economics. But he stayed on another 14 years, based at SALDRU.
Wilson's 'final' retirement in 2018 coincided with a one-day symposium in his honour, hosted by SALDRU to present their findings on social mobility and inequality. These markers of national well-being have been at the heart of the unit since its inception.
Wilson and his wife, Lindy, then headed for the Eastern Cape, where he was born and raised and spent his last years.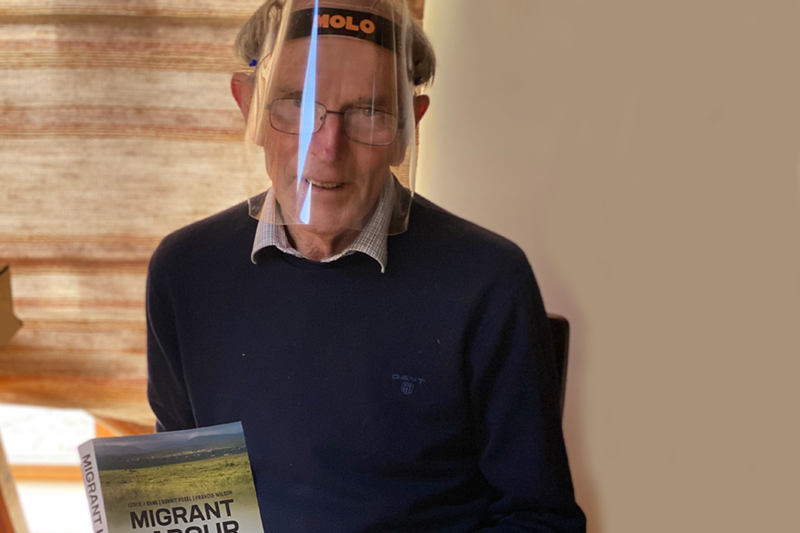 Speaking at Wilson's final retirement, Dr Ramphele said, "He could have stayed in economics, but he wanted to make sure that those people who nobody talked about at the time – migrant labourers – became the centre of academic discourse."
Inspirational lecturer
Wilson was also an inspirational teacher and mentor. Professor Ingrid Woolard, the former Dean of Commerce at UCT and now Dean of Economic and Management Sciences at the University of Stellenbosch, was Wilson's student in her undergraduate years.
In an interview in 2016 after her appointment as UCT's Dean of Commerce, Professor Woolard said that Wilson had deeply influenced her life as a student and without him, the trajectory of her career may have been very different. She had initially signed up at UCT to become an actuary.
"Francis was this incredibly inspirational second-year lecturer," she recalled. "He really influenced a lot of lives. One went from Ecos I, with all these boring models that didn't seem particularly useful in explaining the real world and then, suddenly, you were in a class with Francis who was so engaged and immersed in the country's pressing social issues and Ecos became exciting! Francis taught us for about two weeks only but completely changed how I felt about the subject."
Working with Wilson at SALDRU later proved pivotal.
"He showed us how economics could (and should!) be used in service of society."
"I had a very different view of where my career was going to go. In 1994 I had just embarked on a career at the National Treasury running macro forecasts and then – more by accident than design – I found myself at SALDRU working on the living standards survey with Francis, collecting and processing incredibly exciting socio-economic data."
This epiphany helped Woolard realise that working with microdata – the dots that could be connected to understand the grand narrative of complex data – lit her fire. It was life changing.
"Francis inspired many generations of economics students,"she said. "He showed us how economics could (and should!) be used in service of society. He did ground-breaking work in poverty and inequality, but he also pushed everyone around him to think more deeply and to work towards making the world a better place."
'Remarkable institution builder'
SALDRU director and Wilson's successor, Professor Murray Leibbrandt, described him as "a remarkable institution builder".
"Francis brought genuine research leadership to SALDRU. As he began to build the unit, he had already established himself as a very talented and influential applied economist and social scientist, directing his talents to documenting and explaining the society in which he lived, and doing so with an unshakeable commitment to advancing social justice.
"So, as SALDRU grew it had as its leader a person with this incredible combination of missionary zeal and confidence from his research about the prevailing realities. This gave him the strength and bravery to say what needed to be said to whoever needed to hear it. He did not shirk from strengthening this voice by taking the lead in convening major national initiatives that brought together similarly committed academics, civil society groups and ordinary people.
"He has inspired, re-inspired and re-oriented all of us."
"In its growth and evolution, SALDRU was led by this towering, committed public intellectual driven by his belief that he and those working with him in SALDRU had a distinctive and important role to play in bringing our research skills to the service of building a better society."
He added, "Institutions are only as good and enduring as the people who lead them and work in them. In the trenches, Francis's unique way was always to motivate and inspire us, one unforgettable conversation at a time. It is clear from many tributes that have poured in that there are so many who have been similarly inspired and had their life courses oriented by Francis, even by one conversation in passing. Saldrupians have had the special privilege of living with Francis over many years and he has inspired, re-inspired and re-oriented all of us.
"For many, he is the reason that we became Saldrupians and have worked hard to be excellent in the kind of work we do. Francis Wilson is certainly a one-of-a-kind blessing. However, it is our privilege in SALDRU to aspire to carry forward his rich legacy."
Wilson's legacy has had a lasting impact on transformation at UCT. Professor Haroon Bhorat, the director of the Development Policy Research Unit, said, "Francis was not only a great economist but also one of the most prominent public intellectuals in post-apartheid South Africa. He had such a massive influence on many of us – particularly the rising number of black economists at UCT in the 1980s. In this respect SALDRU ­­– which with his typical inspiration and foresight Francis established in 1978 – became the seed bed for training a new generation of applied economists, many of whom went into prominent public positions in the post-1994 period.
"For me, as I told Francis many times over the years, he was the inspirational spark for my lifelong interest in studying poverty, inequality and labour market dynamics in South Africa. For this I will eternally be in his debt. Rest well Francis, one of our beloved sons of the soil."
This compilation has drawn on several pieces published on the UCT website over the years.
---
This work is licensed under a Creative Commons Attribution-NoDerivatives 4.0 International License.
Please view the republishing articles page for more information.
---