If people don't come to the clinic, the clinic must go to the people. This is the strategy behind the launch of a spanking new mobile tuberculosis (TB) diagnostic clinic that will target the province's undiagnosed – and often asymptomatic – TB carriers, the "missing patients". The launch was hosted at the University of Cape Town's (UCT) Lung Institute.
It is the third mobile TB clinic in the Western Cape's fleet but this one is dedicated to diagnostic testing only. As a collaboration between the University of Cape Town's (UCT) Lung Institute, sponsor Novartis, the national Department of Health and non-profit organisation TB HIV Care, the mobile clinic will identify TB hotspots in a bid to reach undiagnosed cases, many of which are asymptomatic, but infectious nonetheless.
After the ribbon-cutting ceremony, UCT Lung Institute medical staff demonstrated how quickly the clinic apparatus can be set up. The vehicle, a branded Mitsubishi Xpander, also carries high-tech diagnostic equipment to ensure those tested get their results within 90 minutes. Positive cases will be referred to their nearest clinics for follow-up consultation and treatment.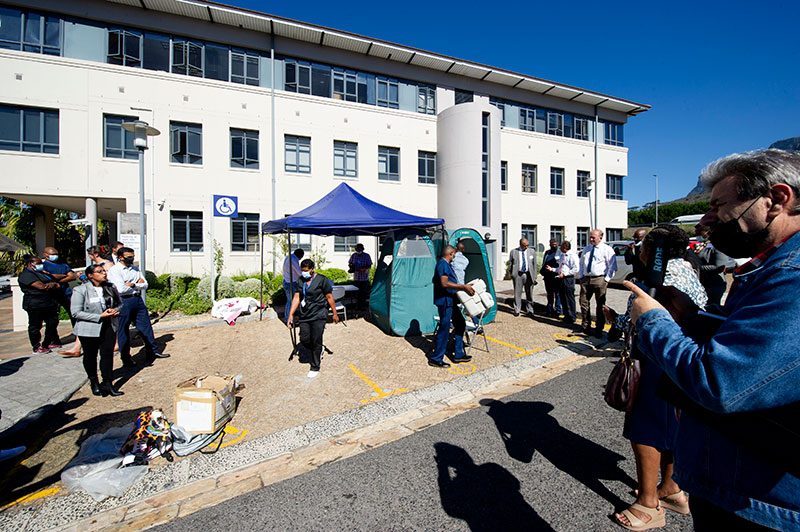 Efficacy and speed
Speaking at the launch, Gerry Elsdon, a long-standing goodwill ambassador for the Department of Health's TB programme and champion for the World Health Organization's Stop TB campaign, said South Africa accounted for 3.3% of the global TB burden.
"One of the reasons this project is so important is because of the efficacy and the speed with which we'll be able to find the necessary patients."
"We are successfully treating half of our patients."
Deputy Director General for HIV AIDS and TB in government Dr Zukiswa Pinini agreed, saying it was her team's "top priority".
"We are only successfully treating half of our patients."
The aim is to reduce the country's TB incidence by 90% by 2030 and reduce TB mortality to almost zero by 2030, Dr Pinini added.
However, the TB eradication programme had been severely affected by HIV, and latterly by the COVID-19 pandemic, she said.
In South Africa, over 7.7 million people live with HIV and over 60% of those with TB have HIV. The expansion of the antiretroviral programme has had a positive impact on TB [rates], Dr Pinini added.
"But still, we need to prevent this issue."
Not only a threat to those infected with TB, COVID-19 had also disrupted access to TB services, resulting in multi-dimensional effects, including increased TB morbidity and mortality, she said.
Chief executive officer of TB HIV Care Professor Harry Hausler said 167 people were dying daily from "a completely preventable and curable disease." Scientists estimate that one TB patient will infect 20 to 25 other people before getting treatment.
"We need more proactive approaches to finding people with [undiagnosed] TB," he said.
"It's a no brainer; we have to take diagnostic tests out of the laboratory and into the community."
But current diagnosis rates are aggravating the situation. Professor Keertan Dheda, head of the UCT Lung Institute's Centre for Lung Infection and Immunity, said that about 40% of newly-ill TB patients are never diagnosed or detected.
"These cases amount to an estimated 150 000 newly ill, undiagnosed or undetected people every year, and that number has gone up to about 200 000 cases."
He added, "It's a no brainer; we have to take diagnostic tests out of the laboratory and into the community." And the mobile TB diagnostic clinic is a scalable model.
Community accountability
The launch of the mobile clinic is significant for the Faculty of Health Sciences, now in its 110th year and focused on Africa-generated, world-class research, said dean Associate Professor Lionel Green-Thompson.
"TB is the great reminder of the many journeys, we still have to travel," he said. "Poverty and the marginalisation of communities remain that bedrock on which this disease thrives and renders many interventions across the spectrum for TB difficult at best and futile at worst."
He added, "This project represents that nexus between the scholarship and the difference we make in our world. Because if we're not making a difference as the Faculty of Health Sciences, we're not fulfilling our mission.
"And this mobile unit, really represents that best of our response to the needs of those around us and a commitment to social accountability and making a difference in the world. This is also the basis of our learning and teaching and the research work that we do."
The faculty is deeply located in the communities it serves, which underscores UCT's vision, Associate Professor Green-Thompson said.
"As we teach our students, we want to make sure that they become actively engaged in solving the wicked problems of our world. And TB remains one of those… UCT is a global university in Africa, unleashing human potential to create a fair and just society. The root of that commitment must be in how we deal with problems like TB in our society and the intersection of equality and marginalisation."
Collaboration and partnerships
UCT Lung Institute managing director Professor Rodney Dawson added that collaborative, community relationships are crucial to combatting TB and HIV.
"We've got a very strong community engagement platform, which is being increasingly recognised by international [research] funding bodies. Many of our staff are embedded in the community, so that the decisions are made by the participants and patients. They guide us in setting up our studies so that these are socially acceptable. We know that there's a stigma related to TB and when we go into communities, we do so in a way that's acceptable for the communities."
Shelley Horner of Novartis said, "Today's global challenge healthcare challenges cannot be solved by one organisation alone. Private companies, governments, NGOs, and other stakeholders all have an important role to play in creating sustainable solutions in healthcare."
Their sponsorship of the mobile unit reflects the company's patient-centric focus: to leave no patient behind.
"Hopefully this can be expanded to various places in the country."
"TB has been declared as a national crisis in our country and represents a compelling argument to collaborate and to support the departments of health in their fight to address this disease. At Novartis, we are committed to research to develop and to bring to as many patients as possible, medicines that will change lives.
"As part of our commitment to working in partnership with the Department of Health, and in this case, the UCT lung Institute, we are excited to commission the sponsorship of this TB mobile clinic. We hope that by partnering with the Department of Health and the UCT Lung Institute, we can reach many more patients through the TB mobile clinics in the Western Cape specifically. Hopefully this can be expanded to various places in the country."
---
This work is licensed under a Creative Commons Attribution-NoDerivatives 4.0 International License.
Please view the republishing articles page for more information.
---