Dear postgraduates and supervisors
I hope that you have settled into a good research rhythm and routine as we start the second quarter of 2022 at the University of Cape Town (UCT).
In almost all instances, obtaining a postgraduate degree is not a straightforward process. It can be costly, not just financially but also in the considerable dedication, commitment and, at times, emotional energy required to get over the finish line.
Resources designed to support your degree journey
We want you to have the support and resources you need to succeed at each stage of your degree journey. So, we have identified nine critical components (see diagram below) that are central to the postgraduate ecosystem.
Consult the Quick Links on the UCT Postgrad Hub for the resources offered under each key category in the postgraduate ecosystem. These range from writing guidance to wellness workshops and advice on how to apply for funding to name just a few. This list will get updated as new resources become available. Your research teams, departments and faculties will also supplement these resources.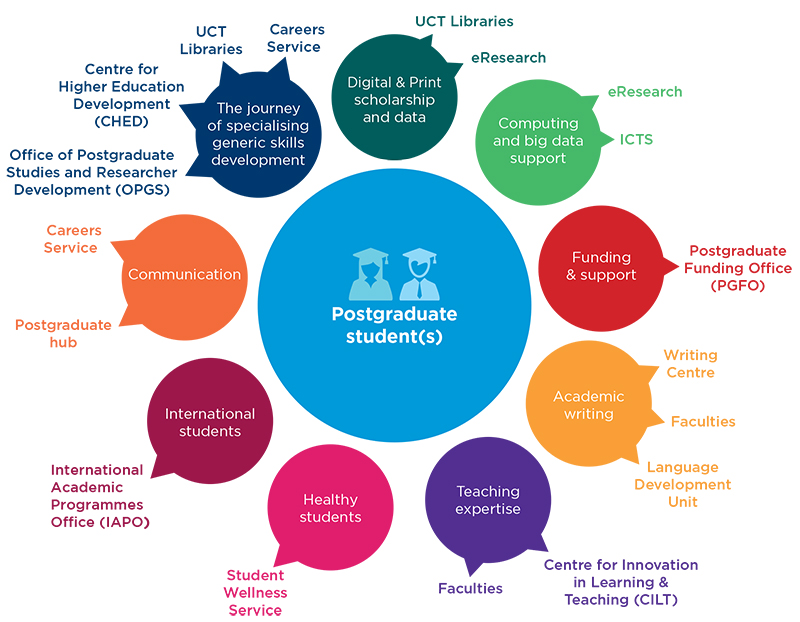 The nine critical components that have been identified as central to the postgraduate ecosystem
The importance of community
Unlike the undergraduate and honours degree processes, master's and PhD students are required to take ownership of their degree progress, right from the start ideally. Because you are expected to work independently, it can be harder to feel connected to the wider postgraduate community. Feeling isolated can make it harder to focus on your degree. One of the advantages of tapping into the workshops and seminars we offer is simultaneously gaining access to a community of postgraduates in the same boat as you.
So, I encourage you to keep an eye on our postgraduate events calendar and join the events which are relevant to you.
At the start of the year, the deputy deans in each faculty recorded a welcome message to their postgraduates. You can watch the videos (data is zero-rated for these videos).
Building a team of postgraduate students around you with similar academic interests and similar challenges and goals is really valuable – it helps to build a network to test ideas on, to share experiences (and their lessons) with and get critique from, in addition to supervisors and other academics.
Getting stuck is part of it; don't give up
For many postgraduates, getting lost and stuck is part of navigating the postgraduate degree process.
Unlike the territory you covered in your earlier degrees, at master's and PhD level you are traversing new ground, so the path needs to be found and there will be some detours and re-tracing of your steps along the way.
Many of our postgraduates – more than you think – are the first people in their families to embark on postgraduate studies. This can be a very daunting experience because you are starting your degree without a roadmap.
I want you to know that no matter where you are in your postgraduate journey, we are here to help you.
Ask for help when you need it
It is not unusual to have points of getting stuck or lost during your degree process. It's how you become "unstuck" that matters. Asking for help when you need it is critical. Asking for help can make all the difference when things are tough.
So, please reach out to your supervisor, member of department or UCT community doing similar work and all those ready to support your studies when you get stuck and need support.
Asking for help isn't a sign of weakness; it's a sign of strength. I wish you all the best in your postgraduate degree journey.
Warm regards
Professor Sue Harrison
Deputy Vice-Chancellor: Research and Internationalisation
---
Read previous communications:
---
This work is licensed under a Creative Commons Attribution-NoDerivatives 4.0 International License.
Please view the republishing articles page for more information.
---