December 2021 will see two key awards in legal counsellor Anne Isaac's career at the University of Cape Town (UCT). At a virtual event on 6 December, Isaac will receive a Vice-Chancellor's Excellence Award in the Global Citizenship category for her work and leadership countering sexual and gender-based violence. And on 14 December she will be awarded a Master of Laws at UCT's second virtual graduation ceremony.
Isaac is the project manager of the Office for Inclusivity and Change's (OIC) Tribunal for Sexual and Gender-Based Violence (SGBV). It is her work in this field that won her the Global Citizenship award.
Professor Lilian Artz, the director of UCT's Gender, Health and Justice Unit, supported Isaac's nomination and described her as follows: "Anne is determined, boundaried, and highly skilled. [Her] leadership in countering sexual and gender-based violence across Africa distinguishes her as a worthy recipient of the Vice-Chancellor's Global Citizenship Award for 2021."
The annual VC Excellence Awards recognise UCT staff who make an outstanding contribution to the university's mission and objectives either through innovation or improvement in services, or sustained exceptional performance, which underpins UCT's goals.
Serious commitment
Isaac's focus on her work and extramural studies has taken serious commitment.
"My 19-year-old daughter's advice, 'Stay in your own lane and keep your eyes on the finish line', has got me through some hectic deadlines – including my master's dissertation!" said Isaac. "That and the incredible support of Professor Dee Smythe, who was not only my supervisor, but [also] the voice that initiated and guided the need for changes in procedure for sexual and gender-based misconduct over the years."
After 12 years as a criminal litigator for the State with the National Prosecuting Authority (NPA), Isaac joined UCT's Office of the Registrar as legal counsellor in 2010. She was later seconded to the office of the Deputy Vice-Chancellor: Transformation in 2019, reporting to then-DVC Professor Loretta Feris.
The Special Tribunal in the Office for Inclusivity & Change (OIC) manages and implements the formal disciplinary procedures for staff and students facing allegations of sexual misconduct. As well as being the project manager for the Tribunal, Isaac also develops training manuals, implements training, oversees resource management, and has oversight for monitoring, evaluation and reporting of cases.
During her secondment to Professor Feris's office, Isaac drafted a new set of disciplinary procedures for sexual misconduct for the Special Tribunal. These were approved by Council in December 2020.
"Synergising the process for staff and students was an exciting challenge – and an educative journey."
Finalising the procedures was a highlight in her career, said Isaac. "The opportunity and the environment during the secondment inspired the expansion of my professional portfolio into global spaces.
"Since it included both staff and student cases, it was critical to ensure that the relevant labour laws and other relevant employer/employee legislation and policies were correctly aligned with higher education policies and directives for students. Synergising the process for staff and students was an exciting challenge – and an educative journey."
Service to women and children
Initially, SGBV wasn't an area of focus for her.
"I sometimes think it [the SGBV focus] found me."
Isaac's initial interest was housebreaking, murder and armed robbery cases. But in her personal life, she has always been involved in service to women and children, first as a Soroptimist International member for 13 years. This is a worldwide volunteer organisation for women who work for peace and to improve the lives of women and girls in local communities and across the globe. And in the latter years of her NPA career Isaac was regularly assigned to the sexual offences courts.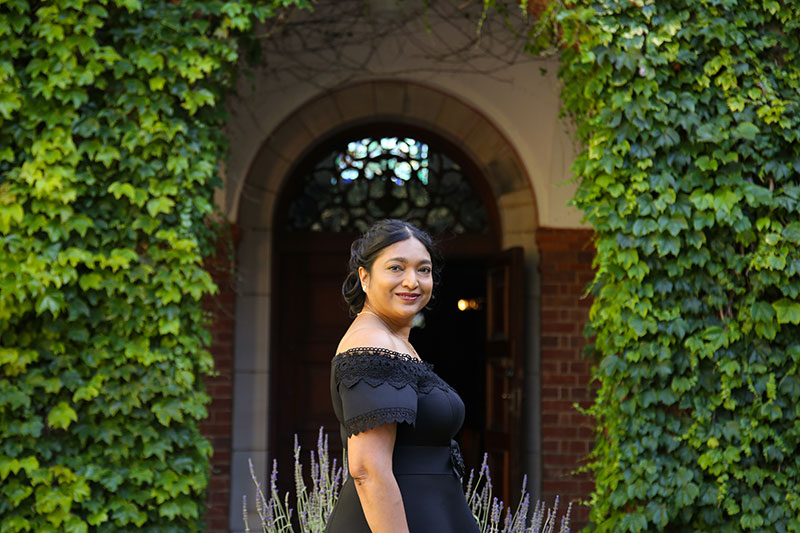 "My first case file at court was to interview a sexual offences survivor," said Isaac, "and my very first case at UCT was a rape matter."
It's a taxing job.
"When I read a survivor's statement it becomes real to me, too. Absorbing the emotional aspects of a case and maintaining a professional distance is not always easy."
But the rewards are legion.
"I get to wake up every day and live in my purpose. I get an opportunity to do better than yesterday and to constantly change the narrative on how to best serve our community in addressing GBV. And I am inspired to do better by the very people I serve."
International influence, connections
The VC Excellence Award centres on Isaac's extensive contributions to institutional initiatives and the Africa End Sexual Harassment Initiative (AESHI). This has included policy and legislative reforms around sexual harassment, developing best practice benchmarks. Isaac is involved as a working group member and supports the activities that AESHI undertakes, one of which is the partnership with the International Association of Women Judges (Kenya Chapter).
Training for judges is still to be rolled out, said Isaac, but the survey and research for this is under way. Isaac inputs on AESHI's projects and activities as a legal advisor and researcher. She has been involved in and networked with South African stakeholders for funding proposals to support the work of AESHI as it is a non-profit organisation.
Isaac also delivered a training session for the Ethiopian Women Lawyers' Association and a presentation at the AESHI webinar series. This was based on the policy and procedure developments she undertook for UCT's Special Tribunal having regard to legal and national directives for responding to GBV at higher education institutions.
Additionally, she was key to introducing Artz to AESHI to form a sister partnership in South Africa.
"Professor Artz has consistently provided support for institutional and external projects in driving GBV advocacy," she said.
Isaac is currently working with AESHI on a gap analysis for sexual harassment gender discrimination laws for 52 African countries. She is one of four lead researchers on the project.
"There is still much work to be done to influence change in a meaningful way."
"For the countries I have researched thus far there are significant gaps between some and marginal gaps in others. Advocacy and activism in African countries has contributed to significant changes in some countries but has been limited in others," she said.
"In some countries even where there have been legislative changes in gender discrimination and sexual offences law, the language in the law itself is discriminatory. There is still much work to be done to influence change in a meaningful way."
South Africa is also on the list of countries under review, Isaac added.
"I would consider South African law progressive, but the challenge in every country is not just whether the laws are changing in favour of addressing GBV. Enforcement, implementation, monitoring and, most importantly, accountability remain a huge challenge."
Through AESHI, Isaac was introduced to the Berkley Centre for Comparative Law and Equality in the United States where she is now a member. Her focus there is as a member of the Sexual Harassment and Violence and Equality and Justice Working Groups.
As a result, she was one of three speakers at a plenary session at the Title IX 2021 Conference on Sexual Harassment in Education – A United States and Global Comparative. This led to discussions on a collaboration with a colleague at the University of Alberta.
Isaac is now establishing a National Alliance and a Global Alliance against GBV. The goal is to include multisectoral stakeholders that can influence and actively address prevention and education on GBV. A 2020 proposed project with the University of Birmingham, halted because of the COVID-19 pandemic, has been revived.
Global work, international time zones
To establish these global networks and remain a member of some global working groups, getting accustomed to the time differences has been a novel experience, said Isaac.
"Recently I was just about to go to bed at 23:30 when my phone pinged with a notification 'Your meeting starts in 15 minutes'. I was exceedingly grateful that I did not need to switch on my camera while meeting people from five continents at nearly midnight! At this session I received a LinkedIn invite from a member who I discovered was the former Assistant Attorney General in New York City. Being a global citizen in this way means reaching people across the globe and making a difference in advocating for a better world against all forms of violence."
The award is a proud achievement for Isaac.
"I am honoured and very humbled to be a recipient. Personally, it's motivation to take a bigger step in the same direction; a definite professional highlight in my career. I keep thinking that so many people deserve this award, so it is truly an honour. I am very grateful to the VC, the former and the acting DVCs, [and] all my colleagues who support this work."
---
This work is licensed under a Creative Commons Attribution-NoDerivatives 4.0 International License.
Please view the republishing articles page for more information.
---