Project TeamCare, in the Department of Anaesthesia and Perioperative Medicine and the Division of Global Surgery at the University of Cape Town (UCT), has spearheaded simulation interventions to support COVID-19 and Intensive Care Unit (ICU) services at Groote Schuur Hospital.
The COVID-19 pandemic presented many new challenges to healthcare workers. There was much anxiety about keeping people safe. In addition, the high volumes of patients who were admitted with COVID-19 meant that doctors were rotated into roles that were somewhat removed from their usual clinical care duties.
During the pandemic, registrar doctors (those training to specialise) from all departments across the hospital platform were being rotated into the ICU to care for critically ill and injured patients. For some registrars, including the ophthalmology and surgical registrars, this was far from their usual clinical care duties. Rotations lasted several months, but the high turnover of staff left the training gap evident with every new rotation.
Simulation-based training
Caring for critical care patients, and particularly the influx of COVID-19 patients, is highly stressful and requires a significant set of resuscitation skills. To support the ICU, Project TeamCare and the ICU consultants developed simulation-based training to help prepare doctors for resuscitation and airway emergencies, and to translate into practice what they learnt about the principles of ICU care. The feedback has been overwhelmingly positive. Doctors reported that they felt better prepared for their ICU rotation and have improved their critical care skills.
Project TeamCare is a quality improvement initiative with expertise in simulation education for critical care and resuscitation. The initiative was founded by Dr Rowan Duys. Dr Duys said that as far back as his second year of studies, he would ask the question: "It's fine if we are going to look after the patient; but who is going to look after the healthcare system?" He added, "I've always felt a burden to find ways to invest in the healthcare system, and in particular the humans in the healthcare system."
"Simulation provides a protected environment in which multi-disciplinary teams can make mistakes and learn together."
Duys has been involved in educational initiatives, particularly nurse education, for close to 15 years. Through these activities it became clear to him that simulation was a tool that was needed. Dräger – a leading medical and safety equipment supplier, that had also invested in the UCT Clinical Skills Centre – made an unrestricted grant to the work of Project TeamCare.
Project TeamCare's co-lead is Jocelyn Park-Ross and the rest of team is made up of the trainers Carolyn Rhoode and Linley Holmes. Rhoode and Holmes do a lot of training across the hospital and on different platforms. They have done a lot of work in terms of capacity-building and upskilling.
Upskilling staff
In 2018 Groote Schuur Hospital's ICU requested Project TeamCare's assistance with upskilling all staff to deal with tracheotomy-related adverse events, which were leading to approximately one avoidable death every six months. Project TeamCare developed a simulation-based intervention for multi-disciplinary ICU teams to address this learning need, which resulted in the elimination of avoidable deaths.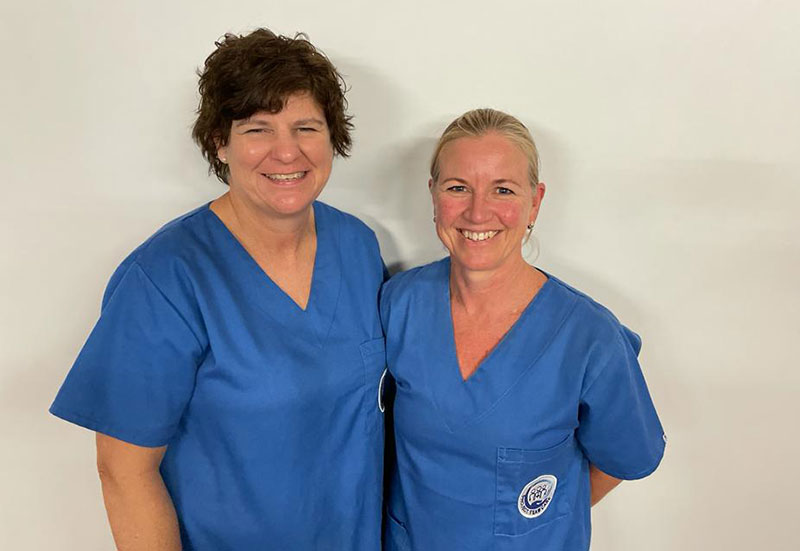 During the first wave of the COVID-19 pandemic, the training was paused; and avoidable deaths began to occur again. Since then, Project TeamCare has reinstated the simulation-based training, and once again, the tracheotomy-related adverse events have been eliminated. "This was a really wonderful proof of concept of how powerful simulation is," said Park-Ross.
In addition to the work that Project TeamCare has been doing in the ICU, they are also involved in several faculty development courses in the Faculty of Health Sciences, "where we teach people how to teach through simulation", said Duys.
"Simulation provides a protected environment in which multi-disciplinary teams can make mistakes and learn together," Park-Ross said. "It's a really wonderful teaching tool in medicine. It's quite underutilised in the South African medical setting – both in the undergraduate [courses] as well as in the continuous improvement of healthcare professionals, service, systems, and spaces."

The registrars and nurses attending the training gave overwhelmingly positive feedback. Raisa Aysen, a surgical medical officer rotating the in the ICU, looked forward to the simulations every week. "Tuesday teaching is more than just going through the motions on what to do in a resus situation in ICU. It's team building and confidence boosting and eye opening. We all come from different department backgrounds, some with more experience than others. What SIMS does is equalise our stress and help us build a foundation to organise our thoughts and react rationally. I knew I was going to learn a new skill, or remind myself of an algorithm long stored at the back of my mind. Linley and Jo challenged us and at the same time gave positive criticism. It's the perfect learning environment."
Translating knowledge into practice
Simulation in medical education provides an opportunity to translate knowledge into practice; it develops clinical judgement and skills, as well as leadership and teamwork. The deliberate practising of complex skills in a simulated clinical environment, or in situ in the clinical setting, provides healthcare workers with a unique opportunity to improve and reflect on their clinical practice. It also provides a safe vehicle for testing and improving the clinical working environment, answering the difficult questions about whether or not an environment is fit for purpose.
"There is a range of different uses of simulation that don't always require fancy and expensive gadgets and tools," said Duys. With the advent of the COVID-19 pandemic, applications for simulation-based training for COVID-19 services beyond the ICU came to the fore.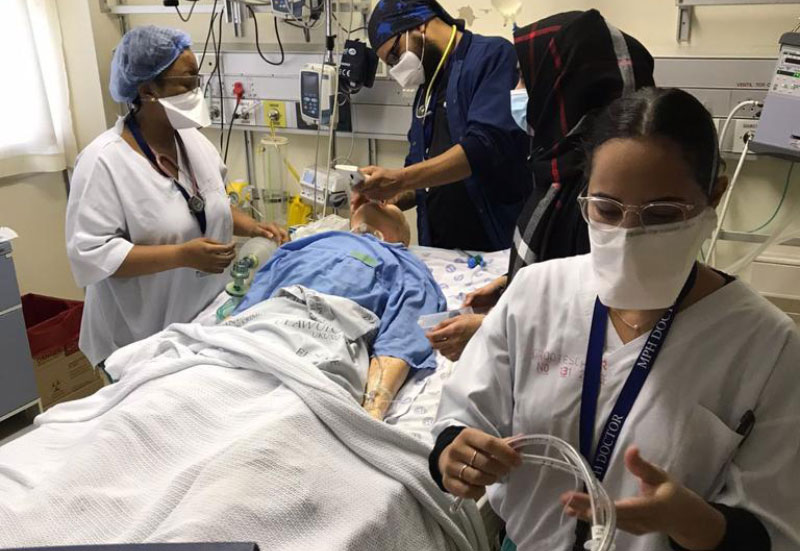 "At the start of the pandemic there was a huge level of uncertainty and anxiety across the board in healthcare workers. One of the things that we did which we feel really helped reduce that level of anxiety and helped people feel more prepared, instead of just talking about PPE, was to say to people, 'Let's practise putting it on and taking it off, in a way that is safe.'" More than 1 000 healthcare workers benefited from this training.
"Learning to become a simulation educator changed a lot about my perspective, about how we interact with people and how we ask questions," Park-Ross said. She said that undergraduate students were not getting exposure to enough emergencies. Project TeamCare reimagined the curriculum and helped the development of simulation educators. "I have loved watching things like that grow," she added.
"Simulation is a really good tool for teaching and learning those things that you can't do well in a lecture or a tutorial; where you actually need to practise the doing," said Duys. "In the UCT context of creating psychological safety for marginalised groups, for trying to transform society, simulation takes a position that flips the power dynamic completely and empowers the learner to take control of their own learning journey."
---
This work is licensed under a Creative Commons Attribution-NoDerivatives 4.0 International License.
Please view the republishing articles page for more information.
---