A new book by the University of Cape Town Graduate School of Business (UCT GSB) Adjunct Faculty and Alumni offers a fresh and hopeful take on the age-old problem of how to advance social change.
The issues of poverty, inequality, racial justice and climate change have never been more pressing – or paralysing. Current approaches to social change, which rely on industrial models of production and power, are not helping. In fact, they may be designed to entrench the status quo.
The Systems Work of Social Change is written by authors Cynthia Rayner and François Bonnici – both UCT GSB Adjunct Faculty, as well as student and staff alumni – and is published by Oxford University Press. The book argues that if we want to change social systems, it is perhaps self-evident that we need to approach things in a "radically different way"; but to do so requires us first to understand things in a radically different way.
Much of the research for this book was catalysed by the work Rayner and Bonnici have been involved in through a specialised centre at the UCT GSB, the Bertha Centre for Social Innovation, and reflects the research, vision and work the centre does in exploring deeper approaches to social change. Rayner is a senior researcher, writer and Adjunct Faculty lecturer affiliated to the Bertha Centre. Bonnici is a UCT medical graduate, public health physician and the previous founding director of the Bertha Centre, where he remains affiliated as adjunct associate professor. He currently serves as the director of the Schwab Foundation for Social Entrepreneurship, and head of Social Innovation at the World Economic Forum.
A 'breakthrough book'
Described as "a breakthrough book" by Stephan Chambers, the director of the Marshall Institute at the London School of Economics and Political Science, that "will guide those who work in and think about systems change for a generation", it emphasises that it is in the quiet and often unglamorous work that the answers lie. This work is happening daily in successful social change organisations, offering a set of principles and practices that can guide us going forward.
These principles and practices are premised on the fact that social change in complex systems is often messy and non-linear.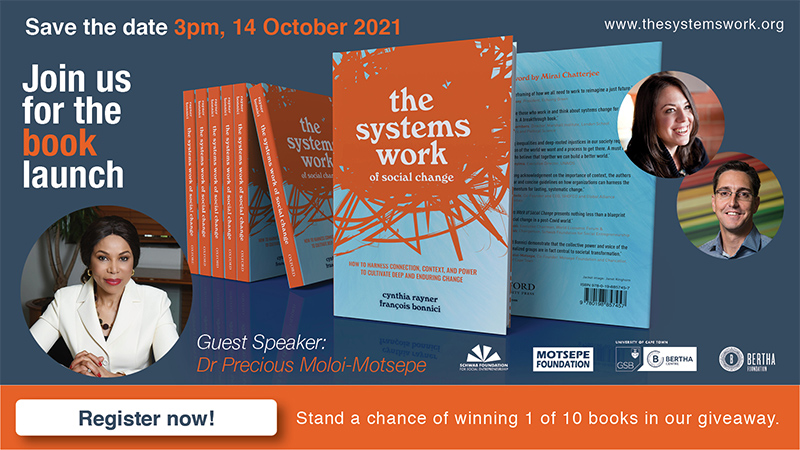 Bonnici explained: "The industrial mindset has conditioned us to make sense of the world by looking at change in historical episodes, with clearly defined markers of success and failure: the end of apartheid; winning the vote; the passage of marriage equality; substantial increases in longevity, literacy and living standards. But in a rapidly changing and interconnected world, the long arc of social change can rarely be traced to single root causes, outputs are seldom proportional to inputs, and outcomes are often unintended. This reality demands a new way of thinking about and understanding how change happens."
Their approach also emphasises process and people over outcomes, rather than big bets and top-down solutions. Three key principles are highlighted as key to unlocking change: connection (how people are working together), context (how people adapt their work to their context), and power (who makes the decisions).
"When we treat social change efforts with defined starts and ends, we nearly always feel frustrated, since our understanding of what needs to change is necessarily a moving target. However, by focusing on the process of change – asking critical questions, such as who deserves, who designs, and who decides – we can move forward into the future with a greater capacity to adapt," said Rayner.
Industry of social change
The book is framed by a fundamental paradox: we live in a world where what Rayner and Bonnici call the "industry of social change" (which Peter Buffet famously termed the "charitable industrial complex") has grown to be larger than the global finance industry, contributing on average 4.5% to the gross domestic product, and employing 7.4% of the world's workforce – yet social systems remain stubbornly resistant to change. 
In seeking to understand the reason behind this, the authors fast forward through 200 years of social change-making, showcasing the innovative work of eight leading social purpose organisations, and talking to a host of social change practitioners on almost every continent, to uncover a new understanding and approach to social change that is as subtle as it is radical.
The result is an exhilarating and revealing glimpse into how positive social change actually happens, on the ground, and the processes and practices that drive it. Rayner and Bonnici have surfaced a set of clear and pragmatic insights that will be useful for people grappling with solving the world's problems, large and small; a kind of "how-to" for working in social systems that is both subtle and profoundly game-changing, particularly as the world struggles to shake off the COVID-19 pandemic and shape an inclusive recovery.
The virtual launch for the book, hosted by the Bertha Centre, will take place at 15:00 on Thursday, 14 October 2021, with the guest speaker being UCT Chancellor Dr Precious Moloi-Motsepe, alongside panellists, Rose Molokoane and Rene Parker.
Register to attend the launch.
---
This work is licensed under a Creative Commons Attribution-NoDerivatives 4.0 International License.
Please view the republishing articles page for more information.
---