On Saturday, 12 June, University of Cape Town (UCT) Vice-Chancellor Professor Mamokgethi Phakeng and the 2021 Mastercard Foundation Scholars Program fellows made their way up one of Cape Town's most popular mountains, Lion's Head.
The hike has become an annual highlight on the UCT calendar: students from across the continent meet and engage with one another and the vice-chancellor; they learn more about one another and about the importance of tackling obstacles in their path, and that together, they can achieve more.
"Congratulations to the 2021 scholars for conquering Lion's Head. It was tough, but they persevered, showcasing commitment, hard work and consistency. If they continue to apply these characteristics to their academic and personal development, then I know they will be impactful African leaders," said Professor Phakeng.
Following the hike, a lunch and discussion session, some of the scholars reflected on how the activity relates to their identity and their personal journeys.
'We will surely get there'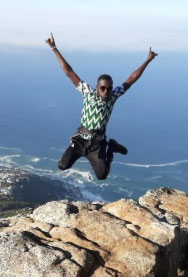 The long train of MCF scholars from different backgrounds mounting up Lion's Head reminded me of the Nigerian #EndSARS protest in October 2020. MCF scholars defied the winter cold and fog to achieve this feat. Holding the hands of the first-time hikers who grew weary along the way made it possible for everyone to get to the top.
In like manner, young people from the Nigerian protest – over 300 tribes and 500 languages – defied all odds of tribalistic beliefs handed down by our parents to protest against police brutality, bad governance, corruption and so many other vices being ignored or championed by our 'ancient' leaders. These young and united Nigerians in different cities, both home and abroad, held one another's hands with one message: to demand a better life and challenge the status quo.
Just like on Lion's Head, some hands became feeble, the Nigerian military and police force shot at protesters at Lekki, Lagos State, on 20 October 2020. Some lives were lost and the two-week long protest was brought to a sad and abrupt end. However, these young people took to the street again on 12 June 2021 – Nigeria's democracy day and the same day of MCF scholars' hike – to reiterate the same message.
Seeing everyone get to the top of the mountain despite the odds, and seeing my Nigerian comrades steal the show with our dance steps, renewed my belief in the strength of the Nigerian youth. I am more convinced than before that it may be slowly, but we will surely get there!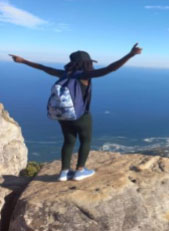 Amandla! Awethu!
Iyanuoluwa Oyetunji, MMedSci, Human Nutrition (Human Biology Department)
'I will never forget'
I am a first-year master's student studying social development by dissertation. I happened to take part in a hike with fellow Mastercard Foundation Program Scholars and the VC Professor Phakeng. I won't lie to you, hiking for me was tiring and draining. It was tough at times, but I realised giving up is not always an option, so I pushed on to the end.
I would describe hiking as physical and at times emotionally challenging, but you experience the most gratifying, unique and memorable experience of your life. It connects people in such amazing ways. Through sharing without having to say a word, knowing we were finding joy in that struggle together, moments of joy, creating hike jokes, laughter and photos – all this unites you. Thus, the positives outweigh any negatives. The blisters will heal and soon be forgotten, but the good memories and lasting friendships will remain, and it is an event in life that I will never forget.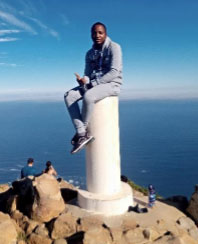 Mackline Nuwasiima, master's in social development.
'I had to be resilient'
I had a great time on the hike; it was a fascinating experience for me. I was able to meet up with people with whom I had previously only communicated via email. It was an honour to be able to engage the university's vice-chancellor. Also, for me, hiking was simply the round peg in the round hole that helped me overcome my concerns. My concerns were allayed as I made it up to the top of Lion's Head. If I wanted to attain my goals, I had to be resilient, resolute, perseverant, and focused. Finally, the hiking event is a wonderful effort from the Mastercard Foundation, and I hope it continues.
Adetola Adebowale, MPhil, Institute for Communities and Wildlife.
An opportunity to connect, reflect
My name is Nwachukwu Sampson. I am from Nigeria. I am currently studying electrical engineering (MSc) at UCT.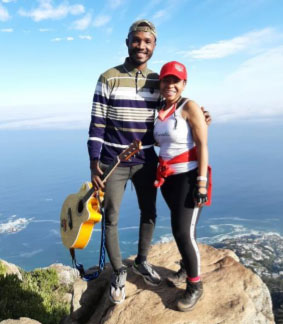 Personally, the [hike] was challenging, fun, and at the same time, gave me the opportunity to connect with other scholars. It also gave the me the opportunity to reflect on how far I have journeyed in life, and the tasks ahead of me. I observed how the weaker ones among us were helped to make it to the top and I learned that we all need each other, especially when things get so tough. Again, UCT Vice-Chancellor Professor Mamokgethi Phakeng was a great inspiration to me during the [hike] and I believe that many students felt the same way about her. She taught me how humble one needs to be, no matter the many achievements we have attained in life. Standing on Lion's Head, and dancing, laughing, and joking, was a rare thing to experience where I come from.
Overall, I enjoyed the moment.
Nwachukwu Sampson, MSc (electrical engineering)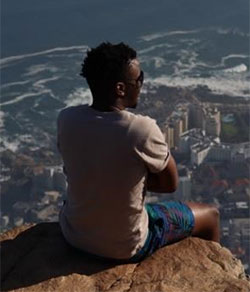 'It seemed impossible'
Mounting up the Lion's Head through the lens of the Soweto Uprising. It began with a sense of urgency, having to overcome an obstacle imposed by doubt and fear. Just like the 16 June 1976 Soweto Uprising, it seemed impossible at first; the walk to triumph seemed long. The mountain (Lion's Head) seemed impossible to climb. The challenge resonated with that faced by schoolchildren who were determined to overthrow the language policy under the apartheid regime. Despite the challenges of doubt, fear, and the inevitable sweat and the tough walk, the advantage was that I was not alone – just as Tsietsi Mashini was not alone. Being among leaders of the exercise and mission encouraged me to stay with a positive victorious mind. I along with my colleagues made it through the calamity of steep and steady routes, cold wind, impeding slow-moving fog. Nonetheless, we were victorious, synonymous to the June 16 cohort, albeit that it seemed impossible until we did it.
Jabulani Msimango, master's in education
'The journey to the top is not an easy one'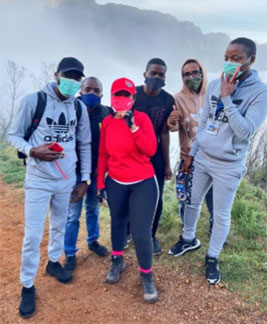 For me, the hike was amazing and refreshing. It was, in a positive sense, an escape from the stressful academic side of life. More so, meeting most of scholars in person for the first time was a great experience and we got to mix and mingle. Most importantly, hiking with the vice‑chancellor was a great experience and she had so much to offer from her deep pool of knowledge. The hike itself was a good, challenging exercise. The views of Cape Town were amazing, and for me the hike resonated with my view of life; that the journey to the top is not an easy one but if you take it with people who have the same goal as you, it becomes better. And when you finally reach the top together, there is a unanimous sense of achievement like no other, knowing that you're not alone. I am forever grateful for the experiences the Mastercard Foundation Scholarship Program continues to afford to scholars.
Rodrick Mwale, BSocSci
A great opportunity for refreshing, learning and networking
"It is not the mountain we conquer but ourselves," said Sir Edmund Hillary. So, from this quote I derive the meaning that climbing a mountain is analogous to dealing with academic stressors and reaching the summit is analogous to conquering academic stressors and reaping success. Hiking is a hobby of mine but writing this reflection has made me realise that the aching symptomatic of hiking on my joints and sweat on my t-shirts is a metaphor for the sleepless nights and academic pressure that I face almost every day. However, conquering ourselves as exemplified by Sir Edmund Hillary is similar to developing resilience and achieving our goals.
Hiking with the VC, on the other hand, was a great honour and an opportunity to network and learn from the very best leader. It was not just a great day but an astonishing opportunity to learn about the importance of teamwork. You cannot do things on your own all the time; you sometimes need a hand from another to reach to the top or achieve certain goals. This was an incredible event and I want to throw a big shout to the Mastercard team for organising such an amazing, refreshing and great day. Hats off to you! I salute you and I thank you.
Law Mugadhuyi, Bachelor of Social Work
These reflections have been posted with little to no editorial intervention from UCT News.
---
This work is licensed under a Creative Commons Attribution-NoDerivatives 4.0 International License.
Please view the republishing articles page for more information.
---