Recent research by University of Cape Town (UCT) African Studies scholar Dr Halim Gençoğlu and his former student Abdud-Daiyaan Petersen reveals a story of piracy, slavery and previously unknown details of the Cape's links to the Ottoman Empire in the 18th century.
It chronicles the life of a freed slave Carel Pelgrim, who made the first pilgrimage to Mecca from the Cape. He is thought to have been Hadje Gasanodien, the son of an Ottoman merchant captured by pirates off what is now known as Maputo, Mozambique, in 1772 and sold into slavery.
This new work is part of Dr Gençoğlu's and Petersen's continuing research on the early Turkish Ottomans in South Africa – specifically the Cape's Muslims and their connection to the erstwhile Ottoman Empire. It follows on information compiled by local community member Adli Jacobs, gleaned from oral history that dates back to Carel's daughter, Gatea, the sister of the Ottoman scholar Mahmud Fakih Effendi.
Gençoğlu is a postdoctoral research fellow in the Re-centring AfroAsia project in UCT's Centre for African Studies in the School of African and Gender Studies, Anthropology and Linguistics. Working with Petersen, their research has been reshaping this local chapter of history.
The Ottoman Empire was created in 1299 by Turkish tribes in Anatolia lead by Osman Ghazi. After Ghazi's death, the empire controlled much of Southeastern Europe, Western Asia and Northern Africa for over 600 years. It was dissolved in 1922 after the First World War and replaced by the Republic of Turkey.
Early clues
Clues to Carel's identity lie in paintings in the William Fehr Collection at the Castle of Good Hope, a visual history of South Africa's early colonial people and landscapes.
"The paintings of Hadje Gasanodien (Hassan ud Din), alias Carel Pelgrim and Carel of the Cape, and his wife, Nasea, were painted by George French Angas," said Gençoğlu.
Angas (1822–1886) was an English naturalist and painter who travelled to Australia, New Zealand and South Africa, documenting the world he saw. Gençoğlu said that the paintings of Gasanodien and Nasea may be the first confirmed images of Cape Muslims in South Africa from the early 19th century.
"[He] kept the name of Carel once he was freed, as did most Vryezwarten, as it made relations with the colonists easier."
Archival research shows that Carel, born circa 1785, lived in a house he owned in Buitengracht Street. He died there in 1863.
"[Gasanodien] was a Vryezwarten (freed slave) who had a dual Dutch slave and Muslim name but kept the name of Carel once he was freed, as did most Vryezwarten, as it made relations with the colonists easier for them," Gençoğlu and Petersen wrote.
"Although it can't be confirmed, it is assumed that Gasanodien was in fact his Muslim birth name since his tombstone and the painting give his father's name as Abdullah, indicating that his father must've been Muslim too." (Abdullah was also known as Johan Gottlieb Barends.)
His mother was a slave too, known as Pakka van de Kaap. Evidence from Carel's death notice confirms his birth was at the Cape. A notarial document indicates that he, his mother, and brother, Philip Barends, were transferred to Cornelis van der Poel, a burgher, at the time.
"Being of Ottoman descent no doubt made it easy for Carel to travel to Mecca for his Hajj duty."
Historian Achmat Davids said that Carel was later a "prominent imam" who ran a Madrassah from his home (Angas also painted Carel teaching Madrassah classes), and a tailor. He was also the first Cape-born pilgrim to visit Mecca, probably between 1834 and 1837. This is mentioned in John Schofield Mayson's book, The Malays of Capetown, published in 1861.
Cape historian and journalist Jackie Loos found documentation in the Western Cape Archives and Records Service of Carel's October 1833 request to make the pilgrimage, via the port of Calcutta.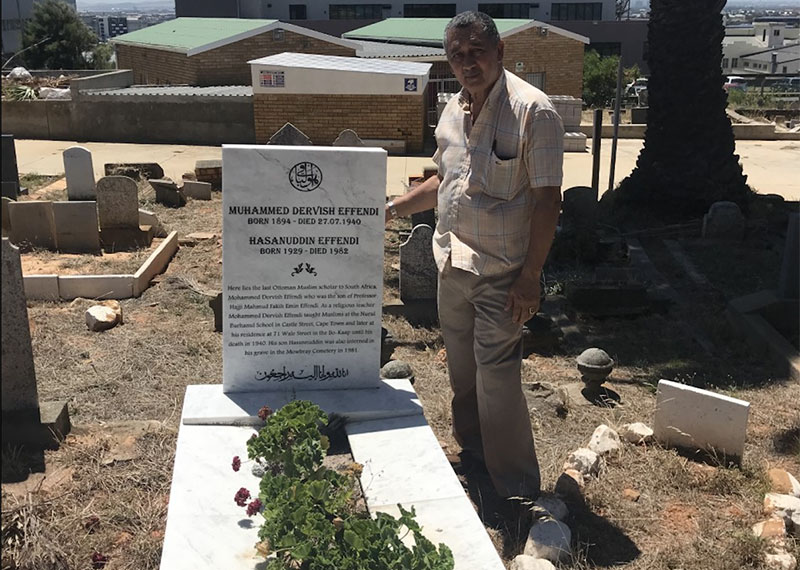 Interestingly, the Ottoman State Archives carry records of Carel's later Ottoman connections. These mention that his son, Mahmud Effendi, was from Mecca, studied there and was later appointed principal of the Ottoman Arabic School in Cape Town.
"Being of Ottoman descent no doubt made it easy for Carel to travel to Mecca for his Hajj duty," said Gençoğlu.
Piracy and slavery
But Carel's Ottoman connections were a mystery to Gençoğlu and Petersen. How had an Ottoman descendant become a slave in South Africa?
"Unfortunately, there is currently no evidence available to enlighten us on this part of the story."
However, a Turkish archival document provides a tantalising clue. An Ottoman merchant from the Arabian Peninsula, Hadje Abdullah, was robbed and held hostage while he was on a ship in Maputo in 1772.
There is no record of Abdullah after the hijacking. However, if he was locked up and sold as a captured slave, he could be the father of Carel from the Cape. Or in a similar way, Carel's father could have only been a slave at the Cape.
"In that period, no one would migrate to southern Africa from the Ottoman territory to seek better living conditions – even Spanish Jews migrated to Ottoman soil."
Another conundrum for Gençoğlu and Petersen was how a freed slave managed, in a relatively short time, to amass the resources needed to travel to Mecca in the 1830s. More research is needed here, said Gençoğlu.
Ottoman connections
His conjecture is that Carel could draw on his Ottoman family wealth and connections.
"If he was the son of merchant Abdullah, who was robbed while he was on his way to Maputo to sell his products, Gasanodien [Carel] would probably have been aware that he came from a wealthy family from Mecca," Gençoğlu said.
"We are not sure whether this source relates to Gasanodien's father or not, but chronologically, the date also corresponds to the hijacking of the Ottoman merchant Abdullah and later the birth date of Gasanodien, son of Abdullah, at the Cape. Apart from that, the name Gasanodien is still a popular name in the [Cape's] Effendi family, also signalling that the family members have always given importance to their forefathers."
Nathri Effendi, the great-great-grandson of Hadje Gasanodien, said that when Loos wrote about Carel Pelgrim in a column in 2003, Effendi's late father, Mahmud Effendi, called Loos and told her that he was descended from Gasanodien – and wanted to correct certain facts in her article. Unfortunately, that meeting never happened.
Family lineage
Gençoğlu said that several Turkish archival documents bear out the relationship between Mahmud Effendi and his Imperial Ottoman School in Castle Street. He lived and died at 71 Wale Street, which is now home to the Bo-Kaap Museum.
"Turkish archival documents clearly prove that Mahmud Effendi was appointed at the Imperial Ottoman School in Cape Town not only because of his Islamic knowledge but because of his relations with the Ottoman Empire. The surname Effendi is more proof of his connection to the Ottoman State."
---
This work is licensed under a Creative Commons Attribution-NoDerivatives 4.0 International License.
Please view the republishing articles page for more information.
---