Since 2012, the Division of Disability Studies has been training students in community based, disability-inclusive practice, through a one-year accredited qualification at NQF level 5. Some students were community health workers or home-based carers, while others had done a primary health care vocational training qualification (NQF level 4) at Technical, Vocational Education and Training colleges. This cadre of health care workers are uniquely placed to offer both factual and social-emotional support to persons with disability and their families in their communities. However, their work and labour often remains invisible and unacknowledged.
At the beginning of lockdown related to the Covid-19 pandemic, we invited some of our alumni to participate in a four-week writing circle about their experiences of disability inclusion as frontline workers. Being given an opportunity illuminated the vital work they do as well as their invaluable knowledge of community needs. They are unsung heroes and critical members of ward based outreach teams: I worked from my home via whatsapp, checking on my client to see how she is doing during the lockdown … I was able to encourage her to keep doing the exercises.
They recognised the importance of hygiene and taking care of one another, as they witnessed many people are dying due to insufficient knowledge. Their weekly reflections revealed their precarious positions and personal difficulties. They realised that by moving all over and being in contact too many people, they could spread the virus. They also needed to use outside toilets. They had to address the fear and anxiety of people who they visited at home, while at the same time processing their own fear and anxiety.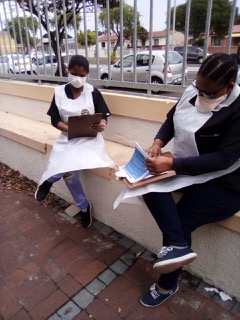 One CRW shared her experience of being tested at the same time as grieving the passing away of a nursing colleagues due to the virus. She was helped with grief counselling by the Faculty of Health Sciences' Emeritus A/Prof Pat Mayers, from the Division of Nursing:
The day that I'll never forget is when I received a call from work early in the morning asking me to rush to work because one of staff is positive. So, I was very scared; then I rush to work. I found all the staff are queuing outside doing test, gates are closed for patients… I do the test; it was so painful especially that stick that has been put inside the nostrils down the throat.
CRWs shared stories of people brewing traditional beer as they were not able to buy alcohol. They found that there was a shortage of yeast in the supermarkets, which they needed for making bread for their families. Another CRW also assisted an elderly woman to access her pension for her as her husband was in hospital due to Covid-19. She mentioned that her family were using more electricity for heating and for hot drinks. She also gave money from her own pocket to help a neighbour:
They were giving out food parcel to the community members who might need them; the donation come from the Somalian's shop. I also donated with R 200,00 to two families to buy them each R 100,00 electricity through the street community. I know it not much but the lady was so happy; she even said "I never buy myself R 100,00 electricity because I can't afford. I only buy R 20,00 and it does not even last me the hole months.
A CRW shared their role in educating their communities was shared:
I am a parent to my children and to the children of my community; they say it take a village to raise a child. I am that parent who cares about my community children because I don't want to see any child be affected with Covid 19. One day during the week, I was not at work because there was no site for us to go volunteer. I saw four children in my street were playing. So, I called them and educate them about Covid-19... to about show to wash their hands and social distance. I had few masks that I gave them; they were so happy wearing those masks. I said to them they must protect themselves and ask their parent to make them masks. I gave them a pamphlet that show how to make a cloth mask. I also distributed pamphlet to nearest shop and hand out some to those who were passing. It felt so good to educate my community.
They also shared the upside of the pandemic:
Doctors, nurses and essential workers are being praised. The important role of teachers is recognised …. The pandemic has given me time to reflect back and take care of what is important to each individual - health and hygiene … Every day, I strive to look for positive in challenging situation.
CRWs recognise that there is still a need to fight for respect and caring, especially for people with disability to be included in their communities. Through living and working in their own communities, they bring incredible local insight and support to the most vulnerable people. Their deep understanding of communal practices and vulnerabilities means that they are able to make a real, sustained difference. Ironically, the CRWs also feel that they are not recognised while they are doing a credible job. The Writing Circles provided support to the CRWs to see their work made visible, but also for outsiders to see the value and importance of tapping into local knowledge and experiences.
---
This work is licensed under a Creative Commons Attribution-NoDerivatives 4.0 International License.
Please view the republishing articles page for more information.
---