Hugh Corder, Emeritus Professor of Public Law, shares his memories of Dr Stuart Saunders and the immense legacy he left behind. Dr Saunders passed away on 12 February after a short illness.
Public institutions achieve greatness, both among their peer group and in wider society, through principled, fair, effective, honest and courageous leadership. I would argue that the foundations of the University of Cape Town's (UCT) current pre-eminence as a leading university internationally were securely laid in large measure during the 16 years during which Dr Stuart Saunders served as vice-chancellor, and on which his successors have built.
My first encounter with Dr Saunders came before I had even registered as a student in February 1973, through his wardenship of the Kopano residence. His was a somewhat austere, distant and even forbidding presence, already a leading figure in the university, as professor and the head of the Department of Medicine.
He made it clear that he expected the residents of Kopano to strive to emulate his knowledge and stature, but he left the day-to-day running of the place largely to the sub-wardens and staff. It was clear to us that he would soon begin to assume a leadership role outside the Faculty of Health Sciences, and this indeed began after I departed for postgraduate study abroad in late 1978.
I returned to UCT as the Professor of Public Law in mid-1987, and Dr Saunders, as vice-chancellor, chaired the selection committee, fairly and firmly. Such qualities (and more) were again evident in abundance in my first Senate meeting in August 1987 when the report compiled by an eminent external review panel into the highly contested decision by the university leadership to withdraw an invitation to Conor Cruise O'Brien to visit the university was debated.
O'Brien was an outspoken Irish politician and public intellectual who invoked "academic freedom" when provocatively dismissing the academic boycott campaign advanced by anti-apartheid groupings. The review panel consisted of former Wits vice-chancellor Sonny du Plessis and advocates Ismail Mahomed and Arthur Chaskalson, both of whom were to serve as chief justices in democratic South Africa.
Although the panel ultimately backed the decision to withdraw the invitation, the vice-chancellor was very much in the firing line as Chair of Senate. He showed remarkable restraint, wisdom and doggedness in Senate and other engagements concerning this controversy, and this made a deep impression on many. I could not resist comparing the somewhat aloof man whom I had come to know as residence warden with the skilled, nuanced, engaged and politically nimble leader now leading the university. I have often thought that this experience impelled him to greater acts of defiance and courage as he led UCT in the face of repeated assaults from the apartheid regime, both on its staff and students, and on the institution. The popular image of the vice-chancellor standing bravely and alone between lines of police and staff and student protesters is probably uppermost in most people's memories of the late 1980s.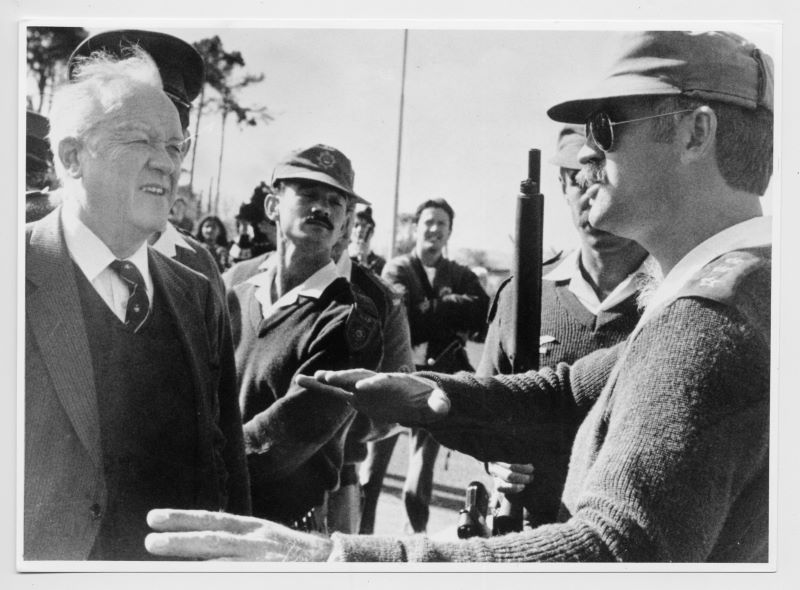 UCT's successful legal challenge to the conditional subsidy system which Minister of Education FW de Klerk attempted to impose on all universities in 1988 was a further significant initiative. Within the university, the vice-chancellor was no less outspoken and consistent, and I vividly recall his closing remarks at my inaugural lecture in October 1988, which had catalogued the repeated denial of the rule of law by the apartheid regime over many decades. Dr Saunders used the opportunity to restate his abhorrence of emergency rule and the lawless actions of the security forces.
Perhaps my greatest insights into his human qualities came, however, well after his long term as vice-chancellor was over, through his pioneering and indispensable role as indefatigable "influencer" and fundraiser for UCT abroad, primarily within the United Kingdom. His success in raising financial support in the USA, especially through the Mellon Foundation, must also be noted.
When I became Dean of Law in 1999, Vice-Chancellor Dr Mamphela Ramphele made it clear that alumni relations and fundraising should be a priority. In June 2002 Judge Dennis Davis and I spent a week in London, undertaking a relatively frenetic schedule of engagements with lawyers' firms, charitable foundations, wealthy individuals and law alumni to seek to build a good base for subsequent attempts to establish a capital endowment fund for the faculty.
"There was no doubt that his stature and reputation opened many doors for us."
Dr Saunders, as trustee of the University of Cape Town Trust (UK), and already extremely well known and widely connected, accompanied us to most of our meetings and was the great drawcard at a closing social event attended by about 65 alumni. There was no doubt that his stature and reputation opened many doors for us, and one witnessed with a fair degree of awe his subtle and understated determination not to allow our hosts to escape with only vague and high-sounding moralistic commitments. This visit laid the foundation for the substantial endowment currently enjoyed by the law faculty, the revenue from which is overwhelmingly used for student financial aid and support.
One incident during our punishing schedule must be recounted. We were a little late in leaving one firm and traffic in the city was slow. Dr Saunders suggested to the cab driver that another route might get us to our next commitment more speedily, to which the latter replied gruffly over his shoulder: "As Jean-Paul Sartre says, 'Hell is other people!' ", whereupon he promptly slammed the window between us. Fortunately, Dr Saunders saw the comical element and we arrived for our next meeting on time.
It was on Dr Saunders' initiative that the UCT Trust (UK) was founded in the early 1990s. He later became a trustee and served until 2012, not long after his 80th birthday. His impact was immense, through what has been described by Sir Frank Berman (immediate past chairperson of the trust) as: "Stuart's magic touch with institutional donors: they saw him as serious and heavyweight, knowledgeable and purveying a rare uniting of the visionary with the practically realisable." Since its foundation, the trust has raised over £23 million (R460 million) for the university, which has largely been dedicated to support research projects that have positioned UCT as the leading university on the continent.
I was honoured to be invited to replace Dr Saunders as the UCT-based trustee in 2012, so I have witnessed first-hand his abiding influence in the many foundational, institutional, as well as personal sources of support which he had established and nurtured and which have continued to support the university.
Although no longer a trustee, Dr Saunders continued to participate actively in the work of the trust until shortly before his death. As just one example, one of the most notable gifts to UCT came in the form of the Potter Fellowships some two decades ago, the brainchild of David and Elaine Potter, the donors, and Dr Saunders. Elaine serves as a trustee of the UCT Trust, and writes:
"From inception Stuart sat on the selection board and year after year spent days interviewing some outstanding candidates. This included the interviews … where he made his usual important contribution, interrogating the candidates, probing their understanding of their subjects as well as what contribution they might be able to make to civil society. He attended any and all events associated with the fellowship."
In the last decade or so, as I encountered Dr Saunders more frequently at social events, many of them generously hosted by him and his remarkable wife, Anita, I was able to see someone less forbidding, someone utterly human and fallible, always with an impish smile and a kindly teasing remark just below the surface. He remained intellectually engaged and collegially involved to the last. My admiration for him grew with each such encounter.
I have never had any doubt that Dr Saunders' training as a top-notch physician enabled him to take incredibly complex decisions clearly, rationally, boldly and expeditiously – a trait which served UCT remarkably well throughout the 1980s in particular. At the same time, his service as vice-chancellor gave evidence of a high degree of humaneness and emotional understanding, which I have always regarded as key to his success as a leader.
Institutional recognition in the higher education sector is a highly prized and elusive quality, generated by every single member of a university, but which requires constant vigilance and enhancement.
Dr Stuart Saunders played a leading part in positioning UCT as it is today. We are greatly in his debt and will miss him sorely.
---
This work is licensed under a Creative Commons Attribution-NoDerivatives 4.0 International License.
Please view the republishing articles page for more information.
---