Establishing a new online academic programme called UCT-Africa Virtual ENT and launching a flourishing YouTube channel during a pandemic. These are just some of the achievements of the Division of Otolaryngology (ENT) in the Faculty of Health Sciences.
The COVID-19 pandemic has caused unprecedented disruption of specialist training globally. There has been a dramatic reduction in elective surgery and outpatient services; social distancing practices have eliminated physical academic meetings and teaching ward rounds; and staff redeployment to other clinical areas further threatens teaching and training. MMed research has also been undermined. However, the COVID-19 crisis also presents opportunities.
The Division of Otolaryngology (ENT) at the University of Cape Town's (UCT) Faculty of Health Sciences is a small department, made up of only 15 members, that prior to the COVID-19 era maintained its strong ethos for academic excellence through biweekly lectures augmented by ward round and patient-based learning. In order to adapt to COVID-related challenges, the Division adopted Zoom videoconferencing for academic presentations and introduced virtual academic ward rounds. It is a registrar-driven initiative.
The Division has also gone a step further by establishing a new online academic programme called UCT-Africa Virtual ENT that provides open access to their academic presentations and virtual academic ward rounds, initially to all ENT departments in South Africa, and subsequently to the rest of Africa. The aims of UCT-Africa Virtual ENT have been straightforward: to cut across academic silos so typical of centres of academic learning; to promote institutional, national and international collaboration; to maintain educational goals during the pandemic whilst daring to re-imagine innovative ways for learning, long-term. As the platform's demand, necessity and popularity increased, in July 2020 the Division opened the platform to participants from all over the world and now have regular attendees from India, Pakistan, Dubai, Malaysia, Saudi Arabia and Myanmar amongst many others.
Since the establishment of UCT-Africa Virtual ENT in April 2020, more than 300 different participants have attended ranging from general doctors with an interest in ENT to sub-specialised ENT consultants from all around world, with an average of 80 participants per meeting. Dr Taseer Din, an International Registrar in the Division, says it has been a rewarding experience to listen to trainees and specialists from different institutions that has led to constructive, patient-focused discussion. "The platform consistently nourishes a sense of common purpose amongst trainees, especially across Africa, without which the academic front of many institutions would have halted," he said.
A survey was conducted in May 2020 to assess the value of UCT-Africa Virtual ENT, as well as how to improve the offering. With 79 respondents, the survey revealed that all eight South African ENT training centres had participated. Trainees from other African countries made up 49% of attendees and countries represented included: Zimbabwe, Ethiopia, Ghana, Tanzania, Uganda, Kenya, Malawi, Libya, Democratic Republic of Congo, Rwanda, Nigeria, Mauritius and Namibia as well as the United Kingdom, Switzerland and Canada.
Over 97% of participants agreed that this platform would be sustainable post-pandemic. Interestingly, 67% of those surveyed said that virtual platforms such as UCT-Africa Virtual ENT had the potential to replace physical meetings and conferences. Everyone who participated, felt that the virtual meetings were very valuable or extremely valuable to their training. An inexpensive, convenient and fast way of holding academic meetings can contribute to bridging academic gaps in training programs, and is particularly relevant in the African context.
UCT-Africa Virtual ENT has taken the initiative to provide an opportunity to transcend traditional educational barriers and to promote free access to learning and inter-institutional collaboration across Africa and beyond. Platforms like this have the potential to save huge costs whilst maintaining the aims of congregational learning and presentations. Looking into the future, the way that we see scientific learning and networking through professional conferences may change drastically. Overall, the authors believe this unprecedented time has shown promising opportunities that otherwise may never have been considered. It has paved the way for innovative collaborative learning, and beseeches academics to re-imagine a future with fewer national divides promoting better patient care in a contextually sensitive manner.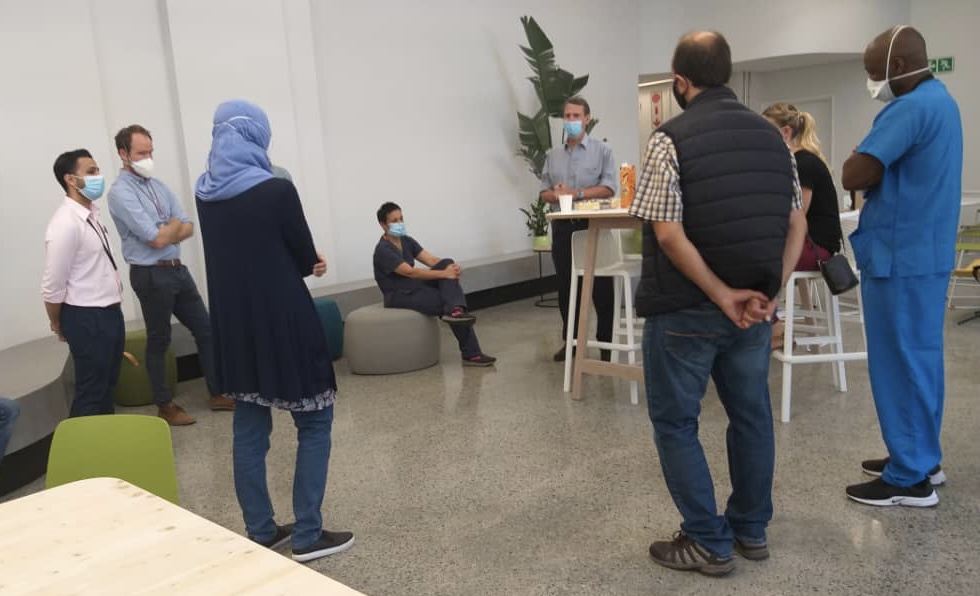 ---
This work is licensed under a Creative Commons Attribution-NoDerivatives 4.0 International License.
Please view the republishing articles page for more information.
---