Women students took the laurels in the Res4Res Virtual Festival 2020, winning all three categories with creative works that highlight sociopolitical issues affecting South Africa.
Hope Banda won in the Video Performance category; Reatlegile Malatji the Visual category and Thobile Mahlangu in the Written category. South African artists Larissa Mwanyama, Ameera Conrad and Tailyn Ramsamy judged the entries.
The theme, "Your silence will not protect you", was based on African American writer, feminist, womanist, librarian and civil rights activist and poet Audre Lorde's writings. The theme invited students to explore current issues facing the country, focusing on those that South Africans don't speak about.
The trio of judges noted the high quality of the work submitted and the student entrants' high skills levels.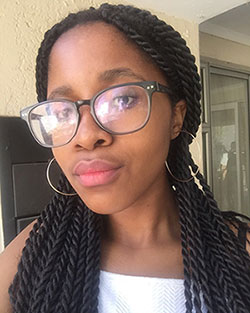 This is the first year that the Res4Res Festival has been held virtually, a response to the lockdown restrictions that followed the outbreak of the COVID-19 pandemic. The festival's creative director, Kanya Viljoen, said she'd been surprised by the "overwhelming interest, participation and support" for the new format.
"The festival started with the insight and guidance of various industry professionals, including Larissa Mwanyama, Jemma Kahn, Ameera Conrad, Tiisetso Mashifane wa Noni, Tailyn Ramsamy and Kim Adonis, who all shared various tips and advice for students on the multiple mediums of art," she said.
During August more than 250 students participated on Vula, and 10 finalists were selected from whom the three winners were chosen.
In addition, Viljoen commended Wandile Nyembe (Visual), Emihle May (Written) and Luxolo Paul Mdolo (Video Performance) for their selection as UCT's favourite entries in their respective categories.
Courage and vulnerability
Viljoen also thanked the participants or their efforts to conceptualise, create and share their work – and their courage and vulnerability in doing so.
"You have all shown that UCT students have a multitude of talents."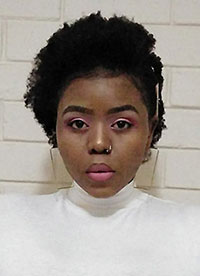 "You have all shown that UCT students have a multitude of talents and that expression will always remain central to who we are."
Viljoen gratefully acknowledged the Res4Res team of Frank Karigambe, Sean Abrahams, Shaun Mahabeer and Rosa-Karoo Loewe, and the support of the teams at Residence Life, Student Housing and the Department of Student Affairs.
"I am so looking forward to next year and can't wait to be emerged in another festival of creating, voicing and sharing."
The three young women who won the 2020 Res4Res Festival have used their art to highlight sociopolitical issues affecting South Africa. They also approached the new creative format with a sense of adventure, said Viljoen.
Banda, a student of theatre and performance, said she'd loved being on a virtual stage.
"I'm so used to being on stage that doing this virtually brought out something I never really knew I had," she said.
"I'm so used to being on stage that doing this virtually brought out something I never really knew I had."
Medical student Malatji said she'd missed the live interaction at the festival but said that there had been unique rewards to exploring the new format.
Psychology and English major Mahlangu said the virtual stage had provided a special opportunity for non-drama students to show what they could do.
Social commentary
The festival theme inspired art with a purpose, the entrants exploring how silence can be complicit with acts of violence. It was particularly pertinent to the country's current gender landscape, Mahlangu said. Her written monologue centred on a mother talking about her daughter, a lesbian, in an interview with a journalist. The mother recalls how she sent her daughter for conversion therapy.
"It explores the tumultuous relationship between sexuality and religion and themes such as the generational trauma that comes with being a woman," said Mahlangu in a post-award interview.
Banda's video performance tackled patriarchal ideas of women's sexuality – and her own fears as a woman living South Africa.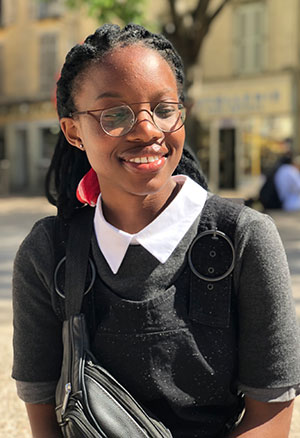 "I was always made to feel like it was my fault because apparently showing skin meant I wanted to be touched," Banda recounted.
Malatji's visual art piece, "Thoughts", was inspired by her grandmother's recollections of poverty and hardship and the power of freedom of expression.
"We are all affected and impacted by our current reality of discrimination," said Malatji in an interview. "My grandmother taught me that we need to close our eyes, think and reflect. But, as we do this, open our mouths and speak."
Winning the category had also been revelatory.
"It opened my eyes to the importance of allowing myself to spend time on what I am passionate about. Also, how that reflects in my mental well-being."
Mahlangu said that in creating art, the process had been very satisfying, "more fulfilling than what you think the final product ought to be".
"The reality is, you need to have confidence in yourself and your abilities."
Banda said that participating in the festival had taught her that having a voice is powerful: "No one can take away your voice unless you give them the power to do so."
The winners' work can be viewed on Vula, Facebook and Instagram.
---
This work is licensed under a Creative Commons Attribution-NoDerivatives 4.0 International License.
Please view the republishing articles page for more information.
---