Heritage is the foundation of societies and cultures. The Zamani Project's repository of accessible, scientifically acquired spatial data of African cultural heritage sites continues to contribute to the University of Cape Town's (UCT) roots as an African university.
Based in the School of Architecture, Planning and Geomatics in the Faculty of Engineering & the Built Environment, the Zamani Project is a research group that hosts one of the world's most extensive databases of African cultural heritage sites and structures. This archive has been developed using state-of-the-art documentation technology. As we celebrate Heritage Day on 24 September, we reflect on the value of an accessible, accurate archive of African cultural heritage and describe a few of the African sites that the Zamani Project has documented.
An accessible, accurate archive
With the generous support of the Mellon Foundation, The Saville Foundation, Epic Games and technology from Epic Games and RealityCapture, the Zamani Project has documented more than 250 structures, rock art sites and statues at 65 heritage sites in 18 countries across Africa, the Middle East, Southeast Asia and Europe.
They have created panorama tours, 3D models, Geographic Information Systems, sections, elevations and plans, all of which are accessible on the Zamani Project website and ZivaHub.
"We have a job to do in showing the world the objects of extraordinary sophistication, brilliance, great beauty and technical mastery on the continent and in sub-Saharan Africa."
Exploring this virtual archive is culturally enriching and informative, allowing the viewer a valuable opportunity to virtually experience cultural heritage sites and structures across Africa and beyond. Stephen Battle, conservation architect at World Monuments Fund, and collaborator with the Zamani Project, reflected on this value:
"The world still has a distorted idea of what Africa is. I come across it all the time … We have a job to do in showing the world the objects of extraordinary sophistication, brilliance, great beauty and technical mastery on the continent and in sub-Saharan Africa."
The Zamani Project team, consisting of principal investigator, Heinz Rüther, and chief scientific officers Bruce MacDonald, Ralph Schroeder and Roshan Bhurtha, generates accurate and authentic data, which is highly useful for cultural heritage research and conservation.
Professor George Abungu, a heritage consultant and former representative for Kenya to the United Nations Educational, Scientific and Cultural Organization (UNESCO) World Heritage Committee and former director general of the National Museums of Kenya, explained the value of the Zamani Project's data:
"It's extremely important ... We are able to develop very credible research material which contributes to building an accurate understanding, so that we can serve the site through conservation in a truthful way."
Kilwa Kisiwani: creating awareness of a disappearing site
Located in modern-day Tanzania, Kilwa Kisiwani was a thriving Swahili Coast trading city between the 13th and 16th centuries. Along with nearby island Songo Mnara, it was a central port for Indian Ocean trade in ivory, gold, timber, porcelain, jewellery, pearls and clothing. The oldest standing mosque of the East African coast is situated there. Through its architecture, trade, commerce and rulership, Kilwa Kisiwani and Songo Mnara have been given UNESCO World Heritage Site status.
However, the structures there are deteriorating as wind and rain over the centuries have taken their toll. Sea level rise is now placing the sites in great danger, with some structures already nearly halfway submerged.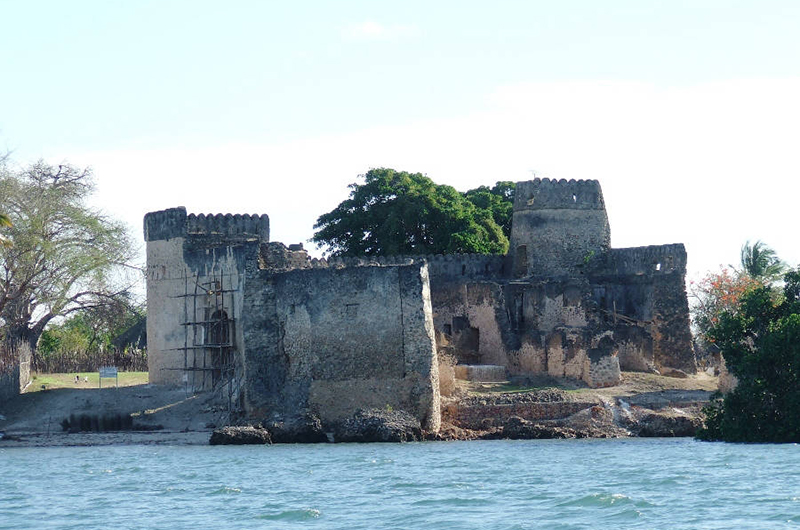 ---
This work is licensed under a Creative Commons Attribution-NoDerivatives 4.0 International License.
Please view the republishing articles page for more information.
---