Shortly after the 6.8 magnitude earthquake hit central Myanmar in August last year, Emeritus Professor Heinz Ruther got a call from Zamani team member Roshan Bhurtha.
"We should go to Bagan," he said.
Bagan is listed among the world's most remarkable archaeological sites. Once there were over 10 000 Buddhist temples and pagodas on the plain, built between the ninth and 13th centuries to honour the deities.
But over the years, earthquakes, which are common in the area, have laid waste to thousands of these structures; some as small as burial tombs, others soaring, tiered monuments to the Buddhas of the Buddhavamsa.
On 24 August 2016, another earthquake hit large parts of Asia. In Bagan, in central Myanmar, centuries-old red brickwork crumbled. Tall spires and turrets, some as delicate as filigree, toppled, damaging priceless frescoes and statues. Over 180 of the 2 800 remaining temples and pagodas were affected.
It wasn't as severe as the 1975 quake, but it hit what's known as the Bagan Archaeological Zone, which is home to these monuments. Much of the damage was compounded by the poor repair work undertaken during the years of military rule when Myanmar, formerly Burma, closed its doors to the outside world.
The earthquake damage came at a bad time. Though not yet listed as a United Nations Educational, Scientific and Cultural Organization (UNESCO) heritage site, Bagan is holding out for this prestigious status. The city's heritage authorities are scrambling to repair as many temples and pagodas as possible before the end of 2017.
Red and green tarpaulins now swaddle the damaged buildings, which stand as vivid markers of their vulnerability – and a warning to the thousands of tourists who arrive on foot or by e-bike (or the aerial route in hot air balloons) to visit the temple- and pagoda-dense plain.
For the past three months, Ruther and his Zamani team in the School of Architecture, Planning and Geomatics have been hard at work, in cooperation with UNESCO, on Sula-mani-gu-hpaya, one of the largest temples in Bagan. They are digitally mapping and spatially documenting the monument, which lost its 15 m tower, spire and part of the base in the quake.
"There are initiatives to at least record all the damage and make plans to do restoration and conservation work there," he said. "Although we can't reverse the damage, we can create accurate models of the remaining monument, and provide detailed measurements for the conservation experts and any conservation initiatives to do their planning on."
Digital conservation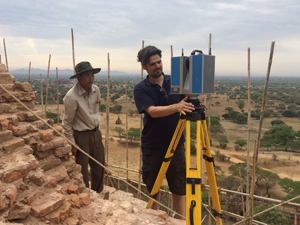 Digital 'rescue' is part of Zamani's repertoire. Principal investigator Ruther and a core team of three chief scientific officers have built formidable expertise in the field. Age, natural disasters, civil war, neglect, art theft and vandalism all take their toll on heritage sites in the developing world with scant resources for their preservation and protection. Without digital spatial and photographic records and three-dimensional models of these sites, many will be lost to scholars.
Ruther conceptualised the Zamani Project in 2001. Part of the African Cultural Heritages Sites and Landscapes Database, they have an enviable track record in heritage documentation, from conventional mapping of threatened archaeological sites to advanced digital modelling of complex sites. In sum, they have created a database of more than 200 monuments at more than 60 sites.
The team have worked all over Africa and the Middle East, building a virtual database of some of the region's greatest heritage buildings and sites. Their work includes the sunken Ethiopian Orthodox churches at Lalibela in Ethiopia, the ancient rock city of Petra in Jordan and the Valley of Queens, Egypt.
After the earthquake in Myanmar, when Ruther met with UNESCO (South East Asia) representatives in Bangkok to present his credentials, he found Zamani's reputation had preceded them. After setting out the groundwork for the project and field campaign to produce the digital data conservationists need to plan their restoration work, he met the director-general of the Myanmar Department of Archaeology to present the full scope of their expertise.
"He was very positive about our work."
The Zamani team arrived on site in March. Ruther was accompanied by chief scientific officers Roshan Bhurtha, Ralph Schroeder and Stephen Wessels, as well as Christoph Held, a former Zamani team member and now an application engineer at Zoller+Frölich GmbH in Germany. Z+F offered Held's services free of charge, in addition to a free state-of-the-art laser scanner – all part of the company's invaluable and continuing support of the Zamani Project.
Barefoot on bamboo
"Bagan was one of the trickiest projects we've undertaken," said Ruther.
It was on a par with their experiences in the gruelling heat of Sudan while documenting Musawwarat es-Sufra's Great Enclosure temple complex and the Temple of Apedemak, as well as the remote dry stone site of DGB (diy-ged-bay) in northern Cameroon.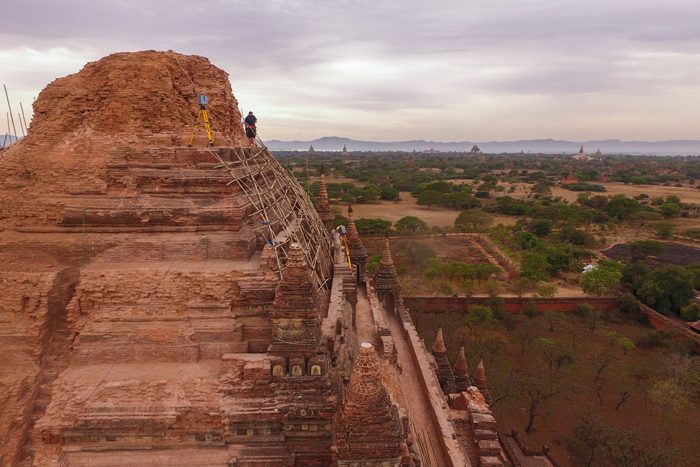 To capture Sula-mani-gu-hpaya's complex tiered and faceted outer surface, they took nearly 500 individual scans from different heights and angles, capturing a total of 10 billion scanned surface points at intervals of about 2 cm.
The dense latticework of bamboo scaffolding on the damaged facades of the temple presented its own challenges. First, the team were barefooted, as Buddhist tradition requires.
"It's quite a challenge standing up there and putting up the laser scanner," said Ruther. "The bamboo scaffolding is strong, but the ropes binding the joints are not. Old, dry bamboo is slippery and difficult to move − and your hands are full of bamboo splinters."
The red bricks are more than 800 years old and crumble easily.
Besides the perils of bamboo scaffolding, heights and dicky brickwork while working on upper sections of the temple, they also had to work among throngs of curious tourists while scanning the monument's lower parts and the sides.
"The scans must be cleaned of unwanted objects or people who accidentally crossed the scanner's field of view," Ruther explained.
Storehouse of data
Back in town after their field campaign, cleaning scans is part of the next phase of their work. First they're processing a storehouse of digital data on Sula-mani-gu-hpaya. Then they will combine scans, drone and terrestrial photography and use the digital data to create an accurate three-dimensional model of the temple, orthoimages of the temple facades and a geographic information system (GIS) of its surroundings.
"We're also working with UNESCO to contribute to a GIS for Bagan. This will be used in nomination documents for UNESCO status," said Ruther.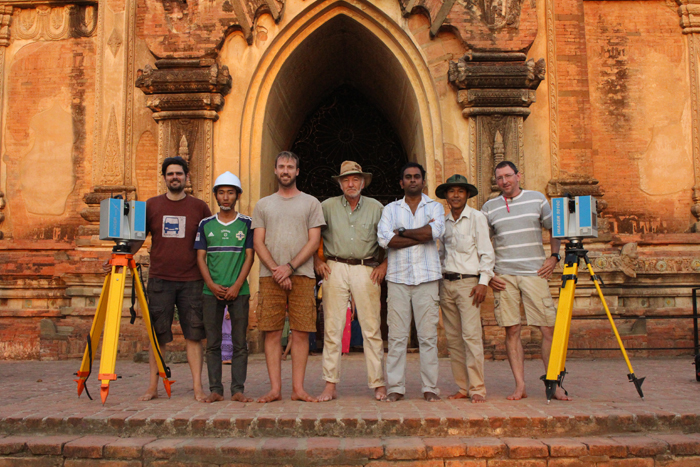 Upskilling local representatives is an important part of their work in the heritage field, said Ruther.
"We used the opportunity to train the assistants in the use of the laser equipment, the acquisition software and the general approach to laser scanning under field conditions, such as the choice of instrument setups and handling of the two laser scanners."
His last words of thanks go to UCT alumnus Duncan Saville who finances the operating costs of the Zamani projects and who helps to fund field campaigns and the data processing, through the Saville Trust. Other funding comes from a variety of sources such as the World Monument Fund, Rice University and the German Archaeological Institute.
"Without outside support, the Zamani team wouldn't be able to do what we do."
This year will see the team undertaking projects at the Great Zimbabwe site, and in Kashmir, Sudan and Bagan once again.
---
This work is licensed under a Creative Commons Attribution-NoDerivatives 4.0 International License.
Please view the republishing articles page for more information.
---