#UCTLockDownLetters is a new feature on the University of Cape Town (UCT) news site. Staff, students and parents of students: we want to hear about your experiences of work and life in lockdown. Emails, audio and video clips, prose and poetry are also very welcome. This is your space.
4 May 2020
Dear reader
We find ourselves in unchartered waters, and for many, this can be a case of survival of the fittest. With all the hurdles I have had to jump over in my lifetime, I think I am fit to survive this too.
I have always managed to keep my head above water no matter the challenges I have faced over the years. I am on a temporary employment contract at UCT – and I know that my livelihood will be affected, but that is okay. I will claim the R350 grant on offer, as it won't be the first time that I will make something out of nothing.
"It won't be the first time that I will make something out of nothing."
I just have to look back two years to when I was retrenched with no financial nest egg. I was gifted a R200 voucher, and instead of spending it on groceries for a day, I bought supplies to sell roti and curry, and after those orders, I ended up cooking and delivering meals four times a week to a few customers, making just enough to buy me some time where I was then residing.
What I am trying to say is that we all face challenging times at some point in our lives, but how we survive is based on our attitude to the situation. Which brings me to the reason for me writing this long-winded letter.
"We all face challenging times at some point in our lives."
As the lockdown progresses, I find myself in what I would like to call a "COVID-22 situation" – torn between the work I get paid to do and the work I don't get paid to do: my non-profit, The Period Project South Africa, a case of "My country needs me".
I have been inundated with requests for help with sanitary towels, even from as far as Limpopo and KwaZulu-Natal, that I eventually broke some of the lockdown rules and managed to get the owner of the storage place to open up his business so that the 1 700 packets of stock, meant for our school learners, could be distributed to the communities in need. If we had to get caught, the justification would be "sanitary towels are essential goods".
Fortunately, the company is about ten minutes from where I am temporarily residing (nothing is permanent), and the three young men who had asked for donations also came to collect and deliver to the areas of Khayelitsha and the Cape Flats.
Now I am on a mission to replenish that stock so that when the schools re-open sometime in the not-too-distant future, there will be enough to go around.
How am I feeling? Pretty good most of the time, challenging at times when you need to use the online network and you cannot search for students' matters like you would if you were at your office desk. Oh! and #DataMustFall. I have never consumed so much data in a year as I have in a week. But all good, I am just going to pretend it is the petrol I would have put in my car to get to work.
"I have never consumed so much data in a year as I have in a week."
What have I been up to besides work? Getting creative with my baking and art. The recipe for the crumpet with apple and plum sauce is available on request.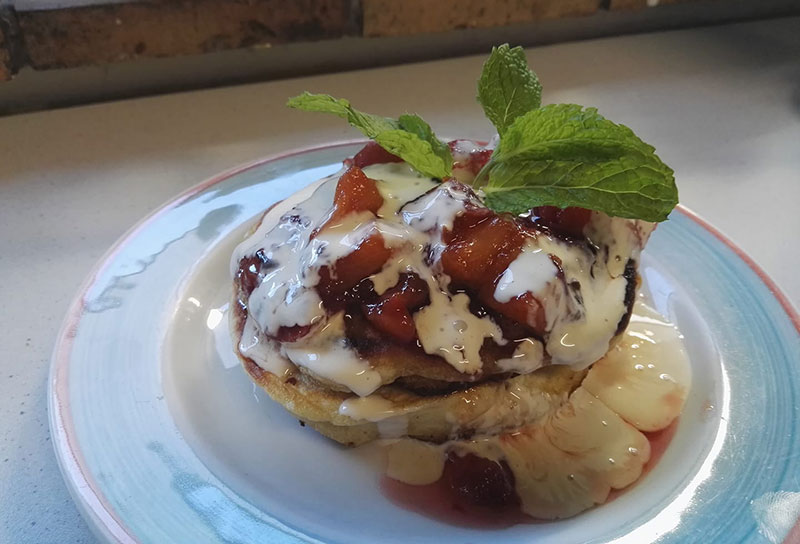 The artwork is called "Perception", my view from space as the coronavirus has spread, made with tea and nail polish on a canvas (making do with what I have). I am attending a life coaching course online as we have to practise social distancing. As a class, we are getting ready to handle the aftermath of COVID-19 (ie job losses, relationship splits, financial and general change).
None of us in the class thought this course would give us a new direction. I was, and still am, doing it for our youth at challenging schools in order to coach them through the trauma they face on a daily basis in their communities or homes, and I hope to guide them in the direction that will change their narrative for the better.
Where do I see us going? As daunting as it might look for many, this is actually the opportunity this country needs to bounce back stronger for all our people. We are a resilient nation and have overcome many challenges.
Stay safe and be kind to yourself.
Love
Cecilé-Ann
Share in our community. Document your thoughts and feelings during lockdown. Send your letter from home (max 1 200 words), audio, video (60 seconds maximum), prose poetry, slam poetry, prayers, benedictions, or songs to
lockdownletters@uct.ac.za
.
---
This work is licensed under a Creative Commons Attribution-NoDerivatives 4.0 International License.
Please view the republishing articles page for more information.
---