In just three months during the summer of 2016, more than one million refugees crossed the border from war-torn South Sudan into northern Uganda. Since then, as at August 2019, their numbers have been swelled by the arrival of over 800 000 more.
It is the biggest refugee crisis on the continent and the third biggest in the world after Syria and Afghanistan, and is the subject of a collaborative research project involving the University of Cape Town (UCT).
Fortunately, the Ugandan government has shown willingness to host the large influx of people, and their relevant policy stands out globally as a positive example. They have taken significant steps to allow the refugees to settle in Uganda without the need to apply for asylum.
However, coping with the numbers has posed numerous challenges, especially for a developing nation. There is a dire need for health, education and welfare services in the refugee settlements where 92% of the South Sudanese live. These settlements are in remote areas of the northern region where infrastructure and communication are poor.
In brief, the conflict in South Sudan is characterised by severe human rights violations, including sexual and gender-based violence (SGBV) and torture. Reports cite very high levels of sexual abuse and torture of civilians, particularly rape of refugees, by both government soldiers and militia and rebel fighters.
The rapid pace of the arrival of the refugees has left the United Nations (UN) on the back foot in terms of keeping up with documenting and recording their experiences. There is also an absence of research containing in-depth information and evaluation of the needs of those who are survivors of SGBV and torture.
"There is also an absence of research containing in-depth information and evaluation of the needs of those who are survivors of SGBV and torture."
Collaborative research
The collaborative research project was undertaken by Dr Helen Liebling (lead researcher) and Professor Hazel Barrett from Coventry University, and the University of Cape Town (UCT), with Professor Lillian Artz, director of UCT's Gender, Health and Justice Research Centre. They were assisted by Faddy Gladys Canogura, director at the Kitgum Women's Peace Initiative, a non-government organisation located in northern Uganda.
The team conducted interviews and focus groups with 98 adults, 20 of whom were men and 41 female refugee survivors of SGBV and/or torture. They also heard from 37 key providers of health, justice and support services, and hosted three dissemination workshops in the refugee settlements with about 130 participants.
The main objective of the project, funded by the British Academy/Leverhulme, was to conduct a qualitative investigation using a psychological health and human rights approach to study the experiences of refugees and assess their use of the services available to them.
Liebling, assistant professor in the School of Psychological, Social and Behavioural Sciences at Coventry University and an associate with the Centre for Trust, Peace and Social Relations, recently presented the research at UCT as part of the university's focus on raising awareness of and tackling SGBV.
The interviews with the refugees and stakeholders took place in northern Uganda in May and June of 2018. The refugees lived in three settlements: Bidi Bidi, Adjumani and Pagirinya.
The four broad themes that emerged from the analysis were: human rights abuse experiences, service provision, the impact of their experiences, and gender issues.
Re-escalation of conflict
Most of those interviewed had escaped South Sudan in 2016. There was a re-escalation of conflict at that time between government and opposition forces, and the asylum seekers journeyed overland to northern Uganda, often taking weeks to make their way undetected through the bush.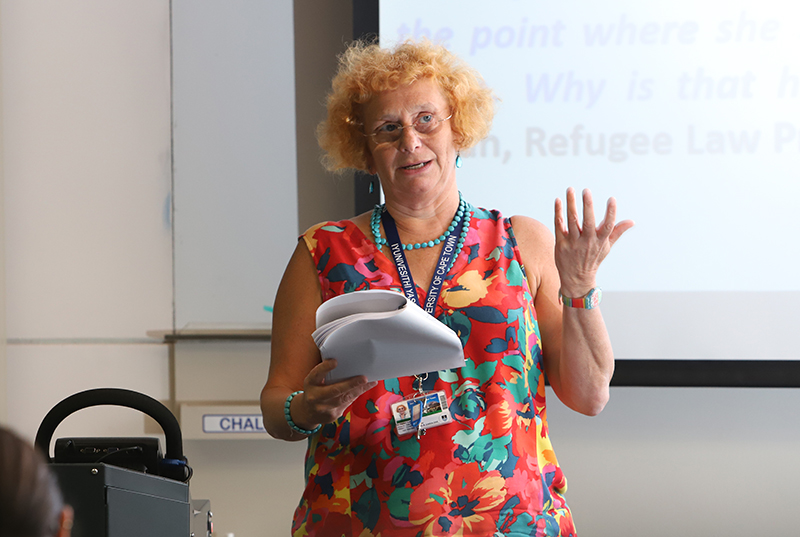 Sharing some of the human rights violations reported by the refugees, Liebling said these included being captured, tortured and held in military barracks; removal of fingernails; tying of penises; being shot; gang rape; a woman carrying her children on her back being raped; and families forced to witness the rape of their loved ones.
According to a key informant working in the Office of the Prime Minister in the Adjumani refugee settlement, the problem of SGBV in South Sudan is complex, rife and is used as a weapon of war.
When the refugees cross the border, they bring with them the consequent physical and understandable psychological impact of their traumatic experiences. Within this context, the research team looked at the health and justice services available in the settlements, she explained.
"None of the male refugees the researchers interviewed had sought testing or treatment for SGBV, including sodomy."
Health services were reported as inadequate for the refugees's needs. In addition, where surviviors did have access to services, those seeking assistance were primarily women who had experienced SGBV, pregnant women or those with minor ailments. None of the male refugees interviewed had sought testing or treatment for SGBV, including sodomy.
Several of the men had bullets embedded in their limbs but didn't report their injuries for various reasons, including fear of being accused of being rebels but also because of stigma and shame.
The research team, Liebling reported, found that specialist treatment was available in Uganda's public hospitals. However, this required a five-hour trip from Bidi Bidi, the second largest refugee settlement in the world, to Gulu, and 12 hours to Kampala.
Stigma and shame
There was also a lack of specialists, including reproductive and gynaecological health experts to assess and treat refugees. Maternal healthcare was lacking, counselling was limited and only available to survivors of SGBV, there were no psychiatric clinical officers, no treatment for HIV, and the situation was compounded by language barriers.
Like healthcare, access to justice was problematic. Some of the challenges reported included that cases were rarely followed through effectively. Most male refugee participants opted not to report crimes committed against them due to stigma and shame, and there was a preference among the South Sudanese for settling disputes via traditional methods.
Liebling said service providers told the research team that mobile court services had commenced to help clear the backlog, but the refugees who were part of the team's research reported knowing nothing about this.
The police who were interviewed in the settlements cited a lack of staff, particularly women police, among the problems hindering their efficacy. They also lacked pens, paper, mobile phones and transport. For example, in Bidi Bidi, police had only one motorcycle to carry out their duties in the whole settlement.
"All the refugees interviewed reported suffering both short- and long-term emotional trauma from what they had endured."
Liebling pointed out that the data demonstrated links between the impacts of torture, SGBV and human rights abuses on all the refugees. Physical, psychological, social, cultural, justice and human rights effects were connected.
All the refugees interviewed reported suffering both short- and long-term emotional trauma from what they had endured. This included flashbacks to the atrocities they had experienced or witnessed, fear, family separation, feelings of helplessness, contemplating suicide, nightmares, alcohol and drug use, and anger which often resulted in violence, including domestic violence.
In the absence of structured mental health support, she said, most refugees turned to their relatives for emotional assistance. Some turned to the church, but many found it difficult to discuss their experiences at all.
"The physical impact was significant. Refugees had injuries all over their bodies, most of which had not been treated. Many were disabled or had complications from their injuries such as kidney disease, headaches, high-blood pressure, heart disease and broken bones resulting in poor mobility and even paralysis.
"Physical impact on women included pregnancies from rape, dying from the impact of violent rape and torture, genital trauma from rape, difficulties urinating, contracting sexually transmitted diseases and some reports of women losing their lives in the settlements during delivery of babies. Babies had also been wounded during delivery because maternity healthcare was so poor. For example, a baby lost its arm during delivery."
Gang rape
Liebling said one stakeholder reported that a woman who was gang raped 20 years ago was "still oozing God knows what" because she never got the right treatment. The infection was malodorous and her family could no longer share a hut with her.
Stigma and shame, particularly among men, inhibited disclosure, and survivors who identified as homosexual had needs that were not addressed at all. Some men had been castrated during torture, suffered rectal prolapse resulting from rape, were infected with HIV/AIDS and hepatitis, and there were injuries so severe that they impacted on men's ability to undertake physical work.
Yet the violence, SGBV and domestic violence was continuing in the settlements, for numerous reasons.
"A woman from a faith-based humanitarian aid organisation called Samaritan's Purse told researchers that there are several factors triggering SGBV. She listed women gaining their rights, the accumulation of problems, stress and distress, the inability to send children to a good school, loss of properties and businesses, and the lack of treatment for chronic illnesses."
Liebling said women refugees were usually registered as heads of households in settlements because many men in South Sudan sent women relatives to safety in Uganda while they stayed and tried to defend their property and remaining family. When the men later joined the women, they became dependent on their wives or female relatives. This left them feeling that their rights as men had been denied.
"High levels of poverty were also cited as making men feel helpless and being a contributing factor to the equally high levels of domestic violence."
This was also suggested as one of the many factors fuelling ongoing domestic tensions between men and women in the settlements. High levels of poverty were also cited as making men feel helpless and being a contributing factor to the equally high levels of domestic violence.
But beyond their husbands and fathers, safety continued to be a concern for women and girl refugees who remain at risk of SGBV perpetrated by other male refugees and the Ugandan community, the researchers found. Girls 14 years and older also risked abduction by male relatives, to be returned to South Sudan for child labour or forced marriage, as marriage of girls this age is accepted within South Sudanese culture.
While there were SGBV programmes, these tended to focus on women while male survivors were often excluded. This was despite the rape and torture suffered by men, their struggle to disclose abuse and rape, and reports of being mistreated by women.
The researchers identified a lack of gendered understanding of the needs of refugees by most service providers. Thus, gender sensitivity, equality and a more delicate approach to gender differences was required, they stressed.
Refugee voices
SGBV and torture are a violation of refugees' rights, bodies and health. Therefore, the researchers said, health and social justice care must go hand-in-hand.
Organisations supporting refugees must ensure there is routine screening and documentation of human rights abuses through provision of holistic services. This includes physical and psychological health and justice services, education and livelihoods.
Provision of the holistic model would ensure that refugees feel validated, helping them to use their own resilience and agency to continue the process of recovery, they argued.
In terms of health and justice, the researchers recommended better resourcing of clinics, ensuring that there are physical and psychological healthcare staff and that services are extended to men in particular who find it difficult to come forward. Services must also tackle drug and alcohol use, particularly among the youth, as well as the associated domestic violence.
Liebling said the team advised that refugee welfare councils be involved in informing services to include traditional approaches to recovery and provision of group counselling to refugees and their children, and the involvement of healthcare teams and community organisations.
Further recommendations included developing effective support systems for service providers; recruitment of more police, including women; more vehicles for police; and raising awareness of the Ugandan law and the legal framework in Sudan. The researchers believe that extending the use of mobile courts would assist with improving access to justice at a local level. They would also like to see the provision of treatment and resources for survivors of human rights abuses as well as an anti-discrimination provision, with penalties for those who abuse refugees.
"I think it's really important that service responses listen to the voices of refugee survivors and the service providers who are working in quite difficult contexts, so that we ensure that services are improved based on their experiences," Liebling stressed.
---
This work is licensed under a Creative Commons Attribution-NoDerivatives 4.0 International License.
Please view the republishing articles page for more information.
---