Young people should not see a disadvantage as the end of their story. Instead, they must use it as the "strong beginning" for a successful life.
This was the message from Professor Mamokgethi Phakeng, vice-chancellor (VC) of the University of Cape Town (UCT) on Monday, 2 September at the Graduate School of Business (GSB) Solution Space in Philippi.
Phakeng was invited to speak as part of the GSB's Distinguished Speaker Series, which aims to bring accomplished and distinctive speakers to the Solution Space Hub in Philippi to provide insight and illumination into the critical issues of our time, and to inspire and motivate students, entrepreneurs and the larger local community.
In commemoration of Heritage Month, the VC shared her life story with young people from the neighbourhood in a talk based on the topic: "Heritage is ours – embracing our diverse backgrounds".
Growing up and attending school in Marapyane village and Ga-Rankuwa, the VC came from a poor family and community. On bad days, the family would need to ask neighbours for maize meal; on the good days, they'd get to mix the maize meal with sugar and water.
Phakeng attended school in the village and later in Ga-Rankuwa township. In the village, school infrastructure was less than ideal: she, along with her classmates, studied under a tree.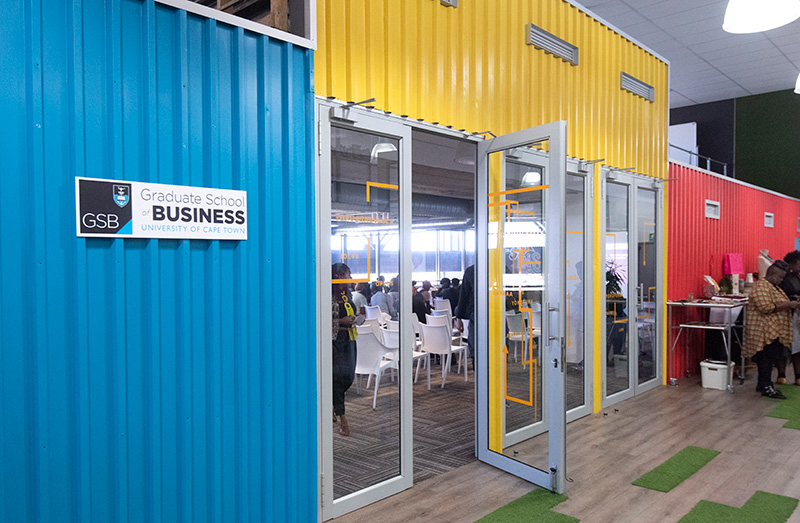 The VC recounted how success at school didn't come easy, how she was "not the brightest" and always had to work twice as hard, being the underdog.
"We have to work at decolonising our minds."
And while Phakeng would later go on to receive a master's degree from the University of the Witwatersrand, become the first black female South African to obtain a PhD in mathematics education and receive an honorary doctorate from the University of Bristol, she began her tertiary education at what was then the University of Bophuthatswana. Back then, Bophuthatswana was known as a 'bundu university', an under-resourced tertiary institution.
"It doesn't matter where you come from … there is a possibility that that disadvantaged background can serve as a strong beginning," said the VC.
Decolonise minds
Continuing her talk, the vice-chancellor emphasised that to make and live that strong beginning, young people must commit to decolonising their minds. While the work to do so is made far more difficult because of colonisation and then apartheid, it is crucial.
"The way oppression works, it works not only to deny you the opportunities … it works on our mindset so that we remain in bondage forever," said Phakeng. "We condemn ourselves, we exclude ourselves even when the coloniser is not there … we do their work for them."
The condemnation and exclusion work on a personal level as well as in communities, she said, thereby reproducing colonisation and the effects thereof.
"We have to work at decolonising our minds," urged the VC.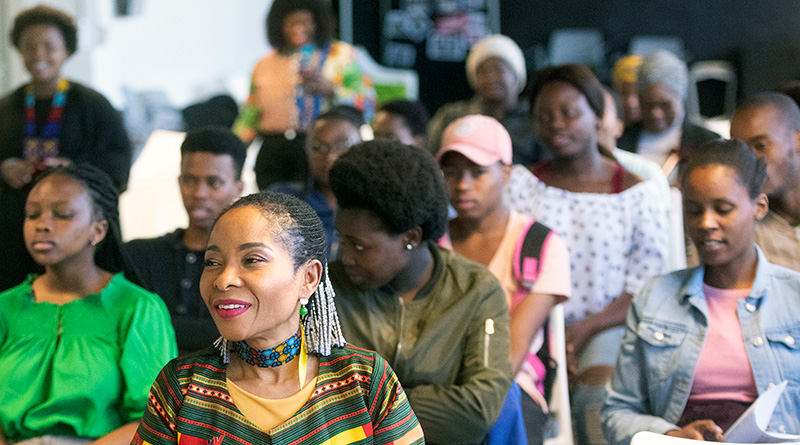 'It's possible'
The final message from the VC during her address was to encourage young people in Philippi, in townships and across the Cape Flats to apply for and study at a tertiary institution.
She added that getting young people to do so was also the responsibility of universities such as the Cape Peninsula University of Technology (CPUT), the University of the Western Cape (UWC) and Stellenbosch University.
"We should make sure that … as many children as possible … can get into UCT, CPUT, UWC or Stellenbosch. We should work hard to make sure they get there," said Phakeng.
Doing so will also require input from families and support structures.
"For that to happen, we've got to make them believe it's possible," she said. "It starts at home; we've got to make them believe it's possible that where we are now doesn't define where we can be."
Before ending, Phakeng also encouraged budding entrepreneurs to use the Solution Space to help realise their dreams. Her endorsement of the hub's entrepreneurial activities both for UCT and the community come in the wake of three years of financial support for operations provided by the VC's fund.
She asked the young people in the room to spread the news of the Solution Space as well as her message for the day with their peers.
"I am the VC of UCT today, but the next VC of UCT could come from Philippi!"
---
This work is licensed under a Creative Commons Attribution-NoDerivatives 4.0 International License.
Please view the republishing articles page for more information.
---