"Stay in the system, no matter how hard it is," was the message from University of Cape Town (UCT) Vice-Chancellor Professor Mamokgethi Phakeng to young black women researchers ahead of Women's Day on 9 August.
Phakeng was speaking at a lunch held at Graça Machel Hall, one of several events planned to honour women during International Women's Month. These are backed by a campus-wide campaign on women's identity, inviting UCT women to complete the phrase "I am…".
Addressing the young black women academics, Phakeng said: "The leadership at UCT is committed to [honouring women] and we invite you to join us as we change this space.
"It's not going to be comfortable and not everyone will like it … but we've got to stay put because the work we are doing is important."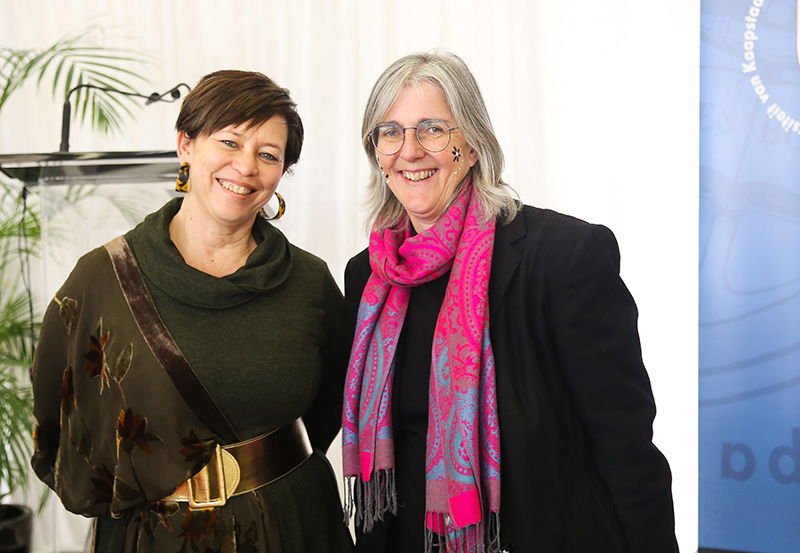 UCT has accepted the challenge, she said. At a similar event last year Phakeng launched the #UCTForWomxnByWomxn Scholarships, under the banner Advancing Womxn for Change.
Aimed at postgraduate students and postdoctoral research fellows, these individual grants total R22.5 million over five years. The awardees were announced by Deputy Vice-Chancellor: Research and Internationalisation Professor Sue Harrison in February this year.
"These women will not only be conducting leading-edge research in fields where women are under-represented, and into women's issues, but they will also be advancing the next generation of women and non-conforming gender transgender researchers," Deputy Vice-Chancellor: Transformation Professor Loretta Feris said in her introduction.
Sobering stats
Statistics show that women face many barriers in academia. Of UCT's 497 academics with NRF ratings, only 101, or 38%, are women. Only 76 (31%) of UCT's professors are women, and only 15 of those are black South African women.
But UCT has begun to make ground, Phakeng said.
"UCT can show the way raising up African women academics."
"The University of Cape Town is the only academic institution in the world with an all-women (academic) leadership. UCT can show the way raising up African women academics."
Her comment came off the back of a recent visit to the University of Bristol in the UK where she was awarded an honorary doctorate.
"Even with the diversity of their population, there are no more than 25 black women professors in some 130 universities in the entire UK... We in South Africa have an opportunity to show the world how to do it. But we still have a long way to go."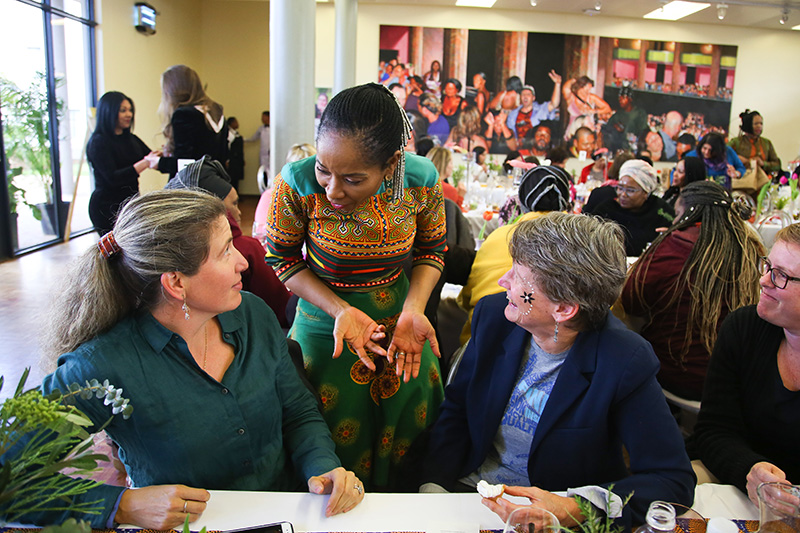 The challenge, Phakeng said, is to include more black South African women voices; those who were previously excluded from every position of power and privilege.
Citing figures from a report by Stellenbosch University's Centre for Research on Evaluation, Science and Technology, she said 45% of South Africa's researchers are women, up from 36% in 2001 and slightly higher than the global average.
"But we must ask, which women? It's an important question.
"We have not achieved the level of diversity we need in academic research. That diversity needs to encompass more than just gender."
Black women face not only race and gender oppression but also the oppression that comes in the form of coloniality, culture and language, she added.
Breaking through barriers
Black women have to work harder and even when they achieve success, it isn't guaranteed. At university, there are many barriers to women progressing through the academic ranks: the high cost of getting a postgraduate education, the pressure to provide for families, and low salaries.
To counter this in her own way, Phakeng donates 10% of her salary to support South African black women postgraduates.
"It's not about what I take home, it's about what I care about."
She had firm advice for young black women researchers with an eye on leadership positions in their fields.
"First, stay in the system, no matter how hard it is. If you are a black African, get ready because it's even harder. But don't quit. Stay there. We need you. It's tough, but if you quit, nothing will change."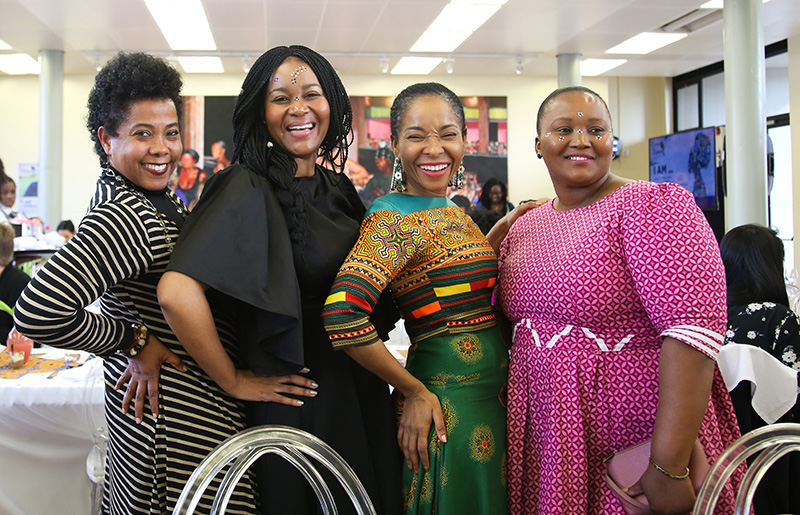 To pave the way, UCT has developed a programme for young women researchers to create their best career paths at the institution.
"This is the place they can achieve the research they want to pursue and help build the next generation of high-achieving scholars."
"We have not achieved the level of diversity we need in academic research. That diversity needs to encompass more than just gender."
Phakeng added: "We must pave the way for other women to join us, not to become like men…. We should have the balls to live with difference because we say we want to be inclusive. We women in leadership need to be mindful that we are [doing this] not just for ourselves but for the women who come after us. So, let's get on and do it boldly."
Change in world order
The VC's call to change the academic space was underscored by guest speaker Dr Vuyo Mahlati, global director of the International Women's Forum, president of the African Farmers' Association of South Africa and chair of the Advisory Panel on Land Reform and Agriculture.
Mahlati said the impending collapse of the global system and the "isms" such as capitalism present a challenge and an opportunity for women in the university sector. But change is not coming fast enough for black women.
"The time has come for our own trickle down," she said.
"The trickle-down concept has failed. We've been waiting for others… "
She urged women to don their design thinking caps and collect their tools to create an environment that "helps us imagine designing and building the nation that we would like to see".
"This is the nation that the women we celebrate on 9 August died for, prayed for. It is the nation that millions are continuing to work hard for… ."
Mahlati said her work for the land reform commission illustrates not only the need for black women researchers but also for research on black women because of data sparsity.
"We struggled to find research and work that specifically focused on women… When you have six months to do a job, the bulk of what you rely on is secondary research and you know that the position of women from a land perspective is the lowest, but you cannot find the right evidence ….
"If you read the report, the people that we had to quote verbatim as part of the engagement were the women… "
Women need to prepare for the modernising world and the Fourth Industrial Revolution, she said, adding that she is encouraged by the trend at UCT.
"This is the nation that the women we celebrate on 9 August died for, prayed for. It is the nation that millions are continuing to work hard for."
"One thing that got me on the plane to come here this morning is the fact that I was coming to a university led by women… It is not because they are women, it is understanding that we have an opportunity … to showcase what women can do when the right women get the job."
Accountability is paramount.
"To Kgethi, we are here to check what you are up to. We are not here just to ululate because, unfortunately as a woman, as a black woman and an African woman, you represent all of us… If you mess up … this whole room messes up."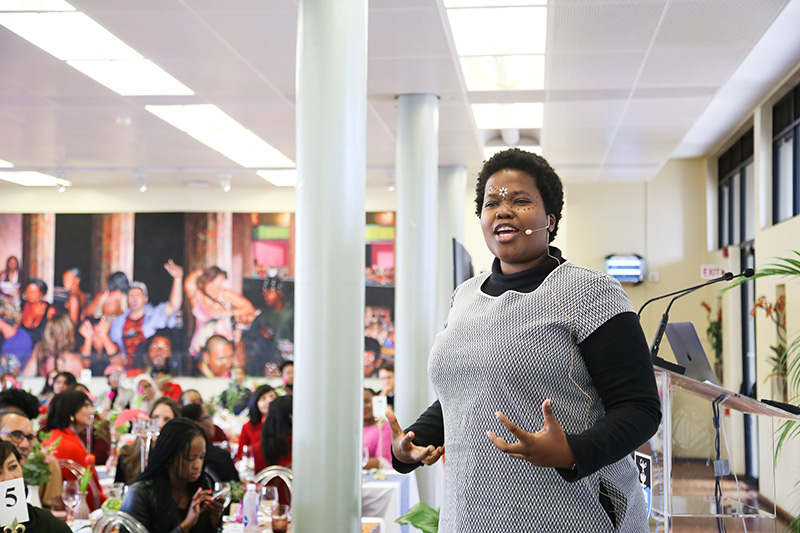 World in crisis
Against the backdrop of a world in crisis, the significance of creating capacity among women researchers cannot be underestimated, Mahlati said.
"Brexit is a symptom of what we've been sitting on and not paying attention to… Many have given up hope, trapped in the destruction of the obstructive system led by self-interest, not just in politics but also in the private sector."
To the #UCTForWomxnByWomxn Scholarships recipients, she said: "This is not just a response to a call… It is a response to a call by a world in trouble… It is a call that pushes forward the agenda of women."
The "beauty of the crisis" means "beautiful possibility and potential" to unpack the tsunami we are facing, and rebuild. Women's voices and agendas are crucial to the future.
"Let's create the space we want to see, let's be part of it. Let's bring the energy of agreeing on not agreeing to solve our problems wherever we are."
Leadership is, more than ever before, dealing with myriad complex issues.
"But we have a magical space and … this is about rebuilding in the collapse of the global systems."
Where to?
Women now have the opportunity at university level to elevate the game, she said.
"Let's create the space we want to see, let's be part of it..."
"[Let's] deal with our issues that make it difficult for us to be seen and to be heard. Get that research done, because feminism has shifted… It achieved so much but has lost so much – and we need to pay attention to that."
However, inclusivity is not assimilation, Mahlati warned.
"It does not mean I must behave like a man. I like it when the VC talks to inclusivity and says … we must have the balls… We must have the balls and the breasts – sometimes we have to intimidate, just to get people to know you are in the room!
"Remember [that] today we are reminding each other of the opportunity of the space of higher learning. In that space you mould the young ones and you influence your next generation. In that space you can lead and guide us to the better country and better world we are all seeking."
---
This work is licensed under a Creative Commons Attribution-NoDerivatives 4.0 International License.
Please view the republishing articles page for more information.
---